fly fishing texas texoma fly fishing east texas


It's still February guys! The weather roller coaster is going through another spiral this week, and we can only hope for rain mixed into the next couple of days here in North Texas.
This is the time when people put the cart ahead of the horse, or in our case the fish ahead of the facts.
Water temperatures in North Texas lakes, like Ray Roberts, are still in the mid 40's, and water flow from Ray Roberts to Lewisville Lake is at 65cfs. That's a trickle that will not bring you the sand bass run you are used to from years past. In a spot like the Greenbelt Park at 428, the water is ankle deep in spots, and virtually clear.
I am hearing the more fortunate fishers in the East Texas areas are having their typical sand bass runs – it's picking up now – and water levels for that region are the best in the state. I have to make a run to Houston this week, and we might get a shot at some yellow bass if Danny Scarborough is available to show me the ways.
READ MORE! –
LAKE TEXOMA STRIPER ON THE FLY
We took a day Friday (did you miss "Fly Art Friday"?) and most of a day Saturday, to fly fish for striped bass on the main lake. How it works is; we search the lake where we've heard the fish are, and try to catch them on conventional tackle first. Then we switch over to fly, and try to get the fly down to them.
The Texoma search over those two days didn't include the exciting search for topwater action and birds unfortunately – none appeared anywhere. It was all about tips and electronics.
My independent tips were the same and they were good! Both zeroed in on the same spot, and by late morning Saturday, we were on top of fish.
Funny thing is, they are so close to shore you could cast conventional gear from shore and do some serious prospecting with a kayak loaded with electronics. And there was no one, NO ONE, there – even on Saturday. Unfortunately, we couldn't get them to eat consistently enough, or with any pattern to their preferences.
All in all, we were all over fish, but they were eating only sporadically. A lot of luck came into play, and we never really got into enough action to even think seriously about switching over to fly rods. The fish we did catch were fat and happy, which is a different story from our late summer striper outing on Texoma.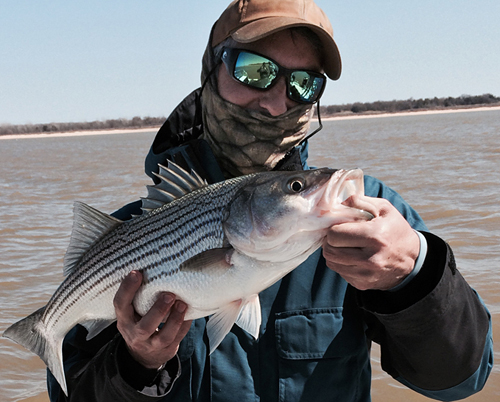 Striper fishing on Lake Texoma – the Texas-Oklahoma border. Courtesy photo.
It was good to be out in nature again, camping out on Treasure Island Friday night, and boat rides with CK are always exciting. It was windy all night, and colder than anyone would've liked, but our main goal was met – GET OUT AND GO! I will have more photos from the weekend, if time allows.
Category: Backcasting, Fishing Reports, North Texas, On The Road, Technique