fly fishing texas rapala ecowear reflection waders review
Fly fishers mark their progression in a series of firsts. First fish on a fly followed by first fish on a fly we tied ourselves … the list is often a lot more random, but the milestones do appear and disappear, like road signs on a dark night.
I bet you remember all the deliberations that went into your first pair of waders as well. If you were like me, then you didn't have much of a reference point; old waders from duck hunting days, etc… The research for wader purchase can be mind boggling.
It seems everyone is always coming out with a new "version" of their "best ever" waders, which on its face makes no sense. How can they improve on the waders you just bought? They told you they were the best!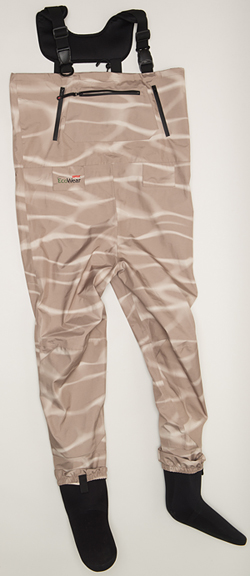 Fast forward to a late night of digging through the dark depths of the interweb, and up pops "Rapala Waders" on the search. While I have been mostly disappointed with my
older Simms waders (one free repair already used up), I am also always looking for things, like waders, that might be off reader's radars.
I contacted someone at the company to see about US availability (the wording on the site made it obvious they weren't USA based). Sure enough, I received an immediate e mail reply, asking more information and size.
A week later, I had a pair of their Rapala Ecowear Reflection Waders at my door, after crossing over from Canada to the United States.
Unfortunately, that arrival was in the dead of summer. I opened the box knowing it would be awhile before I would get a chance to put them to the test. Inside the neatly bagged and packed box, was a pair of tiger camo-looking waders, and a wide belt threaded through a back pad (think lumbar supporting). All in all, these guys have gone the extra mile.
SALTWATER TEST – RAPALA REFLECTION WADERS
Fast forward to Galveston Bay a few weeks ago, with the water still cold, and a day with warming air combining for the perfect opportunity to try these Rapala Ecowear waders out.
For me, a size "Medium" can be too big and too small all in one. However, Rapala has cut these to a less "American" size chart, and that works perfect for me. Smaller foot size, and a much less fat midsection mean the best possible fit for a a generic size chart.
The Rapala waders go on without a hitch, the gravel guards cover and hook just like they should, while still being narrow and not sloppy. The real treat came when I threw the shoulder harness up, over and hooked up. The design of the shoulder straps / pad, unlike any others I have seen, or had, are padded and wide across the shoulders and back. Engineers would know immediately; this distributes the weight of the waders more evenly against a larger area. Translation – extreme comfort.
This slideshow requires JavaScript.
I didn't feel the need for the lumbar on the belt, and threaded it off the belt that came with the waders. I checked all the zips – hand warmer pockets, flip out pocket (over the top), and outside horizontal zip – all smooth and working perfectly.
READ THE REST OF THE STORY –
The Rapala waders also include a elastic cord at the top to cinch the top closed, so you have two opportunities to keep water out – and for safety! Remember that a wader belt has the potential to be a life saver, add a cinch at the top of your waders, and you have another chance to keep water out in case of an unexpected dousing.
Now, these Rapala waders are not Gore-Tex waders. They are made waterproof from proprietary DuPont chemical applied to the fabric. In Texas, in general, we don't have much call for waders. I wet wade the Texas Gulf Coast in wintertime – it's that warm. Sure, all the locals are wearing 4mm neoprene, but … they're locals! If you aren't living near the coast, you're climatized for much cooler weather.
The few times I have worn my Gore-Tex waders on the coast, I ended up having to shed layers underneath to keep from sweating.
When I stepped into the water, I immediately noticed the transfer of cold through the waders (unlike Gore-Tex), and realized that would be a benefit not a negative. Feel free to think. Use your clothes / layers for warming and let the waders simply keep you dry! These waders are perfect for Texas BECAUSE they don't contribute anything to heating.
And after a day of hard fishing in winter, I unbuckled dry AND not sweaty. How often can you say that when it comes to waders?
One of the greatest features of these Rapala Ecowear waders, excuse me for burying this major bonus at the end, is the double wall of fabric that runs from the knee to the foot on the front of the legs. In Texas, we bushwhack a lot, and we have a lot of thorny stuff we stomp through to get where we want to go. Odds are, if your waders leak, they have pinholes from the knee to the foot. The double wall of fabric is detached (not sewn in solidly) with drain holes at the corners. It's an interesting design concept that seems to be logical.
FINAL SAY – If you are a wade fisherman in Texas, these waders are well worth considering. It's not because they keep you warm, but because they keep you cool! And the pockets, double walled legs, shoulder straps and slimmer fit — all make these waders a contender in your search for your first pair of technical waders. The tiger-camo look actually makes you almost disappear while wading Texas flats, but I can imagine that would turn some other folks off. I highly recommend these waders, and will be following up as I get more hours in them – I'll let you know long term as always here at Texas Fly Caster.
DESCRIPTION OF RAPALA DUPONT TECHNOLOGY –
Rapala Reflection Waders are manufactured with a unique, ecological technology by Dupont: DuPont™ Cerenol® Polyol, a proprietary new family of high performance polyether polyols, is manufactured in a sustainable process using an ingredient derived from agricultural feedstock. Cerenol® offers a unique combination of uncompromising product performance with the benefit of being renewably sourced, resulting in a reduced environmental footprint and lowering the dependence on petroleum. DuPont™ Cerenol® technology is applied as part of the EcoWear Reflection Waders' manufacturing process where the fabric is given its waterproof and breathable qualities.