texas fly fishing daingerfield east texas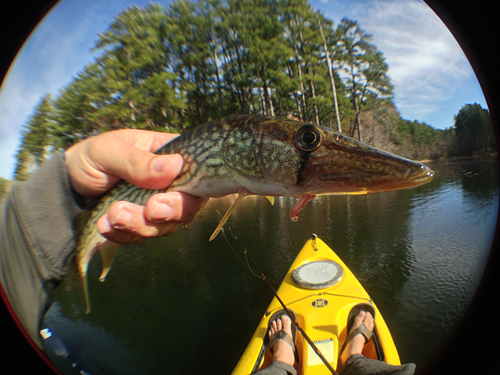 Chain pickerel at Daingerfield last Saturday. Photo-Courtesy MM Mendez
As we left the ramp on our way to those fertile shorelines to search for more pickerel, I noticed we also left a growing crowd of people an noise behind.
Of course, the noise wasn't too far behind, as children's pouty screams trailed behind their oblivious parents walking the great trail that runs around the entire lake. I could track their progress by the sound. Talk about destroying the moment.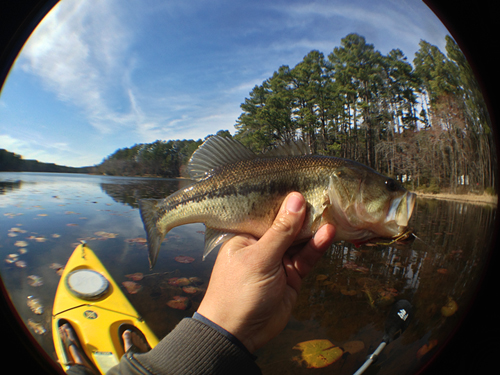 Largemouth bass at Daingerfield State Park Saturday. Photo-Courtesy MM Mendez
There are a few observations that can make a difference in your success at Daingerfiled.
As we fished, full force with our boats scattered along large areas of shoreline, it was pretty obvious that the chains don't seem to have any preference of shade over sunlight areas. That's number one.
Second, there are areas where the chain population just isn't located. Try for a little while, and move on.
Third, there's no need to throw anything other than whistlers and plain seaducers as in the past – white with red head. (Contact me if you would like to order some of these – USA MADE flies by Pops Fly Shop.)
Read more about chain pickerel techniques –
Of these last three observations, one came accidentally and the other through experimentation, although both were aided by the ability to stand and retrieve on kayak.
Fourth, vary your retrieve. Erratic fly behavior seems to attract chain pickerel into attacking a fly more vigorously than a steady retrieve. Short, fast threes followed by a rest increased productivity immediately. Winter strips are not for prime-time chain pickerel. The cold is their time.
Fifth, and this one comes from watching TV if you can believe that … Muskie Hunter episodes. On one of my retrieves, I had the fly stripped in, and was taking it on a diagonal (remember from standing position in kayak) across to load for another cast, and right as the fly made a drastic angle change, from the depths up charged a chain pickerel and snatched the fly! All that was out was two feet of line and full leader.
Hmmm, that reminded me of something. I started thinking about those figure eights the Muskie boys do by the boat before they pull their lures out. Muskie, chain pickerel, similar right? So I tried swinging my rod erratically once the fly was in, changing the direction of the fly by 180-degrees before reloading for a cast … and caught three more chain pickerel the exact same way. Out of nowhere, deep, they would charge up and strike within six feet of the boat and a foot under the surface. That's pretty fun to watch as it happens! Try it sometime.
Last, if you take into account the nature of pickerel, being toothy and downright aggressive, it adds up to a territorial fish. And that's what they seem to be, a fish that holds an area with counts up to two or maybe three fish, but rarely more than that. SO, if you have caught one to three, feel free to leave that area and move on.
Last Last, be sure to retie your fly regularly. Otherwise, those teeth will take a toll, and your fly will be gone pretty quickly.
END NOTES – In talking to one of the park rangers and locals at the park, I found out a couple more things. Apparently, there are BIG chain pickerel at Caddo Lake. However, Caddo is apparently suffering from an infestation of giant salvia. There have been large chains caught at Daingerfield – rarely. They stopped stocking trout at Daingerfield "because the the chain pickerel were eating them" (now that is the first good reason I have heard for stocking trout in Texas ponds!). That makes me wonder about tying trout patterns!
Category: Adventure, East Texas, Fishing Reports, On The Road, TECHNICAL, Technique, TIPS