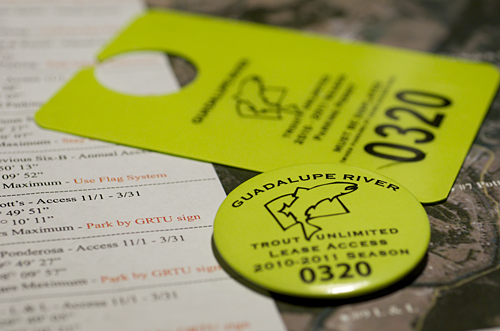 So you want to do a DIY (do it yourself) trip to the Guadalupe? What's more rewarding than going the distance, dropping in somebody's water, and catching fish from right under their flies? Not much, and most of my fellow "skidding fly fishers" have few financial options other than to hit the road on their own, sleep on the ground, drink cold coffee and hot cheap whiskey, and learn how to rip a little lip the hard way.
The hard way can be easier if you do some research before hand, and fortunately there's a ton of research on the trout of the Guadalupe River.
First, you want to know your trout. You're after rainbow trout exclusively. They come in a few flavors, and they include; fresh stockers from TPWD, seasoned stockers, GRTU stocked rainbows and holdover rainbow trout. This year, through electroshocking of fish habitat, the TPWD came up with counts indicating a good number of holdover trout in the Guad. The numbers are actually comparable to their best counts in years past.
The Texas Parks & Wildlife Department, or TPWD, stocks thousands (more than 18-thousand this season) of rainbow trout along the cold stretch of the Guad every year. They have a map of where they stock, and there's no reason not to believe the map. It's not exactly an easter egg hunt. If fresh naive stockers in huge quantities (I caught a couple dozen in one spot close to the dam) and small sizes are your cup of tea, take a look at the map below and here is a secret or two –
TIP 1: If you are chasing recent stockings, look for tire tracks leading close to the water, or pseudo ramps that allow trucks to get close enough to throw nets full of rainbows in the water. These guys are dumping fish. It isn't glamorous, and they want to distribute the fish as easily and evenly as possible (OK sometimes quickly too).
TIP 2: Recent trout stockings, say the first 24 hours, will create tight schools of stockers hanging in pools. I caught a dozen in a small hole behind cypress tree roots near the dam – in a little more than an hour.
If tailworn green stockers are your thing, those two tips alone are solid gold.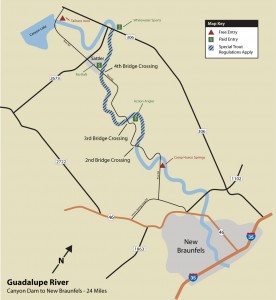 Click on this map to enlarge it to full size.
The GRTU, or Guadalupe River (chapter of) Trout Unlimited, has a creative approach to stocking trout in the Guad. They buy trophy fish and stock areas where they have secured private "lease access" which apparently consists of parking and access and routs through residences (don't just walk in and open the fridge though). You'll have to join GRTU, TU and then pay the cost for a lease access permit after a quick but thorough online orientation session.
What You Need to Know
I am not going to go into great detail, but here are a few of the the things that can lead to fishing success on the Guad.
You will need to know entomology if you are interested in hoodwinking seasoned stockers or hold over trout (Rob Woodruff).
Know before you go. Guides have finally figured out that they can be the source for information that generates loyalty to their services. Check sites like Guadalupe Fly, Castell Guide Service, Action Anglers. They are also great sources for lodging and restaurant tips.
Go with the flow – check the water flow at GRTU and temperatures as well – always remembering the temperature range for trout. A Guad rainbow will concentrate in colder more oxygenated water, and there's no reason to fish for trout where the water is above 74 fahrenheit or looks tepid. Take a thermometer and measure temperature before you fish. Remember from previous post that flow will always maintain a minimum, but can also be opened up during the rainy seasons that fill the lake (a rare occurrence).
You will need a Fishing License from the TPWD.
Maps. I like maps.
Trout Unlimited | GRTU | Lease Access Permit – Join if you are thinking of some private time with top shelf stock rainbow trout.
if you are looking for the latest TPWD stocking schedule go to TPWD Trout Stocking Schedule.
For goodness sake, don't forget to check in with your mom-and-pop fly shop too! By proximity, you will find the folks at Tiffany's Gruene Outfitters are dialed in, and moving out from there you can get information from Sportsman's Finest in Austin. If there are any other mom-and-pops, feel free to add them to a comment.
There aren't any special stamps or other permits required to fish the Guadalupe River. There is a thick trail of blog posts and hatch charts to fill in the blanks on fly selection, but you know the drill when it comes to stocked trout.
Just like in photography, it's the variables that will get you, and that's why we spend time on Texas Fly Caster defining the variables or eliminating them from the equation altogether. Here are some old and new variables on the Guad:
1 – Know your Texas law when it comes to property rights on waterways. Even the most intelligent people I fish with don't know how the convoluted, dated and indecisive Texas laws work. Read about the law at TPWD – Overview of Stream Navigation Laws, and be able to quote it. Seriously.
2 – If water flows enough to float your boat, can you float all the way through GRTU leases and on down to some predetermined takeout point? This sounds like the ultimate strategy – if it can be done.
3 – To some extent, consider yourself in somewhat "hostile territory." You will be turned in, ticketed and/or towed if you don't follow the rules.
4 – Huge striper are caught just below the Canyon Lake Dam! I am sure they feast on rainbow stockers. I have seen massive, and I mean massive stripers caught in the narrower rapids that feed pools. Bring a big rod and change things up a bit. I know I will. I plan on using the same strategy I used very successfully at Denison Dam during generation, just to see what happens. MASSIVE. There are also smallmouth, and Guadalupe bass, as well as an infantry of bluegill, and sunfish.
EQUIPMENT
A fair fish fight for Guad trout would indicate a rod weight from soft five at the top end, down to three – I actually settle on a shorter four weight in these waters. This is when I long for a new TFO BVK to try on these waters, and I am open to testing one if you're reading Mr. P. Tippet in the higher ranges of 5X and 6X seem rational and fluorocarbon should always be an option for a quick sink of nymphs. I've been on a home tied fluorocarbon leader kick all year, and those would be my first choice with a willingness to quickly change it out for a factory leader of presentations get too ugly.
A Lingering Question
So if you are in compliance with Texas law when it comes to water, what's to stop you from hopping in your kayak and floating the entire river – GRTU waters and all? This one has me scratching my head. If you have the answer, feel free to chime in anytime.
Let's GO!
Category: Culture on the Skids, Equipment, Fishing Reports, Fly Rods, Guadalupe River, On The Road, Science and Environmental, TECHNICAL, Technique, TIPS