bassflyfishing texas fly fishing #flyfishtexas lake patterns on fly carp largemouth bass
P IS FOR PATTERN
If you fish open Texas lakes like I do, then you know you are subject to broader weather patterns, and we have some radical pattern over North Texas right now. Essentially, the gulf is pumping in moisture, and we have plenty on the ground that is fueling morning and afternoon storms around here.
Only a week ago, we had those strong south winds that are like the Santa Anna winds of Southern California in the way they persist. That's a pattern. If you find the right place at the right time, then you can zero in on fish and how they are feeding based on that pattern. If the wind changes directions, or dies off, then the pattern changes. It could go from coves to points, shallow to deep … you get the picture. This "a'int no disco,"isn't a river, and it isn't a pond. Open lakes are extremely challenging, arguably so challenging that few choose to to take it on on a consistent basis. Ponds, creeks and ditches may not offer the same nature and natural beauty, but they are more decipherable with a divining fly rod.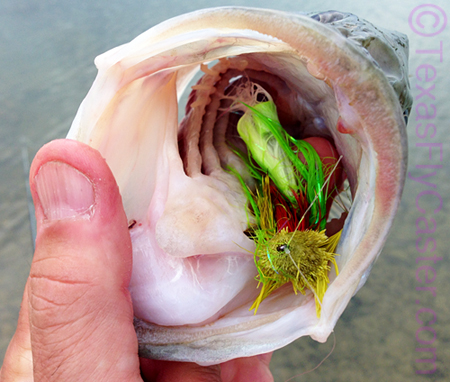 Q IS FOR QUESTION
Always question yourself when you are trying to figure out a large lake. Vegetation? Open sand? Gravel? Cove? Drought? Point? Creek inlets? Rocks? Baitfish? Insects? Deep? Shallow? Early or late? It goes on, but you get the picture. AND question the things you read!
It has been a busy week, so some of the many stories stacked up here – that are about to publish – are a week old. Things have changed. That doesn't mean they won't go back to what you read, but will they? As crazy as the weather is right now, you'll have to try a lot of different things, but you can also rely on the "tell" – carp, bass and sand bass are showing themselves. You just have to know what to look for.
I hope you enjoy these next few stories, and be very careful in these radical weather patterns. Keep an eye on your radar app. There have been some lake drownings in the last week, and the weather on these large lakes can rare up and slap you hard.
FISHING REPORT – Going into the weekend there are fish to be found. I have been surprised by the good number of LARGEMOUTH BASS that are still shallow, and now taking topwater flies during feeding times. They are definitely eating late, and in full ambush mode.
CARP are in and still a little behind the calendar. I've spooked plenty, and finding what they want to eat is challenging, but doable. They certainly aren't in a full-on eat mode yet, and I am still seeing spawning behavior. SAND BASS are everywhere on Lake Ray Roberts and quite easy to reach from shore with a fly rod right now. These schools of sand bass also have freshwater drum below them, and plenty of largemouth bass mixed in. I have been concentrating on one particular area of the lake, so I have not seen any buffalo yet, but they don't hang out as much where I am fishing right now.
Category: Adventure, Culture on the Skids, Fishing Reports, Fly Fishing For Carp, Fly Fishing for Largemouth Bass, North Texas, Science and Environmental, TIPS