Sitting on the front porch, with the rain pitter patting like a million mellow metronomes, and loving every minute of the much needed rain to finally hit us here in North Texas. It's hard to actually wrap up the Tailwaters Fifth Anniversary Bash last Saturday, but with the help of a Partagas 1845 and a beer, maybe I can do it justice.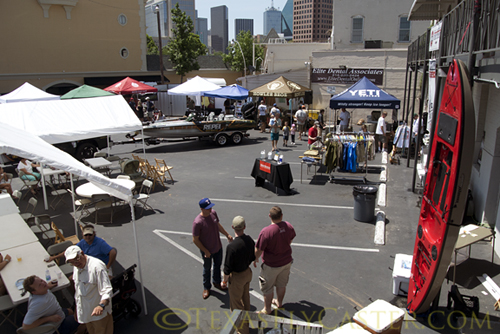 If you are a fly fishing industry watcher, then there are times when you can't help but wonder who or what is the next big thing. On a micro level, it was quite reassuring to see the vendors who were able to make the Tailwaters party last Saturday, and personally stumble upon some interesting finds.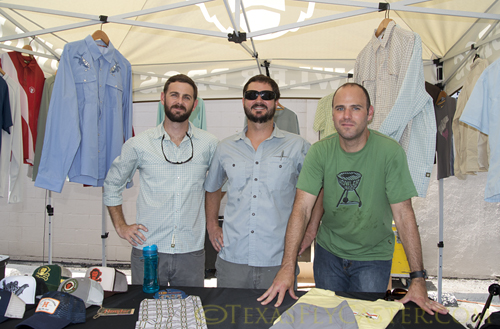 Howler Brothers at the helm.
Texas fly fishing businesses like Howler Brothers not only provided the much needed edge in outdoor casual and fly clothing, but they also were the killer musical guests – Wrinkle Neck Mules as well. Realistically, I ask myself just what can't they do? If you haven't taken a look at the Howler Brothers clothing line, you should. Their clothing is original, uses unique design and fabrics well, and has the common thread of being well made and durable. I put the Pescador shirt to the test at Matagorda, and not only did it perform well, the fabric, drenched in surf saltwater after going BTB on a kayak ride, dried more quickly than any top-of-the-line fly shirt I have ever owned.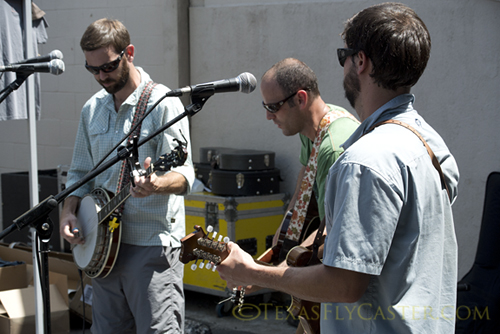 Yes, the Howler Brothers really are the Wrinkle Neck Mules. I heard it for myself.
Between representing their line in the Howler booth, the erstwhile Wrinkle Neck Mules braved serious heat to play an acoustic set that everyone should have paid good money to see. Unfortunately, my poster arrived in Denton while I was at the party, so the "Let The Lead Fly" shotgun blasted poster will go without autographs for now. With permission, I will post a video of their performance at a later date.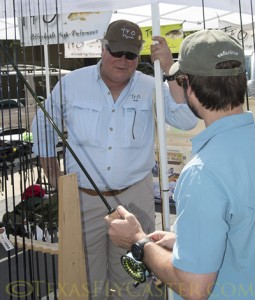 Rick Pope talks to Clay Knight of Safarious.com about TFO fly rods.
Temple Forks Outfitters, famous for their affordable line of fly rods, reels and other items under other names, was solidly represented by none other than owner Rick Pope, and he was backed up with dozens of rods and outfits to give those interested a chance to cast their rods and see what newer lines like the BVK line of rods are all about. Of course they also have the new zero BVK fly reel as well, and that is a reel to consider if you are looking for a new reel for your small trout small stream rod.
At the other end of the spectrum, and a place I tend to spend a lot of time actually, Hardy saltwater rods left a very large impression on me. I threw the six weight in the saltwater line, and was impressed at how relaxed and slow the casting speed was for such a fast stick. It seems like its spine reaches all the way up to the third guide down (very high tip flex), and doesn't seem to like to be hauled or manhandled with a power stroke. I wasn't wearing my typical magnifying glasses, but I did spy a little round sticker on the rods which I later came to find out said, "Made in Korea." That hurts when the rod I was casting is priced in the $700-dollar range. That little bit of information leaves me with more questions than answers, but at least it's a British company doing the importing (rationalizing a bit to justify purchasing one?). Mark Shelton, of Redtail Sports Manufacturer's Rep casted the rod with me, and talked me down from the driving power stroke to a more tame cast that rod seems to like.
A Texas juggernaut YETI Coolers had a well stocked booth, and I saw at least three coolers sold and one won as a prize (heck of a win!). Looking at some of the accessories on site lead me to purchase a lockdown for my coolers so that I can put them in the back of a pickup and not worry about being a passenger with an expensive cooler in the back bed. It kind of does away with the main comment about YETI, "So expensive someone would steal it." I ordered some YETI swag from Austin the very next day.
The other unexpected thing I found at the Tailwaters Anniversary Bash was a booth by some up and coming flip flop folks. Hari Mari, a Dallas, Texas, based company, has these cool looking, simple straight forward flip flops with a twist. My main complaint about flip flops is the footbed gets slippery when they're wet, and what fly fisher doesn't get their feet wet? I certainly don't want to spend nearly $100. for the leather flip flops. The guys at Hari Mari have brightly colored flip flops that have a fabric footbed that feels so good on the bottom of your feet that … I splurged and bought a pair – bright safety orange (easy to find in a dark old house) – and put them on and wore them the rest of the day. Tailwaters has a brand new display of Hari Maris in the shop.
I had one of the increasing popular Diablo Paddlesports boats to show and tell at the party, and answered plenty of questions about the boat and tentatively scheduled some demo rides of the Adios.

Crowds wait in line at the register.
Of course Tailwaters always uses their anniversary parties to move some merchandise at sale prices – Hatch reels were going for $350., clothing was as much as 40-percent off, and I even saw a couple of Sage fly rods depart at $100. each. I snagged a pair of soon to be discontinued Simms Flats Boots at 40-percent off. This is the boot you want for wading flats for carp here in Texas (sizes run pretty true on these).
Something completely different, a new website that focuses on the broadest outdoor genre of photography – Safarious – was demoed to me by creator Clay Knight, and as a professional photographer, I really liked what he showed me. The site has the ability to upload addresses, group them, distribute new photographic portfolios to those groups individually, and also participate in a voting system that pushes good work to the forefront of the site. The organizational capabilities alone are impressive, but take a look for yourself at www.safarious.com. Clay said that more functionality is on the way, and they are working on modules that will allow for uploading from mobile phones as well as other exciting features.
I saw, with my own two eyes, significant numbers of top shelf rods being sold – as well as more than a few top shelf reels, like the Tibor Reels, finding fresh new owners as well. Honestly, they were selling a lot of everything, and I later heard it was their best ever birthday party.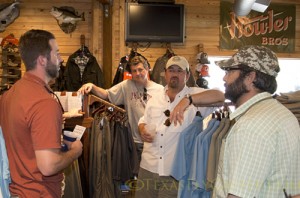 Sean talks to customers at Tailwaters Anniversary Party
Lest I forget, the Fifth Anniversary Party also saw the official rollout of a new member of the Tailwaters crew as well – Sean Polk, who moved just last week from the Orvis store on Preston in Dallas, was working hard to answer questions, and socialize with their largest crowd to ever attend a Tailwaters Anniversary Party event. Look for a story on Sean coming out later this week.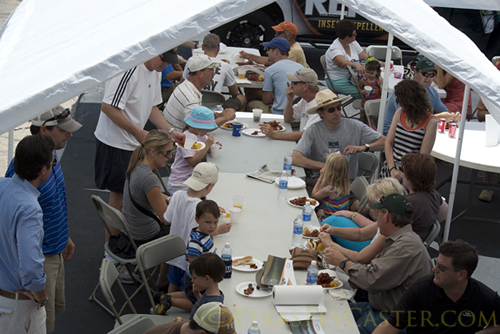 Free food and drink at Tailwaters Anniversary Party.
If you missed the party, make sure to put it on your calendar for next year, and tell the Tailwaters crew where you heard about it. This really appears to be the event that puts Tailwaters over the top as the leading fly shop in North Texas.
Category: Clothing, Culture on the Skids, Eating and Drinking, Equipment, Events, Fly Reel, Fly Rods, Fly Shops, Guides, Industry, Kayak, Music, Store Merchandise, TECHNICAL, Technique