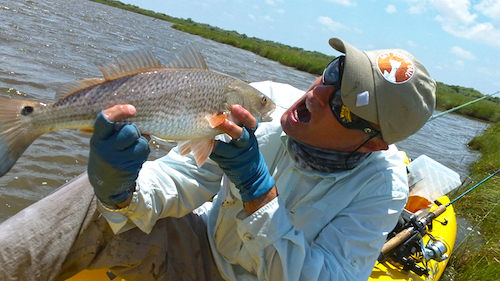 Matagorda redfish just under twenty inches in length, and fat.
The most attractive part of fly fishing around Matagorda, Texas, is the easy access and extensive area of marsh-like waters. These waters look a lot like the channeled marshes of Louisiana, and have that same narrow single wide width, with twists turns leading to wider bays and more channels.
Hint: If you think you are even slightly lacking in the area of navigation, GPS units are mandatory. These channels can all start to look the same, and some are dead ends. If you are beat, and headed for home, taking a wrong turn can be that much more tiring.
However, Matagorda is definitely not Louisiana. Lacking at Matagorda are the lush submerged grasses and vegetation that filters and keeps Louisiana (See the story on Biloxi Marsh) waters so clear. Other Matagorda locations are more clear and vegetated, but all it takes is some wind to muddy things up. Polarized glasses are a must for seeing under water and eye protection.
One of the marshes fished is fed by the tidal movements of the intracoastal waterway, and has a significant constriction at the launch spot shown on the map. There will be no doubt about your tidal action when you see it. This spot amounts to a micro marsh – isolated and smaller with only one apparent way in and one way out.
EQUIPMENT
Kayak – If you have a choice, by owning more than one kayak, or when you go to rent one – choose a kayak that's what I call "long and straight." For example, my long and straight kayak is the Wilderness Systems Tarpon 140. It's not much to stand on, and you won't be turning on a dime, but imagine doing ten miles a day … it's fast and doesn't really need a rudder.
Fly Rod – Sevens and nines seem to be the rods that I am gravitating to to reach up or reach down and do the job. A seven or eight weight this time of year is practical, while the possibility of bulls in colder months could drive you to the nines. Regardless, you are going to have to cut the wind.
Fly Line – Redfish line. Depths are no greater than three feet. It's time to go to straight fluorocarbon leaders – I like a standard (9′) length of Seaguar Invis-X at 20 pounds. This will give you a shot at surviving abrasions, and presentations are not something that will be fluttering to the glassy pool anytime soon.
Flies – For the marshes, you can think just like fishing the sand at South Padre Island, Texas, or most other inshore Gulf Coast fisheries. Gold spoons, shrimp patterns, bait patterns, all are potentially viable meals for redfish here. Personally, I have confidence in all things gold, and that goes especially for gold spoons.
The Search and The Find
I was equipped with two rods for the outing with Immanuel Salas – a ultralight spinning rod, and my short-ish Ross FlyStik-8. My intent was to search with the spinning rod, and once we were on the reds, switch to fly.
We lanuched at a small road bridge that goes over the channel that leads directly from the intracoastal to this specific marsh. Looking out over the marsh and at the channel, two things were apparent; this looked like fantastic habitat, and second – the tide was coming in apace.
For some reason, I was launched way ahead of Salas, and never the one to wait on anyone (sorry, a bad habit), I rounded the first turn. Fifty yards in and there before my eyes is a tail! And right next to the fluttering red tail, a big dark "presence." I had no choice but to toss my spinning rod, flip it really, about ten feet, and flip the bail fast before the gold Tony Acetta 5H grabbed bottom.
The tail stayed as did the shadow. I tossed again, and the shadow (what must've been a black drum) took, and ran. Less than five minutes, and I am onto a fish that has me badly outmatched (six pound test on a 6'6″ TFO spinning rod), and is running at will. He turned the boat, and ripped some drag off. Current and size – all were his.
Somewhere in the melee Salas finally catches up, and supposedly has the video of this whacky fight. You will have to see it to believe it. I fought this fish (remember this boat doesn't have the Hobie Amas out-rigged yet) seated, and in full circle. The rod spent significant time curved behind my head facing the opposite direction, as it did in every other direction. This wasn't how I wanted, or intended to start out. The fish did manage to snag some of the sparse oyster clumps along the way, but the line came free, and the tow kept on.
After about twenty minutes, and figuring the odds weren't going to be turning for another twenty, I grabbed the line with my hand and it was over. Salas questions the decision, but I was confident it wasn't a red, and twenty more minutes could very easily have ended the same way anyway. There's nothing wrong with black drum, mind you, but I had visions of reds in my head.
As we threaded our way through the maze of canal-like marsh channels, we were still on the lookout for alligators (we never saw one the entire time), and were seeing a lot of bait and tiny trout and redfish working the channels.
The wind was rouging us up a bit, but we did find our way into some nice wide open spaces – lakes, ponds or lagoons – hard to classify. Once in the open, our main opponent had its way with us. The wind was a double edged sword – clouding the water and pushing us across the open water at breakneck speeds. If it pushed us along the edge, that would be one thing, but across the middle was where we were headed.
Salas and I strategized, and took opposite tacks – him clockwise and me counter. This is a location he knows well, and said that he's limited out in a few hours, and fished all day for less than a hand full of redfish. We hugged the shorelines, and did get out and stand whenever the bottom would allow.
You'll have to watch out for all kinds of bad stuff if you decide to walk on the bottom or shoreline. We saw plenty of stingray and another fly fisher claims to have seen the largest swimming rattlesnake he's ever seen – at Matagorda. And there are those clumps of oysters that can trip you instantly. If you are in a stumble-fest of oysters, and should you happen to head down, Salas advises avoiding putting your hands down to brake the fall. Just go down – your body could absorb the flush hit of the water, slow your fall, and keep you off the bottom. Your hand shoots straight to the bottom and hits razor sharp oysters – end of trip.
To make a long story short, we had a day that didn't produce as advertised. I did catch a redfish and a nice flounder that I sighted, but for whatever reason, we didn't have all the ingredients – fish, tide, moon, who knows what else – to give us more chances at fish. If I had to go with a symptom, it would be that the water clarity was way off because the winds really had muddied the water.
WRAP IT UP – My perception of Matagorda is of a place that is about to "happen." It has that small coastal town charm, right now, that people will reminisce about in a few years. It is just too close to Houston to survive as it now is. However, along with the primitive nature of the town, comes a stripping away of all those things taken for granted – restaurants, hotels, stores, fly shops, bait shops and just about everything we take for granted elsewhere along the Texas Gulf Coast.
As for the location and fishing, Matagorda is a place that won't be high on my return list. The bottom of the bays is predominately that grey primordial mud that sinks you to your knees, and smells horrible. Wade fishing is hardly widespread. Public areas, like the jetties, are overrun – LITERALLY – with pickups doing donuts on the beach, drunks blaring loud music all night from their open truck doors, mosquitoes by the zillions, and tons of flotsam and jetsam. That said the park trailer sites are new and in great shape. They also buffer the trailer camper from all the aforementioned, have two lighted piers within walking range, and afford families the chance to fish for very nice speckled trout at night. There's not much trouble, in general, for the 8-18-year-old to get into here, and MTV won't be broadcasting spring break from Matagorda anytime soon. Put Matagorda, Texas, on your list – just not at the top.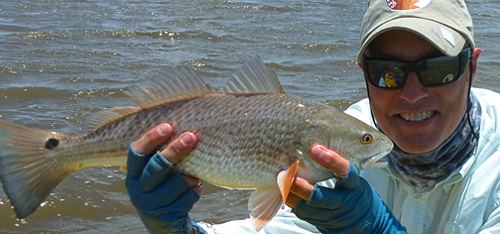 Same fish as above, but a better angle on that belly.

View Matagorda Fly Fishing Map in a larger map
Category: Equipment, Fishing Reports, Fly Lines, Kayak, Texas Gulf Coast