Tag: youth fly fishing
SHAKESPEARE ANNOUNCES SUPPORT TO FISHING'S FUTURE
Program brings families together through fishing
COLUMBIA, S.C. (March 28, 2013) – Shakespeare® and Fishing's Future share the same goal; to help families connect through fishing. This is precisely why Shakespeare announced today its support of the organization with a $5000 cash donation plus $5000 in fishing gear.
Established as a mode to reconnect youth with nature, strengthen family relationships, teach environmental stewardship and increase recreational angling, Fishing's Future is on the leading edge of growing the sport of fishing.
"Shakespeare chose to support Fishing's Future for several reasons," said Roxanne Coleman, Senior Field Marketing Manager for Shakespeare, "The program's mission exemplifies our goals for growing new anglers while creating family bonds through fishing. Fishing's Future also instructs students on local environmental impact. The program has gained recognition in a variety of new venues, including schools. This is a good opportunity to solidify Shakespeare as the family fishing brand."
Shane Wilson established Fishing's Future. Starting in Texas with a couple of volunteers, Fishing's Future has grown to ten states with 30 different chapters. All Chapters are run by volunteers using the curriculum and materials developed by Wilson.
WEATHER OR NOT
I keep having to remind myself; it's still winter dude! Sunday's weather was something like a late spring day on the Texas Gulf Coast … no crazy cool down following 30-plus south winds turned north. No, the weather Sunday makes you think the fish must feel a randy as we do, but the reality is the water is cold, it's a lot colder if you are around the lake. Remember, we had a freak February snow storm last year, and a freak snow storm in March the year before.
THE ESTABLISHMENT CALLS
The cat's pretty much out of the bag, so I may as well fess up and let you know I am part (a very small part) of the "fly fishing establishment" now. I am hopeful I will not have to mention it again, but I have been brought on with the International Federation of Fly Fishers as the Regional Director for the North Region of the realigned NEW Texas Council. Now, I wouldn't know my point of order from my filibuster, but I guess I have one thing on my side – youth.
And youth is the only logical, intelligent mantra for those of us who have a love for this sport and want to see it continue as a significant segment of the fishing world in the future. We have a long way to go, but it is pretty obvious to me that we are at least starting to think about heading in the right direction.
If you are thinking about learning to fly fish, and are fifteen or younger, please register on this site because there will be some very important information about free fly fishing lessons and guided trips (after proficient) starting this spring.
Membership at Texas Fly Caster has it's privileges, but first you have to be a member!
THE VISUAL REALM
I am so amazed by the weather Sunday. I was out at Lake Ray Roberts doing some testing of my DSLR shooting video, and the wind was literally howling. It was great lighting and terrible otherwise. I will throw some of that together soon. Shooting DSLR video is all the rage nowadays, and as cumbersome as the cameras and lenses are, it looks great in movies like "Low and Clear," and I am finding some creative uses for it. An easy way to spot this trendy video style is when you see very shallow depth of field (subject in focus and background / foreground way out of focus), and the color values can be attention getting.
NORTH CAROLINA
I am still in recovery from the drive to North Carolina, and the beating the wind gave me Sunday, so I will pile up those images and all the new DSLR video and spend a half-day trying to make something coherent out of each project. None of this amounts to anything resembling a complete story (thought), but clips can be fun, don't you think? Think of the North Carolina images as a "preview of coming attractions."
Thanks for reading, and I hope you have arrived safe and sound wherever you find yourself this morning! Regardless of present weather and drought, spring will spring, and it will rain, and we will fish. Feel free to ask questions and make requests for information you seek.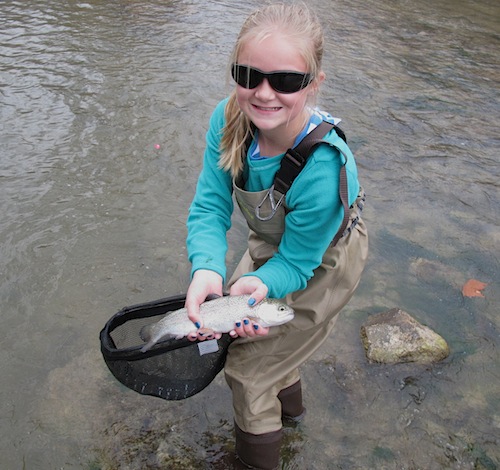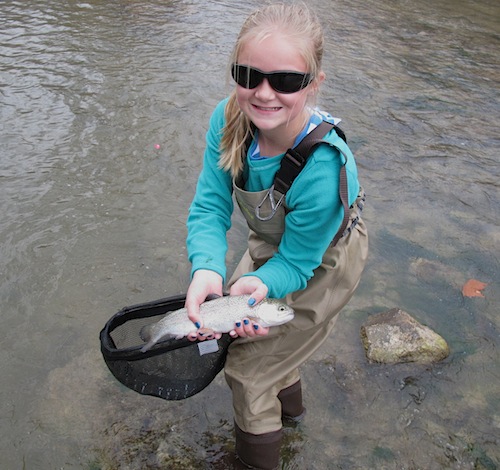 Family friendly fly fishing on the Blue River in South Central Oklahoma.
Introduction – This is a story sent in by a reader who happens to be crazy about fishing as well. His daughter is pretty darn good at it too.
We went up there day after Thanksgiving, just her and me to get some father-daughter time in. Friday was great. We found an awesome camp spot, setup the pop-up camper and she was eager to get on the water so we geared up about 1:30. The great thing about Area 1 is that you can walk to the river and good locations. We were just south of the main 'big' hole that everybody fishes, just south of the crossover bridge. There were about three or four seperate riffles we could fish.
We put on an olive wooly with a thingamabobber and did some drifting through the riffles. Within 15 minutes, she had her first catch, but miss, and she was excited. She then went on to catch 8 that afternoon. She was able to cast, drift and hook. I would have to help her get the hook out of the trout's mouth, but then it was up to her to keep the fish healthy, while trying to pose for a picture – so she learned the proper way to catch-and-release.
At first, she was having difficulty holding the squirming fidgeting fish, but after the three our four, she was able to cradle and show, then get back in the water quickly. She was stoked.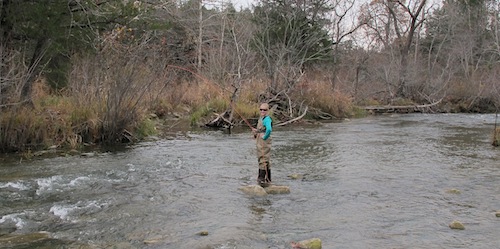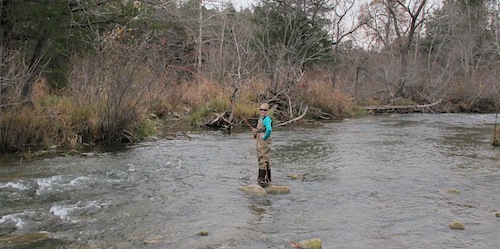 There was a teenage boy behind her on the riffles north to us, she was in a sort of competition with him. They would both see what the other was doing. It was cute.
We played chess, checkers and cards that evening after picking up a burger at Scotty's and starting a roaring camp fire (burn ban is off) and found out our furnace would not be usable due to a leaky hose on the front of the camper. It wasn't too cold, so we managed.
Saturday however was a different story. A cold front blew through. Fishing was tough. we did more exploring than fishing and the only fish I caught were the 2 I snagged when she got frustrated and said there weren't any fish in that hole. I didn't carry a rod or fish, except when she didn't think fish were in there. So I tried to show her they were there, and there were.
We went to HWY 7 with plans to ride our bikes to C&R. However, the northern winds had a different plan for us. We fished the front area a bit, then wind whipped, packed it up, and back to camp.
I decided to go to town and try and find a propane hose, we'd need it that night. Tishomoingo has nothing to offer in that respect, so we ended up at a diner for a good lunch and to catch the end of the OU game, which all the locals were out to see.
Drove 15 minutes to Madill to an Atwoods/Walmart in search of a SAFE space heater. We found one that runs on a green propane bottle. Came back to camp, somehow started another camp fire. Later, I walked out to stoke the fire, and I'll be damned, there's a ringtail out there coming towards camp. How coincidental is that?
Space heater was ok. We had enough blankets to keep us warm, but our faces/heads were cold if left exposed. woke up in the morning frigid. Camping neighbors said when they walked down to the river that morning, he spooked a huge bobcat near our campsite. That was exciting. We didn't see it or hear it, but the thought of one near camp was thrilling.
Too cold to fish, and we needed to head back.
Went to ardmore, grabbed late breakfast at IHOP. Izzy was worried about the hunter orange OSU shirt we had purchased since we were in OU country. We got that one because it's the same hunter orange color, but not as lame as hunting clothing. It boasted a college, and one that has a great veterinarian school. She covered it up with a sweater. There were a few OU fans in there, and they wouldn't have given her any crap, but she thought that was funny, the rivalry.
All in all, one of my best trips with her. Good one on one time, good conversation, good teaching and learning times. She really picked up stream fishing and can't wait to go back.