Tag: #flymusic

Some 2020 fly fishing sound tracks to take you back and push forward with as we continue down this long and winding road.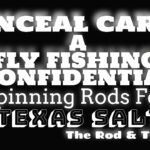 It is Monday Morning, that much is for sure. But how can we keep from hearing the hounds of news from reaching our ears now? One week ago, just one week, Minneapolis … now we have protests – legitimate – and riots – illegitimate – across the entire Country. Little old Denton, Texas, has a […]

So when I put together the "Official Top 10 Fly Fishing Music List" every year, of course I miss a few, and often more than a few. Have a listen to talk of Palacios, and fishing the Texas Gulf Coast.