NOTE – Readers are welcome to give back to Texas Fly Caster anytime. We welcome fresh writing from new sources, and as long as it conforms to being about "Fly Fishing Culture on the Skids," I can safely say it will have a good chance it gets published. Photography is a plus. And you will be rewarded handsomely, at the same rates everyone is rewarded, for their efforts. (+-0.00)
I arrived in Galveston around 7-am, the early morning sun was doing its best to warm the chilly morning, but it wasn't enough.
A friend had recommended several spots, the most scenic seemed to be the South Galveston Jetty accessed out of Apfel Park on the East end of the island. A sign demanding $8 to access the beach and threatening to tow my vehicle greeted me, but no one was at the park. I left a love note on my car asking any authorities to please call me and I would gladly pay the admittance fee.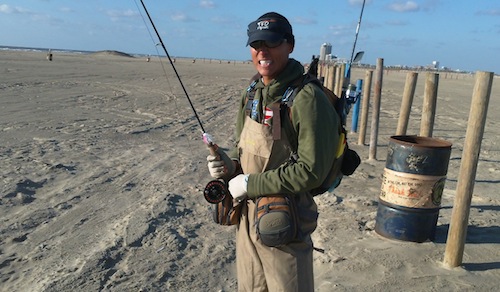 Courtesy Photo – Immanuel Salas
As I tugged on my breathable waders and strapped into my fly fishing back pack a Galveston Parks employee drove by and I chased them down the beach as if they were a roosterfish in "Chasing Down the Man". Instead of "combs" he had a gold toothed smile and politely told me the park was free at this time of year so I didn't have to pay for admittance. I jokingly asked them if that is because there are no fish here right now. He literally laughed as he drove off …
Back to my gear and pre-fishing rituals (which includes rigging the fly rod while humming the soundtrack to Tron out loud) and soon I was on the rock jetty and headed south. It was awesome to look at, strong south winds bought crashing waves across the VW Bug-sized boulders. One gap in the jetty walk was easy to cross but another further down would require stepping off into the tide pools on the east side and circumventing the gap to get back on. Being short on time and with a camera girl I didn't want to drown, we focused on the surf side before working over the tide pools.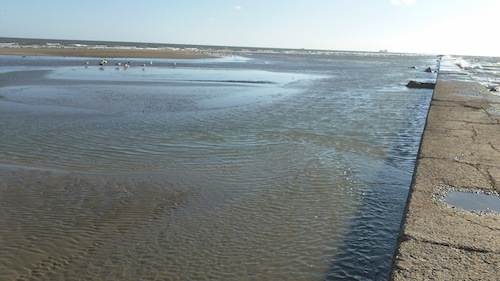 Courtesy Photo – Immanuel Salas
Two flicks of glass minnows were all I saw in about 2 hours which was disappointing because the pools looked very fishy. Easy to see the sand bar that eventually joins the jetty and promised to hold fish in its many dark recesses. But it lied. No fish.
Moved to the east shoreline where visible depressions and dark areas yielded nothing. Very nice with the waves rolling as the tide slowly swung back towards a 1:55-pm low tide. I worked a variety of clousers and small baitfish patterns while the lady chunked a variety of GULP.
Our time was winding down and we had an 11am lunch date so we packed it in. The seagulls, terns and pelicans kept laughing at our inability to catch. Mocking. Hundreds of them, waiting for us to leave so they could begin feeding without showing us where the fish were.
I don't like getting mocked, though it happens often. So I charged them.Fly rod in hand, running like one of William Wallace's boys. I charged.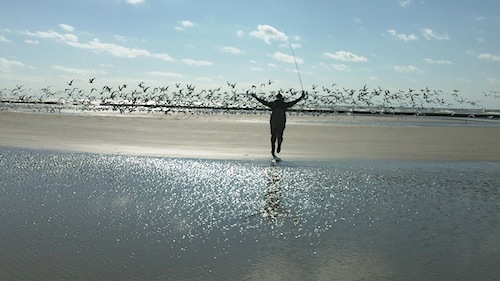 Courtesy Photo – Immanuel Salas
And they flew away.
Met our friend for lunch (La Tortuga – touristy, but the flavor and service made it well worth it. Affordable, too.) Mike the waiter and I got to talking about, guess what: fishing. He said the jetties don't have any fish right now and if I wanted to get into flounder I should try the shoreline east of the road leading to Seawolf Park. White or salt and pepper GULP, Mike said. And pack extra jigheads, because you are going to lose some on the snags.
So off I went to Pelican Island, waited on the drawbridge which seemed to take forever. I'm pretty sure people on their way to fish are supposed to have the right of way in all instances.
Around 1:30-pm I arrived at the road, stopped before all the NO PARKING signs and saw dozens of cars parked on the shoulder. I was afraid I was too late.
Luckily many people were leaving. Mostly because they had their landing nets slung over their shoulder full of doormat sized flounder. Holy Crap! As I slammed it into park and threw my door open to fast load into my rig I saw at least six people walking back to their cars with their two fish limit and big ole smiles.
I thought "Even I should be able to get on fish in here." I walked a short trail through the brush and hit the shoreline. It was busy, but there was plenty of space between anglers so I started stripping fly line and headed in. Red and white clouser and intermediate line and I went to work. And it was work. Wind full on in the face was killing my cast, dumping it about 25 feet in front of me. Worked all angles, paralleling the shore, towards the shore, out deeper, behind the back. All I got was funny looks from spincasters chunking various colored GULPs and plastics. Then they'd hook up.
Enough of that. I grudgingly stowed the flyrod (you can stop reading at this point if you want to) and brought out my camera girl's "Lady Pflueger" pink spincaster and went to town with a white GULP. It was my self-imposed punishment.
Weather had changed at some point, was actually warm out, and the tide shifted too. Working a slow retrieve back towards the shore and got that THUMP. Lowered the rod tip, breathed a long calming breath and began my ten second count… Then I set that hook. I felt the flounder slide towards me on the hookset and, more concerned with dinner than sportsmanship, I reeled that little 14incher in.
Slid him onto shore and strung him up (BEFORE unhooking him. I've played that little game with Mr. Flounder before. And lost.). On the belt stringer and I waded back in. This time with the fly rod, determined to make it happen.
But I didn't. Went the rest of the day without another hook up. I witnessed other fisherman taking fish so I know the bite hadn't stopped. Nope, it was just me.
Most people took on GULPs or swimbaits, brighter colors, including tandem rigs. The water wasn't very clear, but it was green and you could make out the rocks and rubble underneath. Plenty of sand and soft stuff for the flounder to play in. Not sure on water temp, though it was warmer than the air. An old timer that had been out there every day this week (jealous) said he thought the run was really just getting started.
After seeing everyone walking out with limits and size I was a little disappointed to only have the one fish. And he wasn't on the fly (forgive me). I did talk to others who didn't get any, and ran into more people while getting ice that had been skunked for weeks, so in the end I felt good and knew I had a nice pan fried dinner in store. So it was a good day.
Breathable waders, wool socks, fishing shirt and pants kept me warm and dry throughout the day. Drove home that eve, 8 hours roundtrip for 6 hours of fishing and one flounder. Don 't doubt my addiction.
An interesting aspect of fly fishermen is their ability and need to read conditions, the bite and their own instincts to be able to adapt on the water. That includes changing retrieves, flies, tactics, etc… I think it also means being versatile enough to know when to store the fly rod and hook them with a white GULP on a pink spincaster.
Be versatile,
Immanuel
Category: Culture on the Skids, Fishing Reports, Gulf Coast Report, On The Road, Reader Contribution, TECHNICAL, Technique, Texas Gulf Coast, TIPS