FRESHWATER STRIPER ON FLY LAKE TEXOMA TEXAS
Thunder rolls around North Texas this fine Monday Morning, giving me cover to put out a "Sidewalk Column" that has a little more meat on the bone …
I have multiple confirmations that it is once again one of "those times" on Lake Texoma, Texas. For those of you who fly fish: Just because Texoma has all the character of an ocean, it doesn't mean you can't drop a fly line and catch magnificent freshwater striper as long as your arm. And I'm talking about full-length arms when I say that! The word is they are running top-to-bottom, and even in close (see my archives for nearshore kayak spots).
There are tricks to the trade of a fly for the bite of a big striper on Lake Texoma. Sure, topwater is topwater, and if that is on? we have to whack-a-mole on that all day long. If not on top, we have to open the drawstring on the bag of voodoo that catches striper on fly – AT DEPTH.
MULTIPLE RODS
Like it or not, Texoma is a place that calls for multiple fly rods – multiple heavy fly rods. If you want to bring a knife to a gun fight, I can't help you. We're talking about getting a full sink line out and away from the boat with a big bait pattern on it. AND we're talking about having a rod (ready to go) that can launch a topwater fly into the middle of a blitz – WITHOUT blowing the school out. So dust off yer' 8's, 9's and 10's. This is why you have them, right?
So we have heavy rods for:
full sink line

topwater

pounding the rocks for smallmouth in between
SINKERS
The hardest part of using a sink line (for me) is learning to be patient with the sink. The water is deep, and the sink is slow, slower than you think. I want to feel my fly scratching the bottom before I even think about starting a retrieve. Snags? Oh, hell yes. That just tells me I am in the zone.
Remember YOUR LEADER needs to be solid fluorocarbon and at least a fifteen tip. That is part of the rub – bigger diameter leaders sink slower and ark sooner than small ones. That weight also allows you to pull hooks free from most rocks (check your points after a snag!).
FLOATERS
Presentation? We don't need no stinkin' presentation during a striper blitz. We need some distance and very little accuracy. I mean … can you hit a fifty-yard square target at fifty feet? Still, you have to launch a lunch worthy of an eight-pound striper. Saltwater lines with a heavy tip and true float means switching to monofilament leaders. And you might have to dial down to an eight or ten pound tip to keep the floating character of the fly, although does it really matter that much during a blitz? Nope.
SMALLIE STALKING
If you can't get a grip on the striper action, or it takes a break? Chase those huge smallmouth bass along the rocks of Texoma. You'll find them just about anywhere there are rocks, and rocky points jutting out (dam turnarounds). I still think you'll need to be deeper than you want, but dialing down to a six or seven weight can give your arm a break while you watch for the next blitz on the horizon. MAKE THE MOST USE OF YOUR TIME AND EFFORTS ON Lake Texoma, Texas! It takes so very much time and effort to do this lake properly and safely.
FLIES
I knew you'd ask about flies eventually. Meat, bring the meat. These fish are used to big gorging meals of bait. So much so, in fact, I wonder why more people don't saltwater chum for striper on Texoma. Imagine a frozen chum-ball putting out the dinner bell? If you can call them up by slapping a paddle on the water? Chumming could fill a boat, couldn't it? Bring the meat, BIG meat.
TIE YOUR OWN flies! My thinking on deep striper fly fishing has evolved when it comes to my hook selection. My first years were marked by expensive saltwater hooks that had devastating penetration – Tiemco 600SP's. Nowadays, I like the circle hook option. Why? They are still sharp, although they do not penetrate skull bone – THEY DO hang the lip and THEY DON'T let go. It allows for the delayed recognition of a take that we often experience with deep flies and heavy sinking lines. They hit to stun (we miss that feeling), then they bite and are on – and we feel that!
RETRIEVE
Another complication of the sinking line stalk of striper on Texoma is that these fish are rapacious. If they see a fly lallygagging by them? Nope. They want the chase and a head-on stun kill and then eat. Fast retrieve – as in two-handed-rod butt-tucked-under-your-arm retrieve. This is a "complication" because it quickly takes a fly out of the striking depth (check your electronics often).
---
Thanks for reading today. The rain kicked on during this writing this morning – pretty sorry weather-heads we have on TV in North Texas! So my morning photo shoot is cancelled, and I guess I have to actually extinguish one end of my candle for the day. Have a fantastic week!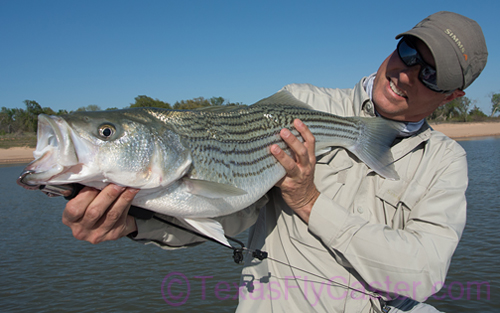 Conventional caught striper – Lake Texoma Texas – thanks to CS Keating! Who's that fat boy in the picture?
A special thanks to Mr. Keating for being the boots-on-the-ground for that Texoma inspiration. I am going to have to get me some of that this week (if nothing else gets in my way!).
---
DESTINATION SOUTH PADRE ISLAND TEXAS OCTOBER 2018
I am zeroing in on dates for a South Padre Island, Texas, week(s) in the fall, and there are spaces for other fly fishers who want to hit the best saltwater habitat and action in Texas – on a budget! I am not guiding on this trip, but simply hosting a home base for DIY'ers to come-and-go fish as they please and pay for lodging by the day. Yes, I will gladly show-and-tell you what the action is and where it is – a boat is not absolutely necessary!!!
Look for this to develop on a new page of this site called, "DESTINATIONS" – coming this week.
DESTINATION PILOT POINT TEXAS
Pilot Point, Texas, is another Texas destination that is going to be featured on this new page as well. Here's a link to the Western Son Distillery story that ran recently in the Denton Record Chronicle – Western Son courtesy DRC. Unfortunately, for my tastebuds, Whistle Post Brewery has brewed it's last beer.
Category: Complimentary Reading, Culture on the Skids, Destination Fly Fishing, Fishing Reports, Life Observed, North Texas, Saltwater Fly Fishing Texas