QUEST FOR THE COMMON CARP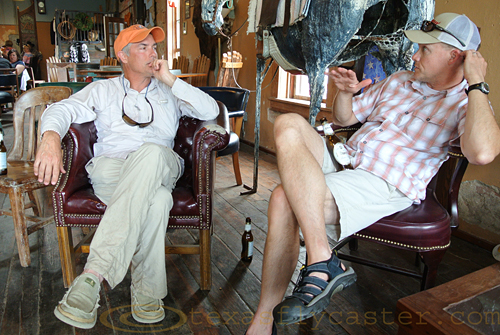 I talk carp with Joel Hays at the Lowbrau in Pilot Point, Texas – after a midday trip to the flats on Lake Ray Roberts last weekend.
The fly fisher's quest for common carp seems to show no signs of letting up any time soon. Guides talk openly amongst themselves about fly fishing fad fish, whether a pursuit has run its course, and what hasn't really been done yet. Personally, I don't know what the next fad fish is, as it seems through the increasingly affordable ability to produce, package and distribute DVD's with the latest greatest fad fish chase, the fad fish list is shrinking quickly.
The staying power of a pescatorial pursuit is hard to measure. Certainly things get "hot" then peak, and cool off or disappear. By now, fly fishing for carp has certainly peaked, then settled in as a very practical adventure that is easy to access and a challenging enough fish to keep fly fishers coming back for more. Predictions of the carp fly fishing phenomenon's demise seem to be a bit premature all these years later. It may well be "so 2004," but 2004 was a heck of a good time compared to the last couple of years. Maybe carp are the new "Golden Oldies," sentimental favorites with a look only a true fan could appreciate.
Carp have even sprouted their own cottage industry of fly lines, flies, clothing, artwork and dozens of sites dedicated strictly to the pursuit of carp. Whether or not carp are "IN" for the long haul, they certainly have the support of an industry looking for hero fish.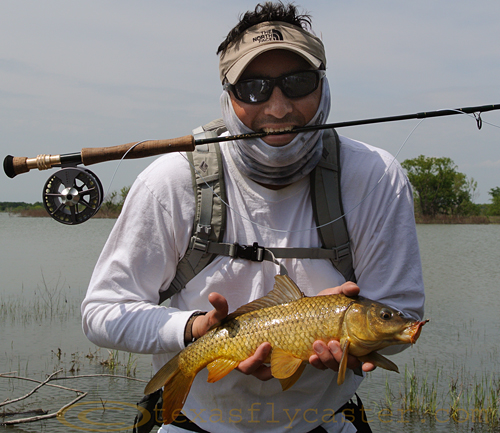 "Zissou's" first common carp caught on fly with me recently on Lake Ray Roberts, Texas, while fishing the flooded flats.
The (Not So) Short List
There is a list of things anyone hoping to have success carp fishing, on the Ray Roberts flats for instance, needs to have a fair chance at one of the sharpest freshwater fish you will ever experience.
If we think in terms of outfitting yourself, head to toe, when wade fishing for carp on the flats, you will have a clear picture of everything you need to get close to, stalk and catch carp.
HEAD – Carp are most active in the warmer months when the sun is high in the sky, and your pursuit of carp is typically during the brightest overhead sun of the day. Translation; you'll need good headgear like a fully brimmed fabric or straw hat. No hat will protect your face from reflected light though. So think about getting a straw hat large enough to wear a BUFF underneath. Coverage like this will keep your skin in tact, and as the bug population increases, you'll also have a fighting chance against them as well.
EYES – Your eyes are crucial to your success flats fishing for any fish, and especially carp in freshwater. Remember my saying; "See the fish. Be the fish?" Forget about having a successful trip if you aren't equipped with polarized sunglasses in a rose, brown or tan color – NOT the deep saltwater grey or blues. They don't have to be expensive, they just have to work. Decrease your odds by 75-percent if not wearing polarized sunglasses.
NECK – Again, the BUFF if worn properly, will do a fantastic job of keeping the sun off your neck, and prevent premature "turtlenecking."
Be sure to check out my old post on sun protection for fly fishers.
TORSO – You will need a well ventilated shirt, with my bias toward a fishing shirt. They can range from a long sleeve flats tee, to a vented fishing shirt with all the pockets. I buy the cheap Academy brand, and have the bottom shirt tails custom cut square to keep them from dragging in the water and allow for longer arms (by purchasing a larger size shirt), and greater ventilation. Shirt colors need to be common sense – from dark blue to white, and anything in between. Carp have keen senses, and that certainly includes eyesight. I have even worn camouflaged blue tie dyed with fantastic success – getting me extra close to carp – to the point they swim between my feet if I remain still. During cooler months, before the Texas heat really kicks in, I wear synthetics and when I need the extra cooling I wear cotton that I can get wet to keep cool.
PANTS – Think in terms of tan or colors that are close to tree or mud color. If you are following along, the gradation runs from brown pants to blue sky shirt. If you blend in, you will be able to get a lot closer to carp, and they will even swim toward you. Cotton is pretty much pointless as it gets heavy and dries too slowly. Your most practical fabrics are synthetics, and my favorite came from REI, and have nothing to do with fly fishing. If you wear shorts, you will get sunburned.
FEET – Wade fishing for carp can be quite the expedition. Some guys just get a cheap pair of hiking boots and waste those on the muddy flats. I can imagine that they would not last too long since they are made for dry land use. Your feet can make or break your trip. Substantial distance can be involved. You need to be comfortable, and that starts at your feet. I wear a pair of wading boots – nothing fancy, and then some neoprene gravel guard boots to keep debris out from between my feet and boots. It works, even if neoprene boots are the shortest lived thing in fly fishing clothing, they are something I consider indispensable.
RODS REELS LINES FLIES LEADERS
RODS
We are always trying to match up fly rods to carp, and as long as they keep making new fly rods, we will keep trying to apply them to a carp. Generally, I like shorter rods that give an advantage to dapping for docile carp who haven't sighted me. Rod weights can run anywhere from five to seven, but you're welcome to come out with a three and two pound test leader and try your hand at a IGFA record – if that rows your boat.
REELS
Chances are you will go to your reel when fly fishing for carp, and during primetime, chances are you could see that backing. Now I'm not saying you need a Tibor, or Hatch reel. You need a reel that has a good drag, and you need to be comfortable getting carp on the reel as soon as practical. Strip in a carp at your own peril.
LINES
I am about to order a new (to me) carp line to see what they're all about, but you want a line that turns over at short distance, and at the same time has a soft enough presentation to not spook carp. Unless carp are spawning, in which case they don't eat much, their senses are acute and they are highly "spookable."
LEADERS
It has been years since I bought a leader of any type, but I have come to count on tying my own leaders using Seaguar Invis-X fluorocarbon in two pieces – a 20 or 25-pound butt section and a 4, 6 or 8-pound tippet section. I prefer the sink rate I get with fluorocarbon, and it's pretty obvious that fluorocarbon is invisible to carp.
FLIES
Stock up on store bought (or make your own) Bonefish Bitters in gold/brown. Other flies like the Coyote Carp Fly are available for purchase in the FLY SHOP, and you can do well with dragonfly nymphs and other flies. Sometimes carp get very picky, and other times all you have to do is be in the ballpark of what they may be looking for on a particular day, or entomological time of year.
Here's what is most important about fly selection: FLIES NEED TO RUN HOOK UP. You will lose lots of flies running hook down. Roots of vegetation, rocks and all sorts of debris will reach out and snatch your fly right off the end of your tippet if it runs hook down.
FOOD WATER
Wading the flats is like walking in the surf when you factor in the suction of mud on your feet. It's not for the faint at heart, and four hours will just about do you in for the rest of the day. A wading stick adds stability, and the lighter weight EVERYTHING you carry will be rewarded in the long run. In a four hour (1/2 day) of flats walking, you will burn off some calories, and need to take in plenty of water. I carry a Nalgene of water and a couple of Cliff's Bars to knock the edge off – and I am not a heavy eater anyway. Going through two Nalgenes in the hot months is pretty commonplace. A typical distance on shoreline is about a two mile wade.
SUMMARY
Everyone has their own ways of doing things and never more so than in fly fishing. I am always interested in hearing about your experiences, and they would certainly add depth to this post. That said, I think this just about covers all the things you may need, besides what fits between your ears, to have a safe and successful outing fly fishing freshwater flats for carp.
BOOKING A TRIP
This post pretty much covers all the technical aspects of the fly fisher's quest for common carp. The technique, nuances, entomology and tips come with booking a trip with a guide experienced in going after carp on fly rods. Feel free to go to my contact page and let me know if you are interested in booking a guided trip, and be sure to check out the comments on this article to pick up any things that may have been inadvertently left out, or recommendations from others. Otherwise, I look forward to seeing you out there!
Category: Equipment, Fishing Reports, Fly Fishing For Carp, Fly Lines, Fly Reel, Fly Rods, Fly Tying, Guides, North Texas, Science and Environmental, TECHNICAL, Technique