Some stories have been so big over the years that I struggle to get them out. The effort, the exhaustion after it's done and time goes by … some of them never make the light of day. Port Mansfield is just such a story, but this time we're going to get it done.
The truth of the matter is that sometimes you are so THERE that nothing else matters but the fishing. Sun up to sun down fishing and running, only sleep provides the punctuation. Needless to say, that doesn't leave any space for writing it all down. And if the fishing's tough? There's no time to spend on video or photography either.
WHERE IS PORT MANSFIELD TEXAS?
For those of you who are unfamiliar with Port Mansfield's place on the map, it is essentially the last (northern) vestige of the Lower Laguna Madre, and part of the Rio Grande Valley. I have repeatedly said that I had done all of the Lower Laguna Madre EXCEPT Port Mansfield, and now I know why.
Lower Laguna Madre and Rio Grande Valley are code words if you haven't already figured it out. Decoded, the translation is, "End of the Earth." And if the Valley is the end of the earth? Port Mansfield is where you land when you fall off the end. And that my fly fishing friends, is why in my eighteen years in the Valley, I never set foot or cast a line in or near Port Mansfield or the Land Cut. I had seen them from a distance – the "Cut," and Port Mansfield, but never spent any time there. I had been to the Cut before, years ago doing a "Running Up The Padre" with the Lower Laguna Madre Fly fishers. That was a drive up the beach along the Padre Island National Seashore in a convoy that was essentially touching the jetties at the Cut and almost immediately turning around and driving back – pretty random.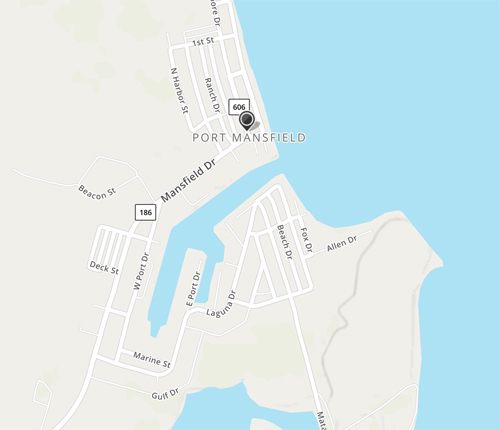 So pulling out a map, you get the idea. And once you are at Port Mansfield, guess what? I hope you brought anything that is out of the ordinary – food, special diet, medications, special refreshments, special flies and fishing gear – SAY AGAIN; I hope you brought it with YOU. That's because the nearest tiny town is thirty miles back -Raymondville, Texas. There is an HEB (the greatest chain in the world) there, and that is the shopping epicenter for miles and miles. Think of the isolation of your Colorado high mountain adventures, and just add salt. It's that isolated.
Living on Madre Time
Assuming you have the essential elements needed, you will find plenty of hard tackle, bait and a restaurant or two. Do everyone a favor though. Dial down your big city expectations if you have any, because if there's such a thing as "island time," and there is another pace as well – I'll call it "bay time." Living on Bay Time means those french fries you were craving for the second night in a row may well have run out at the restaurant. Fried everything, but no fries to go with.
As for me, I chalk it up to charm … once I find something else to fill that french fry hole in my soul. Instead of my five blade razor, I will gladly settle for a ten-pack of double blades that only last through one shave of a half destroyed beard base. Do I care? I think you know the answer.
While the world of consumerism takes a break, there are many TOP SHELF places to rent, and they appear come with every level of amenities desired. For my damn good luck, I was invited to stay at a two level house tucked away in the corner of the marina. It had three fantastic boat slips with lifts, a cleaning station and green dock lights for fishing at night. The entire place was top shelf all the way. It seemed to be nearly brand new, and built to hurricane standards – concrete pilings and a sparse bottom floor for the blow though.
And for the traveling observer, it looked to me like there are shacks, condos and everything in between, and available for rent. Just because the location is isolated, they do still cost you though! You'll get a lot more bang-for-the-buck than you will thirty miles south – at South Padre Island.
THE VILLAGE
The "Village" (which is a better term for Mansfield) is essentially a simple layout. A road comes in and circles around the edge of the Village and is smoothly paved. Other roads shoot off to the inside. Also on the inside is a wide and rough boat launch. That launch is where the weekend warriors (yes they're there too), or the vacationers launch and cruise around the marina to find their house's boat slip. There is a big parking lot to park your vehicle-trailer if you are just there for the day, are going in-and-out every day. This launch, the bait shops (with expensive gas), the marina and just about everything about Mansfield … it's there for one reason – to serve the water. And if it serves the water? It serves up fish.
Category: Adventure, Body-Mind-Soul, Destination Fly Fishing, Fishing Reports, Fly Fishing World Destinations, Lower Laguna Madre, Saltwater Fly Fishing Texas, Texas Gulf Coast