THE ZOO ENSUES
This is the THIRD and FINAL part of the story. Be sure to back up and read Part I: God Always Always Laughs Last and Part II: God Always Always Laughs Last Just Props to lead up to this final part.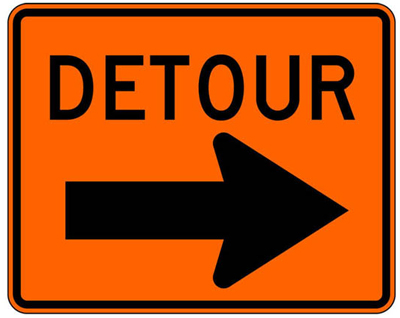 If you have fished Port O'Connor, you know how it is. You're lulled by the lack of crowds if you're there early on a Friday. Later in the day, you are awakened by the thousands of people and hundreds of boats that show up in a matter of hours. The zoo ensues.
My morning assignment was to get on board the newly propped Hell's Bay, and do a ride-along with CK and wife – who is no shrinking violet when it comes to fishing in these conditions, all day every day.
On plane in a second, and cruising on plane as slow as we wanted, we wound our way back deep into the folds and flats of popular POC locations. We came off plane and looked and poled … on and on we went. Conditions optimal, and yet fish were minimal, less than minimal. Full moon maybe? As of this writing, that is about the only  thing I can come up with — because if they were there, we would have seen them. They could run, but they'd have a hard time hiding.
All Friday morning it went that way. I did get three shots at one red, taking on the third and something about the timing, breaking him off clean – a cutoff – immediately on feeling the tension … a strange day indeed.
Back at the boat stall we all knew going out on the big boat was the ticket because the weather was so perfect for open water. Clarity perfect. Wind perfect. We'll take whatever the tide offers. Twelve weight Sage Salt and Hatch 9+ locked, and loaded. And we were off on the big center console as easy and natural as that.
We were picking up speed as we headed to the edge of the intracoastal, escorted closely by porpoise playing in our wake, and jumping ten feet behind the boat for our personal entertainment for about a quarter-mile.
As we picked up speed, and took a hold of our security grips, off rolled one of my famous fly line mats into the wake, the only fly line mat we had on board. I was planning on swimming offshore all along, and had my Birdwells on already, so when we circled back, it was obviously me that was going overboard to get the mat which was sinking fast. I jumped. By the time I got there it was seven feet down, and starting its next plunge on shifting directions again. Down I went, it shifted and took another dive … determined now, I opened my eyes wide and went down for it. Got it.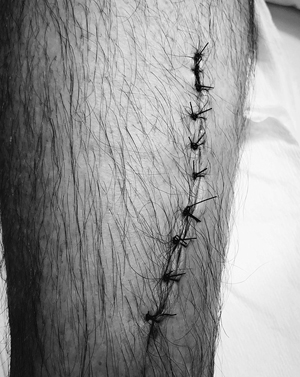 Swimming back to the boat, there were other wakes crossing over us as a boat came back to make sure all was okay. My fly shirt was getting heavy, and resisting my swimming efforts, so I (think) I first threw the mat onboard, and then my visor. At the back where the ladder is located, I took ahold of the ladder which wasn't folded down all the way, so my left leg was way up- knee on my chest, my right straight down … trying to figure out how to lower the ladder. About the moment I noticed the prop was turning, I was hit by the prop on the down leg. I reached down with my right hand immediately thinking shark week, and felt the gape where my lower right shin was filleted open cleanly. "I'm hit." Someone said, "WHAT?" "The prop got me. I'm cut." I don't remember how I made it up the ladder, but laid out on the back so we could get a look, blood freeflowing. Pressure applied, friend's wife says, "He's gotta go." She basically turned first responder, knew what to do, and did it – thank God. Good pressure applied with towel, as we flew the three-quarter mile back to the boat house. One more time at the dock, she opened it up and poured hydrogen peroxide on it. I felt that, like no other pain – probably since my own childbirth, waited for awhile, and did it once more for good measure. That was intense, but it was a clean cut, deep enough but clean.
The guys basically carried me off the field, like an injured player and into the back of one of their four-door trucks. Game over. They conversed. I remember ER and Port Lavaca, and thirty miles. I laid down on the floor with my hacked foot up on the seat, not bleeding, now pressure bandaged, on the brand new black leather seat, looking up at the fat coastal clouds passing by the window straight above my head. Wide awake, that was a surreal moment. How opposite of our plans, my plans, could this possibly be? I had never had a stitch taken in sport in my entire life, but this was going to be a conversation piece for the rest of my life – being too old to have many good stem cells left for repair of such a cut.
The trip into the ER doors was another experience all my own, and a timepiece – a snapshot in the US Time Machine we find ourselves occupying. Stopped at the chamber leading in, I was temperature tested, and a medical mask was unceremoniously strapped on my head, and tangled up with my glasses immediately. Admission done. Zero waiting. Apparently people don't have as many emergencies when the sheltering and fear of virus are busy reaping the innocents. The nurse had me roll onto my side, and opened the filet to get a look, "Oh yeah, that's deep. Where were you?" A lengthy discussion on Vibrio ensued, and temperatures – air and water – and again that almost exact need to know where this happened. I replied again, "Open water," and knew what that meant: In a bad thing, that was a good thing. I had her take a picture of my filet.
The ER doctor on duty came in, and did his look. Two layers of stitches, and I heard him ordering all the other moving parts he would need – washing, numbing and thread diameters. He went over what was going to happen, and at his own pace, got to work. No tendons no bone. We are talking pure meat in one of the most meatless portions of this old white guy. This was turning out to be great good luck.
For me, I was overwhelmed by disappointment, not pain (still wondering about the absent pain to this day). My plans were set months ago, and I was even mulling over more plans – to be finished with Port O this weekend – and just, and just keep on going, honestly, just keep moving along the coast. When you hit the middle of the target Port O, you can go either direction. It's all good. Now it's all over. At least that's what the doctor said, "No! You cannot get near the water, or on a boat, for seven days!" in his kind African accent. "The stitches come out in ten days. It will need to be inspected in five days," sealing  my future plans away. The numbing was applied with a big fat syringe – at least I though it was big and fat – as he asked if it hurt? I replied honestly, "no." "Oh, tough guy, eh?" was his response. My medical experience told me not to say yes. I felt the tug of flesh as the gap was closed, there's the sting – less the first layer, and more the second layer. 
We got done, and another photo of the stitch job, all ten. Seems to me like it could have been more smaller stitches, but this guy is a combat guy not a plastic guy for sure. I do know the difference. Ten just seems like such a small number, all things considered. 
dOut the door and back into the truck to get to the pharmacy for antibiotic and super ibuprofens – nothing more, and a lot less to look forward to on this journey. I told the guys the news, "It's over for me. I am done." I told them the doctor's orders, and there was little resistance. Maybe if it were nine stitches, I would take the chance, but ten? A stitch too far, I was willing to go along with doctor's orders.
Along the way and along the way back, there was plenty of self-beatdown being inflicted by the driver, but there is no other way to look at this than as an accident, maybe an avoidable accident, but an accident all the same. It was done, I was done. I can say that for whatever reason, I did not feel great pain, except for a few minutes when the numbing shots finally wore off late at night, but even that didn't last very long. Maybe the pain will set in on the upcoming drive home. It certainly has set in on my brain.
Such plans as I had must've been deeply flawed, and I was saved from something worse (than this) waiting out there somewhere for me along this abbreviated journey. It's like thinking, "If I had gone through that intersection two-seconds earlier, I wouldn't be here," but maybe a little bigger time diversion than that.
POST NOTES: I waited a day before loading up, and driving the 400-miles back from the Texas Gulf Coast at Port O'Connor. No fish, but obviously a whopper of a true story. So much and so long of a story that it made me think about how little we all have been doing to add to all our stories during these lockdown days. Time has been warped. The simple act of going and the doing can always lead elsewhere, way off to eccentric propeller makers, conventional coastal rod makers, boat builders … all kinds of unexpected and colorful adventures. And that's just the tip of the traveling iceberg, just a shortened jaunt to the Texas Coast. Of course, I am dying to get back on the road and finish the fishing of this story, add more to it, and keep going. The detouring stories I had to leave on the roadside are just so … numerous.We're at the ten day mark now, and recovery seems a bit slower than I expected. Like I said, dwindling stem cells. But this week will bring the circle back around to perfect conditions in North Texas for the challenging carp, casting lessons and guiding. Stay tuned!
Category: Adventure, Body-Mind-Soul, Culture on the Skids, Fishing Reports, Fly Fishing for Redfish, Life Observed, Texas Gulf Coast