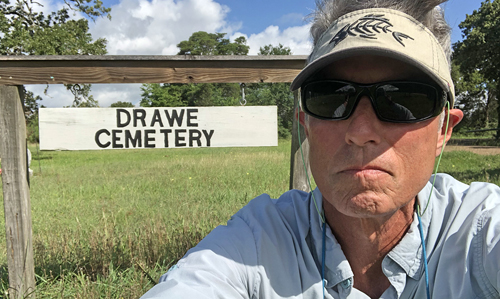 What is the saying, "God laughs while man makes plans," or some phrase like that? I consider it one of my badges that I don't plan enough to actually know the saying as I sit down this Saturday afternoon, to write of my plans CUT short over the weekend … right foot elevated, medicated and frustrated.
DAY ONE -Waltz Across Texas
Day one was a 396-mile drive leading to the end of the road, Port O'Connor, Texas. That was Thursday, and as pleasant and even as any ride I have taken down here to the epicenter of Texas Gulf Coast fishing, and fishing tournaments. Three notable, two planned, one not, sidewinds were to my family cemetery the Drawe Cemetery outside Round Top (which was getting cranked up) and closer to the little Round Top-appetizer-town Warrenton, Texas, and then to an amazing "Prop Shop" at the end of a canal road.
THE DRAWE CEMETERY
The Drawe Cemetery is home to, and I believe this is accurate, our founding German ancestors who came to The Republic of Texas in the 1830's. I was always told that if a German-American-German had the last name Drawe, "we were related." Now, I have no way of knowing that to be an absolute truth, but I do know that THESE rooted ancestors, are my roots without a doubt. Based on what little Texas History I have from that time period, and based on anecdotes of music and reading as a big part of the family and Texas German experience, I have come to want to believe they were part of the German intellectual migration fleeing persecution in Germany at about that time. (Perhaps I am taking liberties, but I will pass this by family once again for their research – when there's an opportunity.)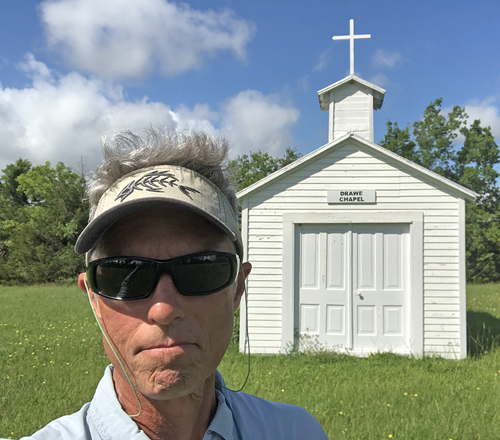 The second part of the sidewinding was to Waterloo Rods in Victoria, Texas. If you decide to make a conventional gear stop in Victoria (where is the Fly Stop? Hint. Hint.), do not waste too much time at the Academy Sports there. That store has been spectacular in the past, but it has been ravaged for whatever reason – the reopening, or the supply chain breaks perhaps could be the culprits.
WATERLOO RODS
Waterloo is one of those shops. Stocked chock full (but with missing high-demand items due to supply chain) of rods, and to my surprise those plastic and hard baits that WORK down on this part of the Coast. If you watch the Black Fly Ops Series (Just two parts on YouTube Channel now), you know I am trying to devote my early growing interest in spinning rods to Waterloo Rod Company. It doesn't hurt that the company has created a sexy new color in one of their rods I used back in March on Captain Roel Villasenor's boat in the Laguna Madre. The Waterloo Rod – "Salinity" – casts a country mile, is light in the hand and handled fish with no problem whatsoever. I would have more use (stinking freshwaters) for a light action Salinity, but "not available" was the response to that. SO I added a medium action Salinity to the spinning quiver. I would like to say I put it through its paces, because that was the plan.
Next Time: PART II The Third Sidewind is a Doozie.
Category: Adventure, Body-Mind-Soul