AT THE CROSSROADS – Jack Foreman Prop Shop
READ FROM PART I – GOD ALWAYS ALWAYS LAUGHS LAST – Waltz Across Texas
The third sidewinder was to a shop down a typical South Texas canal road. I was headed to a little tin building near the end of the road.Jack Foreman's Cross Roads Prop Service, located in a tin building with the large garage doors open to try and dial down the South Texas heat coming on by the total lack of wind.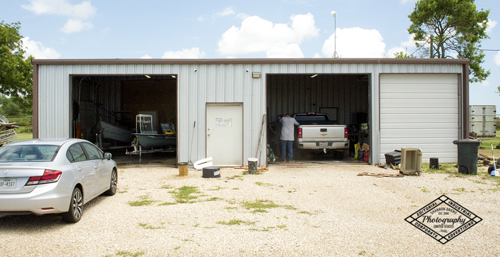 I was there to pick up a unique, custom shallow water prop made for for CK's Hell's Bay skiff. He also had a newly fabricated set of water pickups to keep a high volume coming in the intakes. These were the last pieces in the Texas Skinny poling skiff puzzle –  prop custom cupped and shaped for a specific boat and motor, and the new pickups. Jack took a gander at my skiff, and we talked a bit.
I was immediately anxious to do a story on him (NEWSTIP – for my writing-publishing for profit readers!), but he was obviously busy, "People may not be working, but they're fishing. I have been working non-stop eighteen-hour days," and he was still behind. Over to the side stall sat a customized Spear Skiff. "I sold two of these for them when they brought this one down here, and now I rep for them," while working on his own new skiff design – in an secret and (so far) undisclosed location. We conversed about what Florida builders think is skinny, and what we Texas people and builders know is skinny. He told me just how easy it is to pour a tunnel hull into a non-tunnel mold, which made me a little sick in the gut – it really is THAT easy to do when laying up the glass.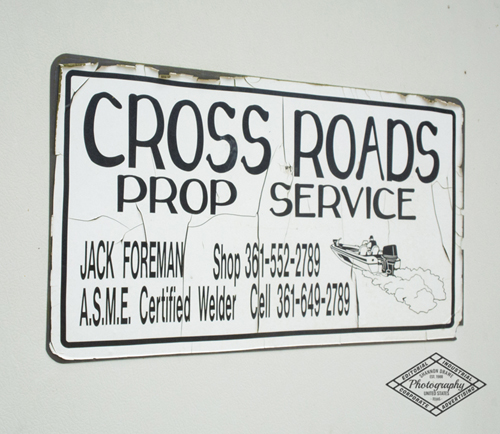 "I got a lot of Florida customers that are demanding to get skinnier now," and they are turning to Jack Foreman for help in droves. "I wish this would have been my career, and not my retirement," the A.S.M.E. Certified Weldor said.
The floors of his shop have props everywhere, props and shafts waiting for the magic to be applied, and make skinny dreams come true. He was as friendly as any "mad" (happy actually!) genius I have ever met, and offered more help, "I'd try Conte and Pringle. The water is high and get up against the mangroves. If you can't find 'em, give me a call and I will put the word out to the people I know, and get back to you," were his parting words.
By the time I arrived in Port O'Connor Thursday evening, there was a lot of talk with one of the other couples staying here with CK; conditions prime, low wind, no rains, tropical storm headed straight for Louisiana … the most perfect forecast I had experienced on the Coast in years of trying to hit a moving weather-time-tide-season-moon-fish target. This was shaping up to be the bullseye.
PART THREE: Then came Friday …
Category: Adventure, Body-Mind-Soul, Flats Boats, Technical Poling Skiffs, Texas Skiff