Results from the Holy Carp Bayou City Tournament and the Bass World Championships.
BY  THE TIME
I will probably be passing by the Coliseum that RG3 built, where the Baylor Baptist Bears sacrificed Christian beliefs, by the time you wipe the sleepy from your eye, and drain that first cup of coffee into your darkness. It's Austin, Texas, today for some photography work – the only work I love more than fly fishing!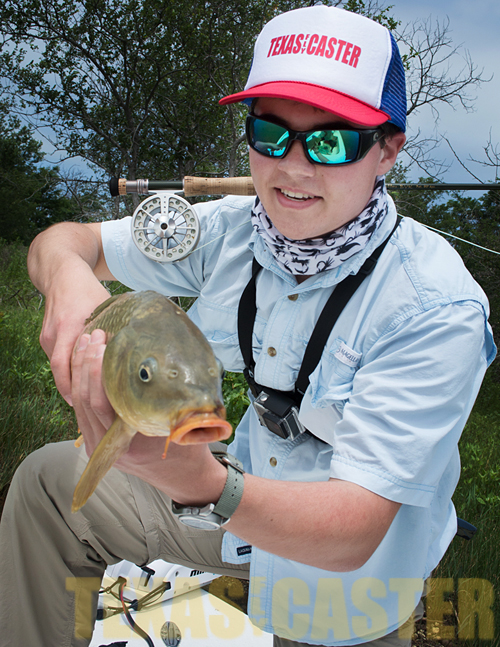 Speaking of fly fishing … both weekend days were productive, Saturday for a first timer, and Sunday for an out of towner who needed a fly fishing fix. The weather played some games, and so did the boat traffic from the Texas High School bass tournament that was on Ray Roberts.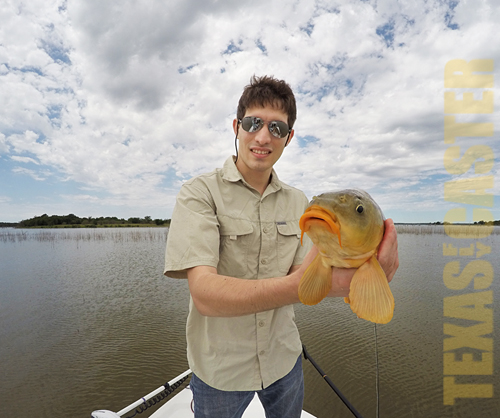 The weather left the lake shaken a little Friday going into Saturday, and very stirred by Sunday (after brief intense thunder storms passed Sunday AM). The fact we saw and caught fish Sunday was slightly miraculous, while Saturday was significantly better. The week ahead holds plenty of ups-and-downs, but I anticipate it all being ironed out by my next guide trip on Thursday. I always advise staying off Texas Lakes during any three-day holiday weekends, and this one's no different. As radical as it was Sunday on Ray Roberts, I can't bear to see what next weekend will look like. At this point in Ray Roberts history, it's not about people running through your fly fishing, or tipping you over with a wake in a cove. At this point, the circus is at the boat ramps, and it is actually very entertaining (in a frightening way) to watch.
Since I / WE – you and I – will be holing up and not fly fishing next weekend, I will see if I can produce some new video content to keep you entertained. I am feeling a lot more creative in that respect these days, and if you would like to be involved in the seek-and-find of a good story; just send me a "NEWSTIP" and I will give it some thought. These things have value to me, so that should be your incentive!
---
TOURNAMENT RESULTS 2017
Two tournaments are in the bag now – two of them that I have helped out with free adverts here – the HOLY CARP! Tournament (2nd. year), and the BASS WORLD CHAMPIONSHIPS at Lake Fork (about 8-years-old?). There are two more tournaments still to come (DO YOU know of more?) – the First Escarpment at Blanco, Texas, and the Lydia Ann Flymasters Tournament in Port Aransas, Texas. The Escarpment tournament is July 8, and Lydia Ann will probably be in the golden month of October. If someone wants to share the cost of the Lydia Ann with me, I could use a second on the skiff for that one. Otherwise, it's a stretch, and not just a stretch of the twine on the map pin-to-pin, point-to-point.
HOLY CARP 2017 RESULTS
"Holy Carp! 2017 had some real numbers put up this year! 10 Grass Carp, 8 Smallmouth Buffalo and 3 Common Carp we're turned in totaling 460 inches of carp caught in one day! We had 26 participate and 10 submit fish. Big thanks to all of our sponsors, everyone who participated and of course Bayou City Angler!"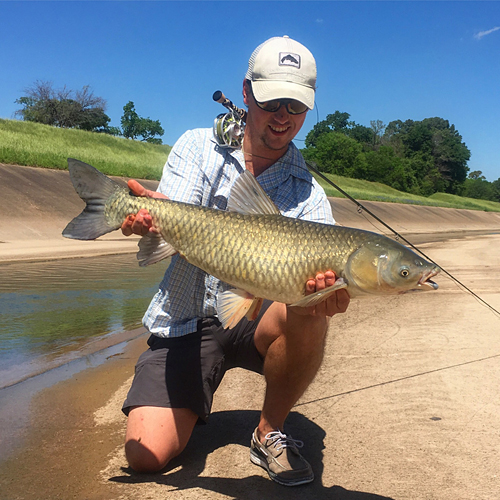 Tournament Winners
1st place
    John Shank       121.5 inches
    Ryan Keel           95.25 inches
    Nick Pasciak     62.5 inches
Longest fish other than a carp
    Zach Wallace       23.5 inches
LAKE FORK 2017 BASS WORLD CHAMPIONSHIPS
"Once again the 2017 World Championship Bass on The Fly Fishing Tournament set a participation record with 74 fly fishers from Texas, Oklahoma, Louisiana, Missouri, California and Colorado!  The event was held at Lake Fork Marina on Saturday, May 6th.  The weather was great and the bite was good ………. for some.
There were a record 26 teams (50 people) entered in the boater division and 24  in the kayak division.  80% (21) of the boater teams caught fish with 6 five fish limits and a total of 61 fish were photographed.  It was tougher for the kayakers where 50% (12) of them caught 28 fish and there were no limits.  This is a catch-photo-release tournament so even the Lake Fork "slot fish" can be counted."
The 2017 winners were:
Boater Division
1. Ric McNulty & Bill Ramey, $800
2.  Rex White & Eric Dilts, $400
3.  Ben Bowne & Joe Veach, $300
4.  Steven & Nic Schwartz, $200
5.  Cameron Reeder & Cameron Clifton, $120
Big Bass – Brian Nims, $250
Big Bluegill – Joshua Yarbrough, $55
Kayak Division
1. Calvin Rackly, $400
2. Greg Stine, $250
3. Robert Cromier,  $150
4. Russel Husted, $100
Big Bass – Lee Kodet, $125
Big Bluegill -Robert Cromier, $20
(Cash payouts are determined by the number of entries in each division.)
"The winners consistently reported they caught fish on poppers early and streamers, some of which were homemade, later in the day.
In the optional Friday afternoon Blue Gill tournament $140 was won by Robert Cromier from Louisiana.
The accuracy casting contest was won by David Grimes from the East Texas fly fishers and the distance casting contest was won by Robert Cromier in a cast-off with Russell Husted.  The winners each received the TFO NXT Combo  that was used for the respective contest.
Robert "Catch" Cromier, from Lousiana, made quite a haul and threatened to bring some of his buddies with him next year.  In reality, he probably wants to keep the easy pickin's a secret.
Everyone received an Umpqua coffee mug, a Rio leader, and assorted decals. Once again, Gypsy Jack produced some newly designed lures to be fished with sinking line which garnered a lot of interest.  Early entries also received a choice of lures including Peltz Poppers produced in California.
The early entry Sage Bass II rod with a matching Sage reel was donated by Sage & Tailwaters Fly Shop and was won by Chuck Ham, one of our kayak fly fishers from San Antonio.
The coveted TEAM trophy was  reclaimed by the Lone Star Fly Fishers  by a slim margin over the East Texas Fly Fishers.   The Dallas Fly Fishers were not a factor this year, reportedly due to their aging membership.
The tournament donated $650 to Reel Recovery (retreats for men with cancer) and $500 to the Texas Council of the International Federation of Fly Fishers.
Our great sponsors provided door prizes which included rods, rod & reel combos, sling packs, hip packs, flies & fly boxes, discount coupons, belts, billfolds, hats, DVD's, fly tying kits, a hoodie, rod cases, cash and other assorted items.
Our Sponsors included Sage Rods,  Skeeter Boats, Umpqua, Tailwaters Fly Shop,  Cabela's, Redington, Rio, Mariner-Sails, TFO Rods, Bass Pro Shop-Garland,  Simms, Orvis-Plano, Ranger Boats, Gypsy Jack Lures,  Fatties on the Fly, Lone Star Fly Fishers, Red River Fly Fishers, and East Texas Fly Fishers.  Thank you all for making this a fun tournament!
The 9th World Championship Bass on The Fly Fishing Tournament will be held in May 2018 (final date to be determined.)  We're hoping additional fly fishing clubs will bring their best bass fishers to see if they can measure up to the clubs in North East Texas.  Check the website, www.bassonthefly.org, for the latest information."
---
BRAIN EATS BODY
It's a play on my old claim, EGO EATS BRAIN, but what it means in this case is that I feel like I could put on a Lake Ray Roberts carp tournament in 2018 – in my head – but, I still don't know if my body would hold up to all the effort it takes to do one of these. If anyone out there reading wants to help me with this, don't hesitate to step up! Get in line. Don't stampede all at once … reminds me of the line to get into a brick-and-mortar store …
Thanks for showing up here once again. Today is my day to run the sacrificial gauntlet from Denton South, so keep me in your road prayers! Be kind out there, and be safe.
Category: Complimentary Reading, Culture on the Skids, Fishing Reports, Fly Fishing For Carp, Fly Fishing for Largemouth Bass, Houston Fly Fishing, North Texas, Reader Contribution, Tournaments and Contests