texas fly fishing for carp #flyfishing
Good Monday morning to you all! For large numbers of you, your life just got a bit more complicated, as you deliver your kids to their schools for the beginnings of another year of education by the books. In what has been a fantastic carp season to remember here in North Texas, it has been anything but by the books when it comes to the fish, the habitat and lately – the weather.
It was a weekend to remember on Lake Ray Roberts, as we had a bit of a second coming that even amazed the highly experienced anglers that witnessed the huge numbers of tight-lipped carp all over the usual locations. For me personally? It was a weekend with two consecutive days of extraordinary fly fishing for carp. (You may say to yourself; will he ever get tired of this carp thing? I say; apparently not!)
Saturday was a chance to pit myself against the rain, and see just what the fish were thinking about the weather. Well, the rain started to burn off as the afternoon wore on, and instead of stepping all over carp I couldn't see, I started presenting (a totally different fly) to them … and they started eating. Saturday was my best day for numbers – EVER. Without the frustration of Thursday, Saturday would never have happened though. I had to reach out to my guru for fly recommendations after solid refusals of every fly I presented, and he solved that problem in time for the epic weekend. Saturday was a day where I landed twelve common carp, shattering my count record, and a day where I left dozens and dozens of fish on the table for the next day. And they're probably still there this morning.
I left the table set because I knew I would be riding along with JB on his East Cape Fury (aka. the Plymouth), and didn't want to spook-out the cove for Sunday. That turned out not to matter. JB had other ideas, and they were better than mine. We headed up into one of the far north feeder creeks where each of the turn-in coves held fish, and they were still feeding on my fly. And that's where I caught my personal best Ray Roberts carp at a (Boga-ed) 9-pounds. It was all good … for me anyway. (RR TPWD record carp on fly is 10.63)
READ MORE –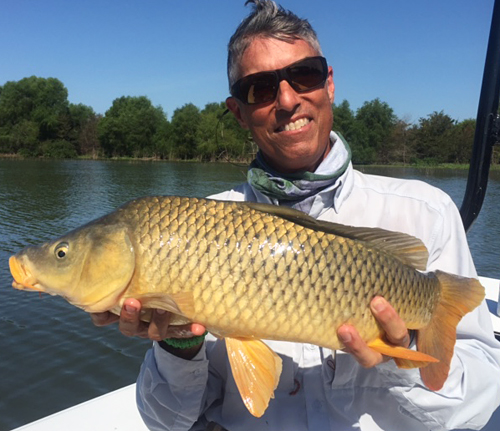 Ray Roberts carp at nine pounds. Courtesy photo – JB
We picked up JH and put him on the platform before we went to the old cove that was loaded with those fish from the day before. JH couldn't identify the new variety of vegetation growing in the cove – a light snotty, almost slimy growth that is covering huge expanses of the cove. It allows the fish to swim through and under it unseen, and also to dive into it once hooked. JH couldn't get a take, even with impeccable presentations numbering in the dozens. We headed back north for a cleaner bottom, but the fish never cooperated with him there either. What can I say? The guru didn't teach.
There were a lot of observations that we have made separately, and of course I charted mine here before, but talking about what we three saw yesterday did a lot to unify our observations.
That new snotty growth is unusual.
This is a unique "second coming" season of carp in huge numbers.
Drum are everywhere.
Buffalo are up north and elsewhere.
Baitfish are in the coves by the billions – clouds the size of old VW buses.
Grass carp are around (my observation – and saw them again Saturday).
There has been a huge decrease in visible zebra mussel population and myths are being made.
Another big ugly on fly. Courtesy photo – JB
It should be an interesting week ahead. We have more potential weather to deal with, and JB has guests coming into town that will need a second skiff to get around this coming weekend. I think you'll be surprised, but then you may be used to the surprises hear already!
Have a great week. Hug the kids, and remember how lucky you are. Then give me a call and book a trip – they'll never know you're gone!
ps – keep up with the coal spill into a local creek on the TexasFlyCaster twitter feed.
Category: Adventure, Backcasting, Complimentary Reading, Culture on the Skids, Fishing Reports, Flats Boats, Fly Fishing For Carp, North Texas