Good Monday Morning once again everyone. I know people out there are still getting after the fish because I get your photos dinging my phone, usually Sunday evening, with images from the Texas Gulf Coast, to Oklahoma's Blue River to Lake Ray Roberts. I thank all of you for the time you take to send photographs, and those will be scattered in my Monday Mornings whenever I think to do it – and WHENEVER you send them from now on!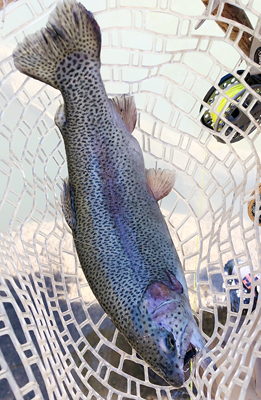 ---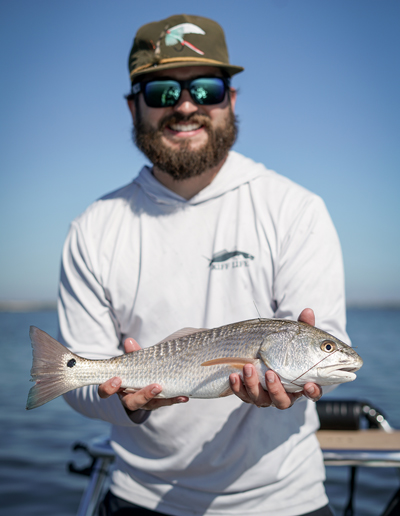 So the word from Port Aransas – eyes on the water there – is the redfish are stacking up in the potholes now, and you can drift them two or three times catching every time – in the same potholes. That's a redfish for you!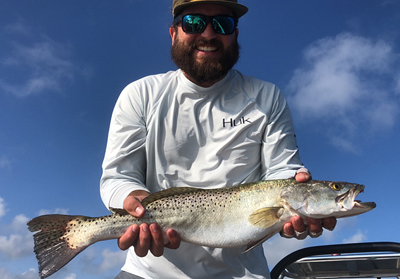 ---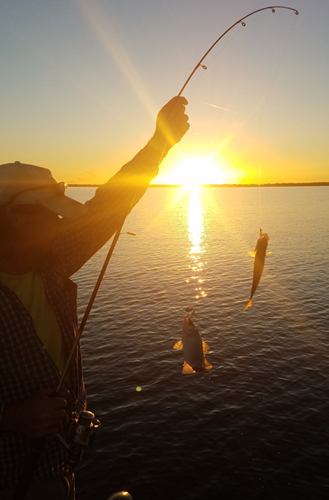 If you're wanting to work your electronics, the sand bass are still tight and deep at Ray Roberts. In fact, a salty friend and I had a conversation back in summer about catching them a lot like speckled trout two-at-a-time, and predictably it was pretty easy to do so with sand bass – this past weekend on my local lake. "I bet you could catch them five-at-a-time if you wanted to," was the next thing I told him. Hmm, does that cross over into being a commercial fisherman? Stick with two for now. I am betting this same pattern is still on across most of the lakes in Texas.
About 100-miles north lies the Blue River, not quite cold enough yet to send the snake population into hibernation, and always changing with spring floods and tree falls, and leaf falls, and changes in the aquifer … but a fine place to get your fly fishing trout fix this season. Apparently, the Blue River is suffering under the COVID-19 virus as well; crowds tired of the BendBow Zoo are heading to the Blue now. The Blue River has a fraction of the fishable water that Beaver's Bend has, and while I am used to seeing it in a different era, it's time to see it again soon – with fresh eyes.
NEW ACTIVISM
I guess when given the time, and inspiration (by Steve Ramirez), anyone – maybe even me – can find the energy to take on what we see as environmental wrongs happening in our own back yards. I've pecked at the debacle also known as the Trinity River Greenbelt for a couple of years now, but the research and campaign to bring attention to this eyesore, environmental scar and governmental breakdown? It's on my plate now, for better or worse, in sickness and health.
THE QUESTIONS
The question is why step into quicksand if you see it right there in front of you? First, I don't have a clue how these political environmental campaigns actually work. Heck, there are organizations existing (or websites online at least) who claim to be advocacy groups for the Denton Trinity River Greenbelt, but what have they done? Really, what have they done about this travesty? It probably sounded good when they created and joined these organizations, but then the problems started. So these organizations and the individuals in charge of them? They are on the radar as well. And perhaps there are ACTIVE groups working on this right now? I come from a place of ignorance, so if YOU THE READERS know anything about this topic, please feel free to enlighten this old fly fisher.
I guess the answer is best found in the title of an old Styx song, "Too Much Time on My Hands," but this topic promises to squeeze all that out of my schedule, and perhaps more.
Yeah, here I am sitting on this bar stool,
Talking like a damn fool
Got the twelve o'clock news blues
And I've given up hope for the afternoon soaps
And a bottle of cold brew
Is it any wonder I'm not crazy
Is it any wonder I'm sane at all
Well I'm so tired of losing
I've got nothing to do and all day to do it

Styx "Too Much Time on My Hands" – 1981 Paradise Theater
THE CATALYST
One of the catalysts for sending the spotlight toward the Denton Trinity River Greenbelt 380 Park must have been my recent trip to the Trinity Fork Park south of Lewisville, Texas. That facility, not even complete yet, could be a model for what to do with the final park on the Denton Greenbelt chain. It's pretty fantastic, built to withstand major floods, and built to get the exploding population of Denton – Dallas Counties back into nature on the water. The Denton Greenbelt 380 Park, the remains of it, and the new clearing are situated in such a way as to be an even better, more integrated and popular nature immersion – better than passing under I-35 overpasses, the Dallas GWB Tollway and the concrete noise jungle tour created by the Trinity Fork Park (Lewisville to Sandy Lake Park area). The differences are day-and-night.
WHAT ELSE I DON'T KNOW
I don't know what I don't know, and that's where you come in. Maybe you are not local, and I can understand your tuning this Denton Trinity Greenbelt topic completely out. But even if you are not local, and have State knowledge, or are local and as disgusted as I am with the 380 Park: If you know anything about how these governmental organizations work (TPWD & USACE), maybe you can chime in. And if you DO KNOW anything about this specific topic, are local, or maybe wanting to get involved as well? Please chime in. Kayaking organizations, birding organizations and Texas Master Naturalists – where are you? It is going to take significantly more people, than just me, to help this project through. And it will take people stepping up to tell us what they know that we don't know – in many, many different areas of the minefield set in the middle of the quicksand.
Thanks for reading today, and please watch my video focusing on a partial overview of the Trinity River Denton Greenbelt 380 Park debacle tomorrow – here, or on the YouTube Channel. Please watch / like that video to give it a little weight, and to see what I am blathering about here. By the time I finished that video, I already realized I will have to go back and show the actual Greenbelt 380 Park, and do an episode just on that park alone.
Category: Body-Mind-Soul, Causes, Fishing Reports, Life Observed, North Texas, Science and Environmental, Texas Gulf Coast