fly fishing Texas winterizing skiff randy brodnax art world war II #flyfishing #texasskiff lagoon boats
A DAY THAT LIVES IN INFAMY
Monday mornings always take on extra meaning, like December 7 obviously should, or at least it used to. Now that we have recurring acts of terrorism on the mainland regularly, maybe the fade of WWII has finally begun, just as WWI the war to end all wars has been secured in history and there are no veterans left to provide a physical reminder. I once had a concept of a science fiction book based on a world that had gone so long without war that they forgot what it actually was. I guess there's no future in that.
I am old enough to have known dozens of WWII Veterans, and there are still a lot around, although they are leaving us – in large numbers. Their stories, and their silences came to me as a child in my Grandfather's store in South Texas, a store where he had a loyal customer base that included one Japanese civilian that my Grandfather, and only my Grandfather, did business with during the War. "Jap," and "Kraut," were words that had lost their wartime punch, and had become simple, non-perjorative terms in those days. Such were the times.
This family story is told by my Grandma: I had just watched a WWII movie, which were all the rage in the 1960's, and I, being of preschool age, said, "Grandma, I wanna' shoot some Krauts!" To which she instantly replied, "Go look in the mirror!" Such were the times, and such is still my sweet Grandma.
READ MORE –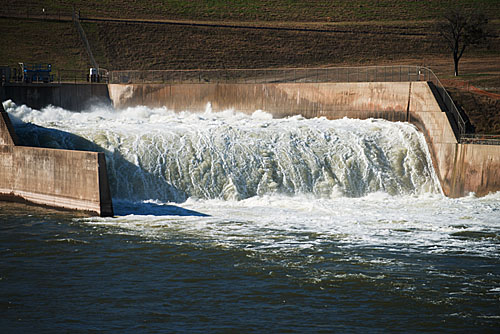 Non-generating dam release December 4, 2015.
BACK TO REGULAR PROGRAMMING
It's hard to know just how much one gets from the spiritual force of things like water, fly fishing, art and artists, but this was a weekend full of all that. Friday, I was able to muster the energy to drive myself and Salas to Denison Dam, less as an effort to catch fish, than an effort to show Salas the lay of the land at that once HOT SPOT. It has cooled off significantly since being pounded by guides and a change in the flow (from generation to flood release).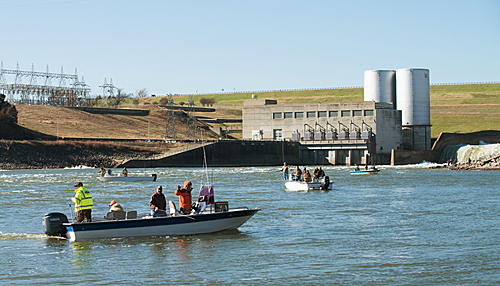 Like crowds? You have them below Lake Texoma right now.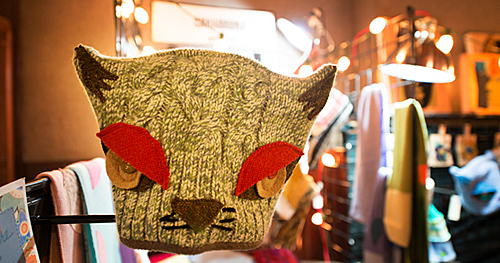 New style Cimarrona hat – the Cat Hat – at Sons of Hermann Randy Brodnax Holiday Show. Click on image for link!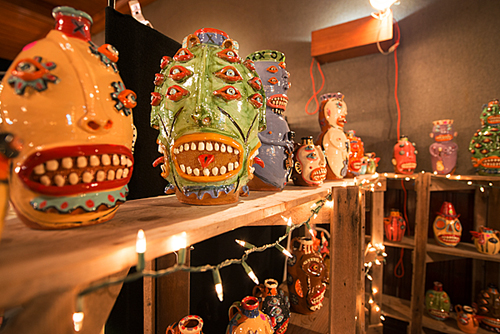 Carl Block jug art at Randy Brodnax show – Sons of Hermann Hall. Click on image for link!
Then, it was all the way home, and down to Deep Ellum for the annual Randy Brodnax Christmas Bash at Sons of Hermann Hall, where I was warmly greeted by a family of artists (vending their art at the show) – a family I only recently realized I even had. The problems of health invests emotions into reunions like these that happen only once a year. That was Friday, and I got a second helping of family Sunday, at the regular church service  in the bar at Sons of Hermann yesterday morning. I stayed awhile to visit, and then I knew I had to get back and "winterize" the skiff before surgery tomorrow.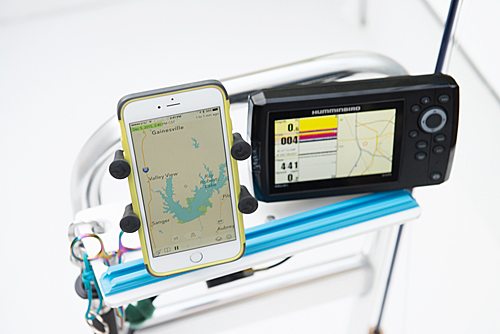 This console will be the first technical story on the new www.texasskiff.com site when it drops next year.
While I first planned to run the motor to get some fresh Sta-Bil-ized fuel into  it – at the house – I just didn't like the away the hose was working, so I loaded up and took the skiff to Lake Ray Roberts, and Isle du Bois Park – the only boat ramp (besides the Marina) open right now. The water at that site is to the top of the ramp and makes offloading a bit more interesting, but I was lacking confidence on so many levels anyway. SO, I didn't even offload the boat until I lowered the motor and tapped the starter. That is all it took – a TAP – and the motor fired like I had run it the day before … I think it's been two  months! Prayer answered. The one problem I wanted to see if was me or real, was the neutral idle up button, which I thought wasn't working from the get-go.  Sure enough, it looks like I will be looking for a place to get Mercury warranty work done on that feature (suggest repair location here ______). So I offloaded and came back and RAN across the lake. That brought a shot of soul salve as the sun threatened to set and the cooling air brought a nose burn.
All in all, a simple, fine marathon this past weekend.
Looking ahead, tomorrow is a day where I don't know what the end will be like (in-and-out day surgery), but with the scars, I am hopeful it brings closure to one of the most unexpected chapters in my life. I assume it's just a question of a little recovery and none of the residual effects like those of chemo and radiation. It will have a bit of extra importance, as an "all clear" flag goes up … until a very expensive test in a few months.
If I am correct (about the recovery), then it'll be time to put Beaver's Bend on the books, as I need to see what's left – be a disaster tourist, and bring back some images of that (not well documented) disaster area. So wish me luck (such are the slings and arrows of the internet), or whatever you like, for tomorrow's procedure, and I will be sure to get back to the keyboard later this week to tell you how this plays out. With luck, it'll be just like a superficial barroom bottle-stab to the neck, and nothing to report under the surface. I sure hope so, because the talkingweatherheads say we're hitting the 70's here this week, and winterizing be damned, I want to pull that skiff out again and head toward the sunset!
Category: Adventure, Body-Mind-Soul, Complimentary Reading, Culture on the Skids, Fishing Reports, Life Observed, North Texas, Technical Poling Skiffs