LOOKING BACK IN FRONT OF US
Let all doubts recede. Fall, in its distinctly Texas form, is rolling in with a change in the weather and changes in our fly fishing directions.
Over the past Friday and Saturday, on two guided carp outings on Ray Roberts, I think we were extremely successful … in scaring every remaining carp off the gin clear flats for the season. Temperatures, if nothing else, have dropped to unusually cool numbers at night and the water temps have followed closely behind. I am pretty confident in saying the southern reaches of Lake Ray Roberts are done, and with mercy, the remaining skittish school is virtually impossible to fool.
GRINDING GEARS
But we don't want to end the season with my whimpers when last season ended with such a bang, so you can expect some last great effort in the northern reaches – something like grinding gears on the shift.
Dropping temperatures do mean more activity from other species of course, and the Texas Gulf Coast tide is rising with (story) opportunities after receiving a few phone calls last Thursday and Sunday. Sometimes the sun does shine on this dog's ass.
HEADING TO THE STORE
To say I have a few stories cooking would be a brash overstatement – we're not cooking yet. I am heading to the store to buy some ingredients off the shelves and see if I can cook up some TRUE stories about people and experiences along the Texas Gulf Coast this fall. These stories have distance – Galveston to Corpus Christi, and they have their own clime. This fall will have some scoops, like a brand new fly shop, brick-and-mortar, coming to the Texas Gulf Coast … A Texas Gulf Coast fly fisher's relentless pursuit of IGFA fly fishing records … and if I can gather the right ingredients; a return to the Texas river systems.
These stories have their first few ingredients, people who are willing to talk, facts on the ground and water, and me – relentlessly chasing them around trying to land stories that have meaning to readers here and readers of popular National magazines and other publications.
There are still more stories that are in need of authorities though! FOR EXAMPLE: Can anyone tell me why the general water levels have been running so high in Port O'Connor, Texas, for the past few years? One of my new story sources had a theory (off subject of their story): The moon's orbit has deviated. But if that were the case, I think we might have heard something about it, and if it just effects Port O? That makes it a very, very special place doesn't it? Below is a graph of the Port O tides versus historical mean.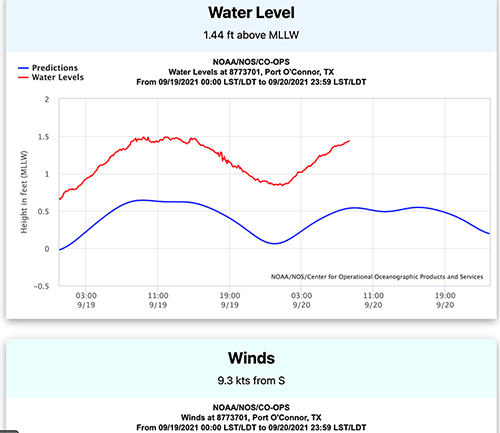 And then there's my ONE MAN SHOW A hyper-local crusade for salvaging the ignored, ecologically damaged Trinity River Denton Greenbelt waterway. You may recall that I called for dynamiting the log jams as the most practical, economical and lowest impact solution to those log jams. I'm still looking for takers on that crusade – FIRE IN THE HOLE! As hot as I am under the collar about this awful debacle, this one may take a more zen heartbeat … if we can get this solved in this decade, that may be success by local standards. This is a town where my street is rougher than the dirt road I grew up on, and I am ten years on with that grass-roots social movement.
As the days shorten, I hope you find things that excite your drive for exploration in the outdoors and in fly fishing this fall and winter 2021-2022. Chances are we would ALL BE INTERESTED in your findings these coming two seasons, and I have a great track record of telling people what they want to know without telling them too much (if you know what I mean).
Thanks for riding and let's roll on …
Category: Adventure, Backcasting, Body-Mind-Soul, Causes, Denton Trinity River Greenbelt Corridor, Fly Shops, Life Observed, On The Road, Science and Environmental, Writing