texas fly fishing lake texoma striper #flyfishing #flyfishtexas


Lake Texoma, Texas, is as one friend put it, "A world class fishery …" for one reason,and one reason only – a population of striped bass that thrive and reproduces in that lake.
The last count I heard was more than 400 fishing guides calling Texoma home. Many move their customers around on what I call "water buses." Those water buses are manufactured under the name Thunderbird, and carry customers four, six or maybe eight at a time. If you are aware of what the requirements are for guiding on Texoma, then you know there must be a profit motive there.
Texoma is a boundary water that means it is under the jurisdiction and authority of the US Coast Guard. Those guys don't mess around, and neither should you. If you decide to take on Texoma, you should treat it with a great degree of respect. The Coast Guard is there, for among many other reasons, because of many tragedies that have occurred there. TIP – This is one lake that you should avoid weekends, even at greater cost, because of the zoo it becomes Friday afternoon. And the zoo is open all weekend long.
FEEDING OUR ADDICTIONS ONE AT A TIME
By the time I pulled up to the dock at the lake, CK was furiously trying to light his JetBoil to get some coffee going. He and his Dad spent the night under the stars on Treasure Island, and to be quite honest, I was not aware that CK has the same caffeine addiction that provides my morning joy. The problem was the JetBoil.
Not only would it not light, it wouldn't even hold together once the pieces were all fitted! A couple of well timed throws insured the final outcome, and the rejection on CK's face at a bad technological investment … not a good start to a long day. And the restaurant at the marina isn't about caffeine, it's about alcohol, so they were a long way from being open for business.
"Go on up to the store and get yourselves some coffee! I'll stay here with the boat," I said, wanting to be sure everyone gets the drugs that lead to happy days and good decisions. "You sure?" "GO!" I didn't have to say it twice.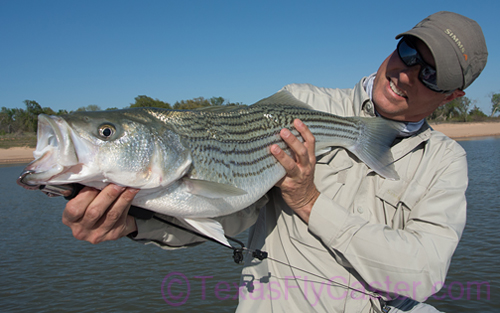 LAST TIME – The best I could manage was this thirteen pound striper on conventional tackle when we were last on Lake Texoma, Texas.
BOAT TRACKS ALL ACROSS THEIR BACKS – HIT AND RUN
Texoma striper are so strange. I have likened it to a carnival game in past stories, and it is always just that – a carny game of chase, find, hit and run – boat tracks all across their backs.
If they are not slamming topwater with birds to show us, then it's a search much like a sub hunting vessel looking for a rogue enemy submarine: We become electronically dependent on seeing below the surface, the arcs that show fish, the balls of color that show bait, the old river channels and creek channels are searched for and found.
Lat time, once we found fish (CK and his Dad had no luck the day before), we started dropping hardware on them. After catching a 13-pound striper conventionally the last time we went on patrol, I wasn't about to go conventional this time. So I lined up my eight weight with a full sink line and 12 feet of straight 20 Seaguar Invis-X Fluorocarbon. Why anyone would short leader a sink line is beyond me … 20-pound fluorocarbon sinks faster than a full sink line (with no shooting head) all day long.
Forty-five minutes in, I had a six pound striper on fly …
CONTINUES VERY SOON in Part 2 Texoma Striper on Fly —
Category: Adventure, Destination Fly Fishing, Fishing Reports, Guides, North Texas, On The Road, TECHNICAL, Technique