Fly fishing North Texas for seasonal hybrid bass.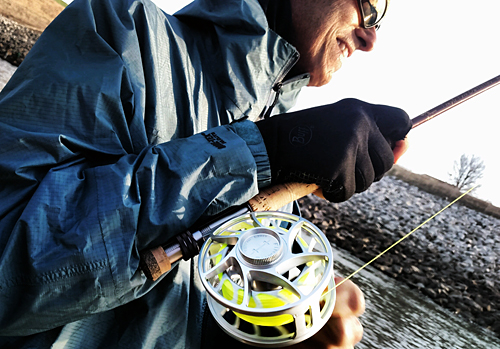 FLY FISHING CULTURE ON THE SKIDS
Slam on the brakes on your skates boys and girls! You already knew how I felt about the insanity of catching hybrid, aka. palmetto aka. wipers on fly. It goes way back to the beginning of my fly time, chasing them in shallow muddy creeks that lead to Lewisville Lake, and that yarn runs to a State record ten-pound hybrid I caught in the same place last week's action hit (caught / documentation blown by bad photography / and released — March 15, 2010), and on through years of no releases – no hybrids during the four year drought, and now to a water surplus that has given us the good grace to supply sand bass and hybrid action once again in North Texas.
I believe wiper – palmetto – hybrid bass have a screw loose in their big fat heads. This is a fish that fights harder than a striper and maintains the fight (even after being landed) like a sand bass. I can't count the number of times they have clamped down on my finger while removing a hook – clamped and held on! Take ten ten inch sand bass and pack them into one 3-pound hybrid — that's what I am talking about. Okay, you might find your backing in your face if you chase sand bass with a three weight, and happen to hook a 12-14 inch sandy. Take a 4-pound hybrid on an 8-weight and current? Hello backing.
READ MORE – 
Imagine what a ten-pound hybrid can do to an eight weight!? It took more than 30-minutes for me to land that fish in 2010 – on a TFO Ti-CRX 8 – aka. broomstick. And no one was there but me (I had to call a friend out to come "document" the monster). I am obviously looking forward to those flows continuing and maybe another shot at a truly BIG palmetto this week (all were males last week).
CONTACT ME – if you are interested in one of these FISH FLASH outings for palmetto bass on fly! I do these trips on a moment's notice, and don't need much lead time at all right now. ACT FAST because it a FLASH in the pan EVENT. All flies, leaders, and if you need, rods are supplied. Read back to the original flash here – HYBRID BASS ON FLY FISH FLASH FEBRUARY 2017 .
OVERALL, we are living in a new fly fishing dynamic (for now). I believe there is no rational argument to the scientific fact the globe is warming. It may be for a few years, or it may be for the rest of your life. I grew up in a place where winters were more like the winter we had here this year. And that place was the Borderland, nearly 600-miles south of here. All YOU have to do is look at your own Facebook page, and see the notices of "3 Years Ago Today" that show snow and ice, "On This Date." I don't care to debate the "why" of global warming, and have my own opinions on that. We would rather fly fish than join debate club, wouldn't we? But the OVERALL result is we are looking at a longer fly fishing season for North Texas, and we are looking at changing weather patterns that effect fly fishing in North Texas. So much so, in fact, that I am going to be watching the lake WATER TEMPERATURES starting March 1, and expecting carp to be up before the end of MARCH in a serious way. 
Have a great week, and be safe! As I said last week, regularly scheduled columns are always superseded by fly fishing "FLASH EVENTS." So we MAY be catching up this week – you'll have to check back to see what you're missing! It only gets better from here.
#flyfishing #texasfishing
Category: Culture on the Skids, Fishing Reports, Hot Spot, Life Observed, North Texas, Science and Environmental