Fly Fishing Hybrid Bass in North Texas
So when you see regularly scheduled programming disappear, you know what that means, right? Fly fishing is On with a capital "O".
I got a small taste of the HBombs last night, but nothing to write home about. This morning was a completely different story, as if the reinforcements had been sent in to rescue my melancholy.
I was driving over with the bird's eye view of the release, and all I could see was people, lots and lots of people. They weren't shoulder-to-shoulder, but it was the closest and the mostest number of fishermen I have ever seen in this spot, and even in North Texas (that includes the Denison Dam on a worst best day).
I was meeting someone there, so I knew I had to buck-up and prepare myself for hand-to-hand with, I hoped, a fish or more.
I started toward the concrete retainer of the dam and looked down to spot were I thought I saw my sunup compadre, and walked down to greet. I was encouraging him as he reeled in a fish with a big bend in a spinning rod. About the time he  turned around, I realized he was not the guy I was looking for in the huge crowd. Then, he landed the fish, which I could see was an undersized hybrid. I took a look around him, and there were three stringers of fish, mostly undersized hybrids, and some sand bass.
Suddenly I am slapped in the face, forehand and backhand, with that dilemma of "what to do?" Did it help that I had binge watched several episodes of "Lone Star Law" on Animal Planet the night before? http://www.animalplanet.com/tv-shows/lone-star-law/ Probably not, or probably so – depending on your viewpoint on poaching.
All I could figure was that the fisherman I was looking for was on the "good side" of the riprap, and that was him off in the distance scurrying down the rocks to find a spot … on the side where no one was. That's all I had to see.
I went back to the car and loaded up, and changed my mindset drastically. It's like a photo shoot that has gone completely awry, and you've got to figure out what to do, kind of like a pooch kick for you football fans. I was there for sand bass. So were the dozen or so guys on the "sand bass side" of the riprap. I knew from the night before that sand bass were on one side, and (the night before) hybrids were on the other. It was an easy call to rethink this one, and go for the long shot – hybrid / palmettos on fly.
So I upsized from the 6wt Sage Bolt to the 8wt TFO Mangrove with the new clear (no color) Hatch 7, and made my quick way to the other side. I was still rolling around "what to do" (about the illegal fish) in my mind as I found my way down the riprap (yeah 55 and still quite alive) to the water.
I confided my dilemma, and got no definitive, "YEAH, BURN 'EM!" response. So I thought about it a short bit while I searched my phone for numbers in my "contacts." There it was, the "Texas Game Thief" 800 number … 800-792-4263. I touched the number. I heard a voice after about the third ring. My first response? "No, this can't be a real person?" He assured me it was. Wow. I was floored.
We went through the scenario, and how / where the responding officer could ID the guys … "No, I don't want any reward" … "Yes, you can have my name and number to call me to follow up." Now, I am not quite sweating bullets, but this is one of those times … combat fishing, and there are about 12-15 guys on the other side of the water looking straight at me. I am the ONLY ONE on the phone, but at least the "offenders" are the longest way away. "OK, I'll send a warden out."
I was stunned. Not that it was just like the TV show, but that it was that easy.
I got rigged up with my red/white synth Clouser (heavy) on the new love of my life – a circle jig hook, and let it rip. Cast number two and I come tight and hard to a big tail wash. You know how it is when you feel a BIG TAIL swing back at you. It's unmistakable.
My experience from the night before, barely 14 hours earlier, was that it took a lot longer and was a lot harder than this. I hoped against hope that maybe things had changed, and the HBomb bite was real, and really on. It was all a big surprise.
Now that I am eating to live, that fish – thanks to the circle hook – was landed, measured and strung up for tacos. In a few minutes, the guys on the sand bass side were also hitting on the hybrids. This was beginning to feel a bit … extraordinary. Again, on the opposite side the fish were smaller than what we were into on our side of the release. And, there were plenty of guys I SAW measuring and throwing back undersize HBombs (18-inches and 5 limit a day). That was refreshing.
After a few minutes (maybe an hour), I looked all the way up to where the "poachers" were … low and behold, the game warden was on them with a measuring stick! I was once again struck with a "what to do" moment as I had seen one of these two make a trip to their car with a bucket of fish — just before the game warden arrived. I just couldn't make another call though. It looked like they were completely busted from where I was, and for me, it was the final act of this episode collaborating with TPWD's Game Thief program. If you are wondering; no, there was no camera crew following this particular warden.
THE BITE GOES ON

Both of us did some harvesting of the hybrid bass population. My largest fish was kind enough to show me my brand new backing – connected with an extremely smooth Bimanny Twist to my new SA Cold Water Redfish line. (Thanks goes out to Tailwaters Dallas)
We managed four more HBombs – two on fly and two on conventional – before we decided the crowds were too much, and our imaginations were floating to the Fly Bar and that gas grille hot in anticipation of some fresh, VERY FRESH, fish tacos.
In total, we had five fish that came in at 18-pounds total weight, and with a qualified hand at the fillet knife, our lunch tacos were huge. Amazingly, with this size fish, none were females. That means my long lost state record (10 pounds, but who's counting?) could still come along in the next few days/week – IF they keep the flow going at the dam.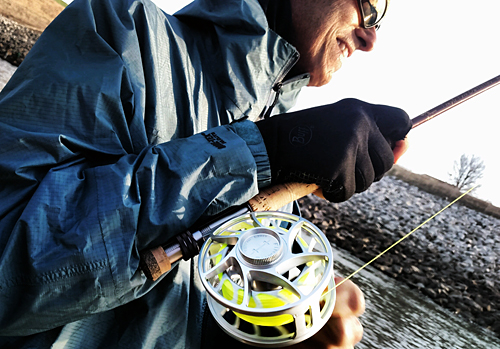 Here is what you need to know –
[ppw id="157032905″ description="Early Hybrid Bass on Fly North Texas Guide" price=".10″]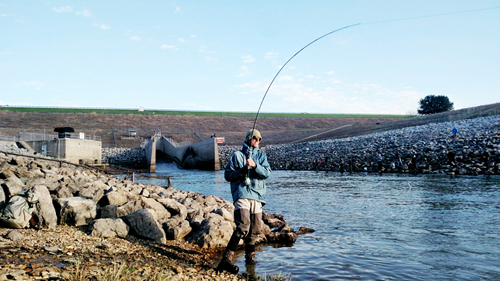 KNOW BEFORE U GO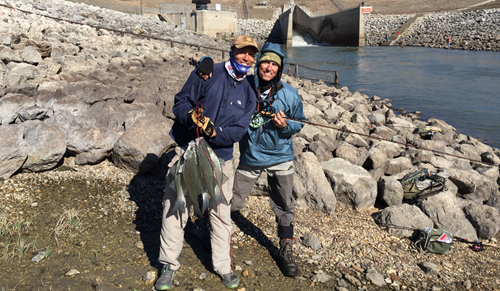 First and foremost – Book my guide services, and you won't have to fill in all these blanks.
WHERE – RipRap below Lake Ray Roberts. Water release has to MUST touch the fence on the west side RipRap!

WHEN – Best bite is early and late.

WHAT – Sand bass by the thousands. Hybrids by the half dozens. Catch as many as you are willing to work OR fight the crowds for!

WHY – Hybrid or Palmetto bass are retarded (in the best sense of that word). They will bite your finger if you give them the chance. This fish fights harder than a striper, and is easier to find. You get to throw your big rod, or look stupid going ultralight. It's completely up to you.

HOW – I think fly fishers have a distinct advantage. You can dead drift a fly and let it fall into the edge of the current – find the right spot in the current, find the hybrid. Conventional guys can't, or don't know how to do this!
Look guys and gals, this is like a lighting strike. The conditions are porridge – they have to be just right — not too hot, not too cold – in general. Miss it now, and you may miss it for years, as was the case during the drought. If we could predict the future, then we could relax and know when and were the hybrid phenomenon would pop up. Since we can't, we have to get it while the getting's good.
WHO – You. If you think you are tough enough. If you want to see backing – legitimately. This is not easy. I would rate it as an "intermediate" level fly fishing experience. I was almost knocked off my feet by the wind more than once. I had my backpack (sitting on the bank) get blown about eight feet into the water – with ten pounds in it. The rocks can be treacherous. Skilled casting. The right fly. The right drift. Ability to take and follow instructions. (Sounds like a job description doesn't it?)

Do you have to harvest fish? Hell no! If you are eating to live like me, then you can certainly keep your limit of hybrids, but if I weren't starving? I would've released them all today.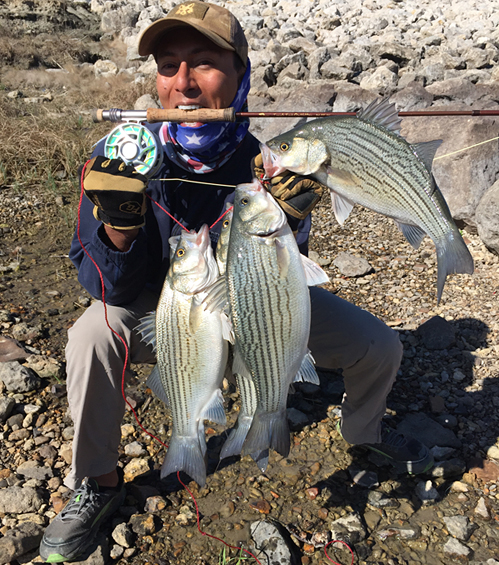 [/ppw]
END NOTE – Reporting TPWD fishing violations is something you don't want to take lightly. I can imagine the stress it causes to a person who is going through a rectal examination about the fish they are holding. My impression of the guys who violate is this: They violate until they cannot get away with it anymore. The guys I reported today KNEW they were violating the law. Otherwise, why would they take a load of fish to the car? And can you imagine – that was not their first load? And can you believe they didn't understand english? And do you believe they can't read? These guys knew exactly what they were doing. I wasn't sure until I saw one of them truck a load to the car. At that moment I knew – I had done the right thing. Did they get an actual citation? I do not know. I do know the warden worked his way down the riprap (to his own danger) to "visit" at least six more fishermen – measure their fish, and check their licenses. And that IS A GOOD THING – any day, anywhere, all day every day.
Category: Culture on the Skids, Fishing Reports, North Texas, Paid Reading Content