I spent too many hours at the Houston Fishing Show Wednesday, and I have the parking bill to show for it! Obviously, I do not know the ins-and-outs of parking in Downtown Houston, at $30-dollars, but I am willing to roll the dice today, and try again to keep my head as I am blown away by all the fishing merchandise at this show.
There's the merchandise, and there's also a kind of a "buzz" in the air at this show … it's like people can feel the end of the isolation, the revving of the economic engine, and the lights on the tree are moving from red to yellow and almost …
GREEN LIGHT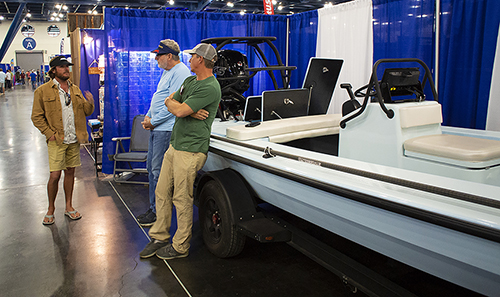 If you are looking for a rush, just stop by and take a look at the new the Chittum 21 Legacy. This skiff is a beefed up – I'd call it the bass-boat-version – of a skiff. Bigger and heavier means it's not what any truly skinny Texan needs, but it is right at home in the Keys chasing tournament tarpon. And when I say chasing? NOTE: Be sure to get a look at close Texas Captain Mac Jank's shallow water pickup mounted on the stern as well! This technical poling skiff laid with the buyer's choice of percentages of glass-to-carbon ratios is rated for 300-horsepower. Giddy-up. That feeling I get when I see the brand new Corvette mid-engine is the same feeling I get when I see this skiff. I don't need one, it isn't practical and I could never afford it, but then Farrah Fawcett fits that description too.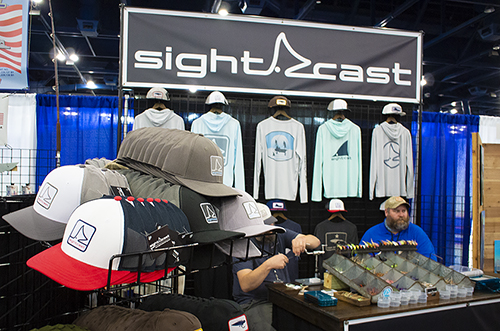 On a more "down to earth" level, it is fun to put the faces of Sight Cast Fishing with their unique line of fly tying materials, and I didn't walk away empty handed either. They have a great, and watertight fly box in just the right size, and also have their collection of materials in the booth. Stop in and get some of these materials if you don't buy anything else. You will be tested mightily in you attempts to not buy anything else though!
ON WITH THE SHOW
Sabine Skiff is the most interesting Texas boat builder on the Coast these days. That is because they are making aluminum technical poling skiffs and now a "River Skiff" that is deeper, has chines and a 1/8″ bottom plate. We know how tough we can be on the shell, or in my case on the rocks, so if you are worried about your local habitat's ability to beat a skiff? Stop, look and listen to what the guys on the Sabine lot have to say about their skiffs!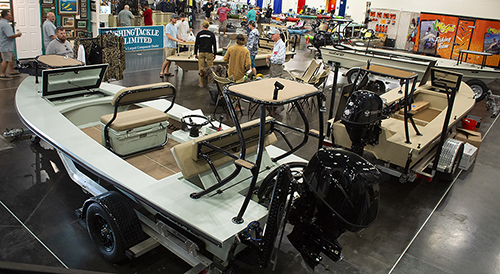 DUDS NOT DUDS ANYMORE
I can't give up too much, other than to say I am headed back to the show today to do a trend-spotting story on the huge proliferation of fishing clothing lines that have popped up in the last few years, and are at the Houston Fishing Show. That's because the trend-spotting story will be running in the Lone Star Outdoor News sometime soon. It's easy enough to spot the Howler wannabes, but there are also a few lines that seem to have the quality and creativity to be around once it all settles out. A lot of the art getting screened on the technical clothing looks like a lot of the art on a lot of the other technical clothing. Meaning: There is very little creative license being taken with the look of a redfish, speckled trout or sugar skull fish sombrero hombre. But creativity has to start somewhere, until real creativity takes a hold of this segment – all in my opinion of course! I would say we are much closer to the beginning of seeing real art on fishing clothing, than we are to the middle of the trend. Time will tell. Meanwhile, ball caps still rule!
There is more to describe than you would ever want to read, so if you are in range, just make your plans to go to this show! Tomorrow, Saturday, is an intense day of speakers – FREE speakers – as well. The tiny Fly Fishing BrewFest – that went off in Mesquite, TX, this year – could learn a lot from this event – about locals and location if nothing else.
Category: Apparel, Clothing, Conventional Spinning Rod Reel Fishing, Equipment, Flats Boats, Fly Art, Fly Fishing for Redfish, Fly Lines, Fly Reel, Fly Rods, Fly Tying, Houston Fly Fishing, Kayak, On The Road, Store Merchandise, Technical Poling Skiffs, Texas Skiff