#texasflyfishing fly fishing in Texas #carp #flyfishing #eastcapeskiffs east cape skiff texas
Good morning to you this fine Monday morning! I hope you arrived safely wherever you are, and if you are officially on summer vacation, then I hope your coffee is good, and your hooks are sharp. If you don't need my help finding fish, then what are you waiting for? And if you are looking to book a trip, then what are you waiting for? It's time to book and set dates for your outings based on what I saw Saturday on the flats of North Texas' Lake Ray Roberts.
SATURDAY REPORT
I was on my way to meeting JB at the Sanger Boat Ramp, on the west side of Ray Roberts Saturday morning, when I realized something was wrong up. There were fancy boat trailers hooked to fancy trucks filling the Sanger ramp lot to overflowing – parked on the grass everywhere, and even on the grass outside the parking area. It was … a bass tournament. I stopped to text JB and witness the sights and sounds of a tournament launch … like the NASCAR on water.
So we relocated to the Jordan ramp where the lot was about three-fourths full. JB had followed me over the bridge, so it wasn't until he twisted the truck around at the ramp that I saw he had a brand new East Cape Skiff attached. Whoa. You may recall previous exploits with JB were via a Spear Skiff, a Custom Gheenoe and our trips to fly fish Port Aransas, Texas. The Gheenoe is long gone, but JB still has the Spear. This East Cape the Fury, is something, looking like it's moving when sitting there high and dry on the trailer. I will go into detail on the East Cape Fury in a post later on …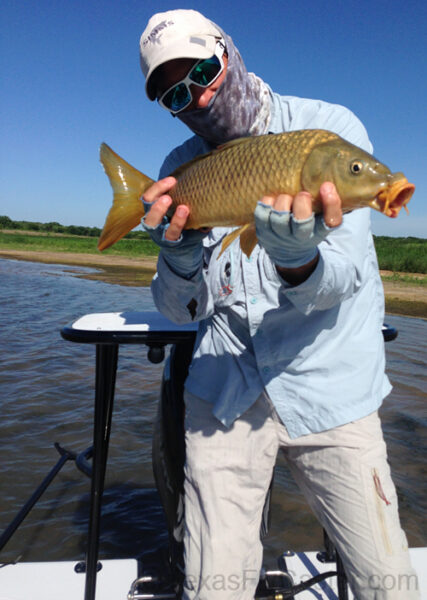 We were able to get into some of the coves I wanted to check out pretty easily, and not only were there carp, there was carp spawning behavior going on! Mid-June 2014, and we have a carp spawn. Once the angle of the sun turned to our favor, we could see all the carp we could possibly want to have shots at – a lot of small carp, and a few very large ones slightly deeper (typical of spawn times).
It's not like my predictions earlier this year were anything near divine, but they have come to fruition; the declining water level has reached the edge of vegetation, and carp are there (more than last year's inert sands of pastures and fields of the past). The situation is better than any in the past two seasons. Let the good times roll.
FRIDAY REPORT
What a fun anniversary present for a couple – their first fly fishing lessons! Of course I couldn't help but noting that it WAS D DAY, but thirty-three D Days later, I guess they're over that tease. The lesson was at their house just a few miles outside Granbury, Texas, on some beautiful acreage. I could tell it was no small event when their son flew over the place, a passenger in a biplane, buzzing us several times and waving the wings. That's a hard act to follow, but you can read all about it later this week, including the unexpected artistic adventure.
COMING SOON
It looks like time to make a gradual shift from writing the Monday Morning Roundups – to making Monday Morning Video posts. As soon as I can get that logistically squared away, that's where we're headed. It will be a gradual transition. Also – BE SURE TO subscribe to the YouTube channel Texasflycaster because videos will be going straight from phone to that channel (from the water whenever bandwidth allows) in small fly fishing videos that can be very revealing.

MEANWHILE
Meanwhile, the BOGO is still on of course, and if you are already on the books it is time to schedule your outing. You probably already know from reading; we don't hit the water on a guided trip if conditions are not in our favor. Well, things are turning to our favor and as long as we aren't cursed by weather, it's time to set your dates and see what comes of your new addiction!
Category: Adventure, Culture on the Skids, Fishing Reports, Fly Fishing For Carp, North Texas