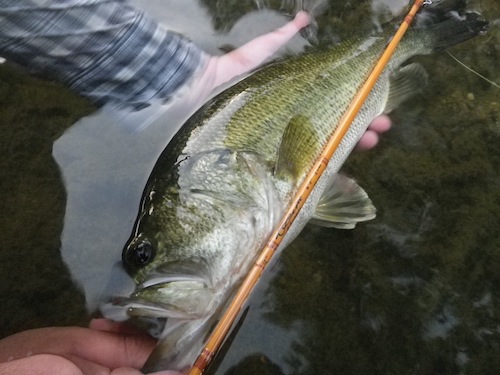 Courtesy Photo – Living Waters Fly Fishing.
LIVING WATERS FLY FISHING JULY EVENTS
7/11, 7/18, and 7/25 — Wednesday Fly Tying Night @ Living Waters Fly Fishing. We meet at Pok E Jo's BBQ in Round Rock for dinner at 6:00 P.M. and then meet back at LWFF at 7:00 P.M. for tying. Call the shop at (512) 828-FISH for more info.
7/21, Saturday — Local Talent Showcase: Jim Gray.
We have some amazing local fly tiers/fly anglers, and Jim Gray is quite literally a wealth of fly fishing knowledge. He will be giving three different presentations focused on local fly fishing — see the schedule below for full event details. Call the shop at (512) 828-FISH for more info.
10:00 A.M. — Fly Fishing the Llano River — This is one of the finest presentations we have seen on fly fishing the Llano River. Topics will include: Fly Selection, Fish Species, Public Access, and much more!
1:00 P.M. — Tying Jim's Llanolope — This will be a fly tying demonstration on how to tie one of Jim's top producing fly patterns for the Texas hill country!
3:00 P.M. — Fly Fishing for Carp — Jim catches more carp on fly than anybody we know and this presentation will greatly increase your effectiveness on the water! If we had "core curriculum" at the fly shop, we would consider this presentation to be part of it!
7/26, Thursday — Living Waters After-hours (Fishing) — July Location: Memorial Park in Round Rock (Brushy Creek).
Living Waters After-hours is a standing event that will be held on the 4th Thursday of every month from 6:00 P.M.-8:00 P.M. — the event is completely free of charge. The 4th Thursday meeting is held on the water at a local fishery of our choosing that will be announced in advance. (once the time change in the fall shortens the days, instead of meeting on the water, we will meet in the shop for tying/fishing clinics until spring rolls back around with longer daylight hours). This time is designed to help increase your general knowledge base of certain fishing techniques and situations. In July, we will meet at Memorial Park in Round Rock (Brushy Creek) to fish at 6:00p.m. and will fish until dark-thirtyish. Matt and Chris will be available to help "guide" anyone who desires coaching in fly selection, presentation, and sight fishing. This is designed to be an on-the-water learning experience and we hope to see you there! If there are any questions, please call the shop at (512) 828-FISH.
7/28, Saturday — CDC TYING DAY!
Most of our regular customers know about our insane CDC fetish; however, what many do not know, is that this naturally waterproof feather has revolutionized the way we tie flies! We want to show you all of our tips and tricks when it comes to tying with CDC feather (Cul De Canard or Duck Butt). We will end the day by raffling off all of the flies that Matt and Chris tie throughout the day! Event schedule listed below, Call the shop at (512) 828-FISH for more info.
10:00 A.M. — Petitjean Magic Tool Tying Demo — Learn how to use this essential tool!
11:00 A.M. — Tying Demo: CDC Skating Caddis
1:00 P.M. — Tying Demo: CDC Fluff Beast — *The 2012 Brushy Creek One Fly!*
2:00 P.M. — Tying Demo: CDC Biot Comparadun
3:00 P.M. — Tying Demo: CDC One Feather Midge
4:00 P.M. — Tying Demo: Simple CDC Caddis
5:00 P.M. — Tying Demo: CDC Cheater Adams
Category: Fly Fishing For Carp, Fly Fishing for Largemouth Bass, Fly Shops, Fly Tying, Industry, TECHNICAL, Technique, TIPS