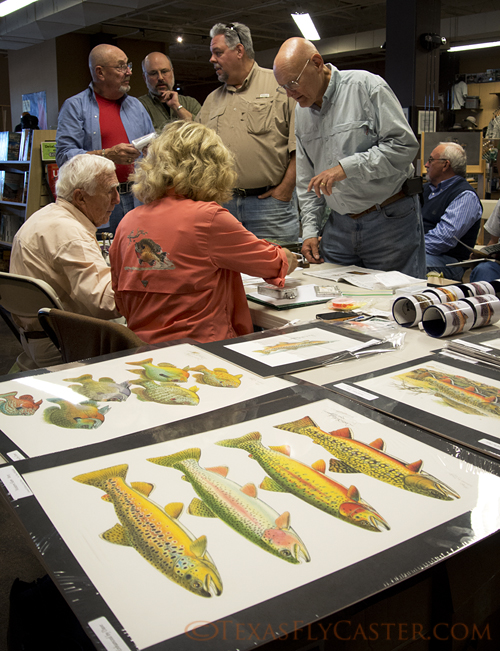 Dave Whitlocks artwork in foreground, crowds and Dave & Emily Whitlock sign books and prints at Backwoods, Fort Worth, Texas, Yesterday.
It was a pleasure to hear fountains of information presented by Dave and Emily Whitlock at Backwoods, Fort Worth, Texas, yesterday. Dave and Emily are the perfect complement to each other, and they weave their information into the fabric of our knowledge in such a seamless manner, you walk away realizing two heads are definitely better than one.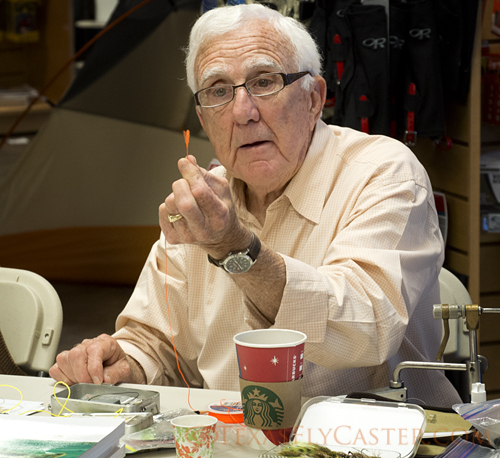 Dave Whitlock talking at Backwoods, Fort Worth, Texas, yesterday.
There was a sizable crowd of sponge-headed fly fishers at Backwoods yesterday afternoon, and they heard about the nuances of hook setting, the importance of fly colors, proper presentation. Emily demonstrated a knot free method for attaching leaders to line, one that should have the trout folks in a tizzy.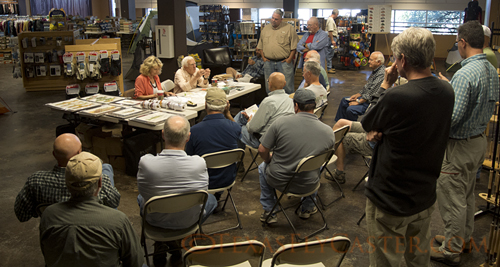 Tips and techniques were the talk of the day at Backwoods Fort Worth, yesterday.
Unfortunately, there were no questions about his art – and he had plenty of prints there for sale. I personally like the "illustrative" style his fish art takes, a style that seems to harken back to another time. I think it's safe to say I was the only one there interested in his art techniques, so I laid low – no questions asked or answered on that topic.
At one point someone lead Mr. Whitlock into talking about carp, where he outed himself as a carp chaser. Mr. Whitlock was standing (in front of the group) when talking about carp, as if giving a twelve-step confession saying, "Carp are the smartest freshwater fish. They have the best sense of smell, the best vision, the best hearing, and they are a predated fish – meaning they are prey for other fish and animals, from above and below, their entire lives. That makes them an extremely wary fish. You may think they don't realize you're there, that they don't see you, but chances are they do," and are already making decisions about your friend / foe status. If you catch three carp in a day, that's a good day. And you're going to see your backing almost every time!"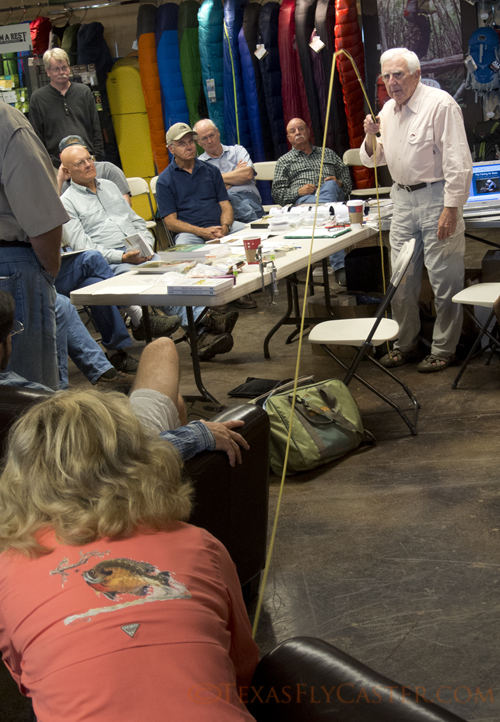 Emily and Dave Whitlock demonstrate different hook-setting techniques.
Now that Dave Whitlock is talking gushing about carp, I guess we are past a mainstream interest in carp, and starting to enter the last phase – acceptance. I was a bit amazed to see the crowd's interest in carp, as if it were something new (note to self – promote, promote, promote …).
I found an opportunity to talk to Emily while she was away from the masses, about their Oklahoma home and the water they fish – the Illinois near Talequah, Oklahoma. Chances are, many of you have never been to, or fished, that part of Oklahoma. I've been there and it's every bit as beautiful as anything Northern Arkansas has to offer. I would love to share her details with you, rainbow, striper, smallmouth … but that's for the future.
If you ever get the chance to meet Dave and Emily Whitlock, don't miss it. Their combination of wit, wisdom, skill and artistic creativity is well worth the effort to see and hear.
Category: Equipment, Events, Fly Fishing For Carp, Fly Lines, Fly Tying, Industry, Literature, TECHNICAL, Technique, TIPS