Politics are something that has no place on Texas Fly Caster. WE all have our environmental views that are supported or defeated in the political arena, but mostly the whole thing is pretty well screwed up – by both parties. I know that the middle class, like my retail photography business, is pretty much extinct. Thank God for the business I still have though. Here's my (month's old) prediction, I will say no more after; OBAMA – wins electoral ROMNEY – wins popular vote. It's all over by Wednesday morning, and I hatch plans to move to Mexico.
For those of you arriving at your workplaces this awesome Monday morning, I hope you had a great weekend, caught fish, and purified your life in your own way – through distillates, exercise, or any activity that helps you find soul in daily existence. I was purified yesterday, by welding, cutting and grinding on the Airstream Trailer. My wife said I snored like a horse last night, so that sounds like purification to me. Maybe. Maybe it's just the time change.
Tuesday is a day that I wish I had some exotic experience that would take us away from our North American reality play, but what I do have is a trip to Backwoods Fort Worth to rub shoulders with Dave and Emily Whitlock. There must be more events going on in Texas, but I do rely on you to tell me about them.
In the background there's a battle of half-wits going on to determine whether or not to roll www.texasflyreports.com back into this site as a subdomained discussion board. While TFC is doing very well, TFR's is having the same problems discussion boards nationally are having – declining participation and apathy. And since I am the sole technician / sole supporter at Texas Fly Reports (a site with very extremely high technical demands), I may as well bring that traffic back home. Unless some of you want to volunteer to be administrators at Texas Fly Reports? Yup, my wits are halved in this one. If you haven't used Texas Fly Reports yet, why not?
BLUE RIVER MAP
I had a request for the trusty Blue River Map this past weekend, so I thought I would go ahead and post it again here and now. If anyone is interested in guided trips on the Blue River, or Broken Bow, Oklahoma, you need to express that interest and I'll jump through the licensing hoops.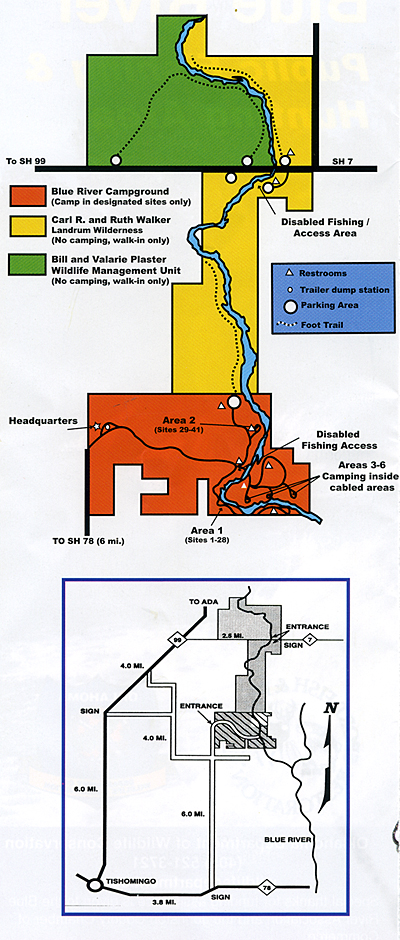 COMMUNITY ORGANIZER
If you are a member of any organization having fly fishing meetings, or events, why don't you inform us of your upcoming events? I will be volunteering some time at Lake Grapevine as a TPWD Master Angler in support of the Wounded Warriors event on Lake Grapevine this Saturday from 7am to 12:30pm.
HERE ARE THOSE DETAILS FROM TPWD –
"This event, put on by the city of Grapevine, will pair a wounded soldier with a guide in a fishing tournament. Familes will be entertained with games at Meadowmere park where the fisherman will return to. TPWD volunteer instructors will help with the events at the park and provide angler education activities for kids. We need 4 volunteers to pick up and provide backyard bass casting practice for kids. Event date is Saturday November 10th, 7am to noon with a parade to follow."
Facility:
Meadowmere Park
3000 Meadowmere Lane
Grapevine, TX 76051
Contact: Caleb Harris
Phone: (512) 389-4472
Email: [email protected]
– If you are a local TPWD volunteer, feel free to go to the TPWD site, log in and volunteer!-
CONCLUSION
If anyone wants to help with Texas Fly Reports, chime in. Like I said, my wits are halved. Texas Fly Reports is the ONLY website in Texas dedicated only to Texas fly fishing discussions. And of course, Texas Fly Caster remains the number one site for information about fly fishing in Texas. Feel free to spread that word, and link back to Texas Fly Caster whenever opportune.
Have a great week.Si' hablo espanol. ?Donde esta los pescados locos?
Category: Culture on the Skids, Events