texas fly fishing Port Aransas Lydia Ann Flymasters tournament houstonflyfishing #flyfishing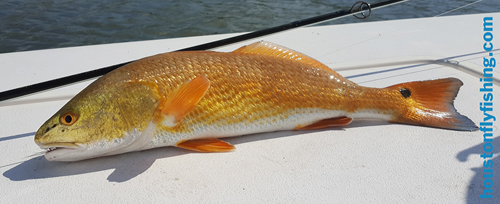 REPORT & PHOTOGRAPHY COURTESY DANNY SCARBOROUGH at HoustonFlyFishing.com.
This year, the Lydia Ann Flymasters was a lot nicer fishing out of Tim Boones East Cape Skiff. Reds were scattered, but we managed to find some along grass lines and in the back lakes. Tim started the day off with a 21-incher busting bait in the middle of a back lake. We went even further back spooking some and missing a shot or two. Finally in the last corner of the lake I spotted one cruising on the bottom. I could barely make it out but dropped a fly in front of him and he inhaled it.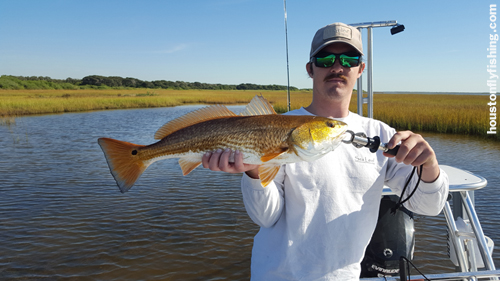 After a great fight I got a decent 24-inch redfish on the board. We ran over to another spot and poled a shoreline. Ran into a school eating tight to the grass line. After a few cast i connected but it was short lived. The school didn't break up and gave me another shot. Hooked up again and actually got a fight out him but yet again he came unbuttoned.
Since the redfish were so scattered and we both had fish on the board, we figured we load up and run over to the jetties in search of poon (tarpon) or anything for the open species fish. We lauched out of Tarpon Shore, which is called something else now, and hauled to the jetties.
Water was a little too choppy in the channel but we were able to fish the south side of the North jetty. After a few bumps I hooked a Spanish mackerel (smack) and was quickly reminded how fast and fun those guys can be. Got him to the boat and put a 16-inch smack on the board. After teasing the rocks a little longer and have no luck we ran over to the beach side of the south jetty.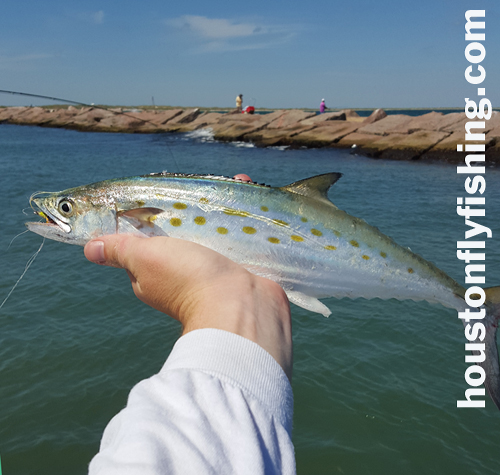 We were greeted by the most beautiful water I've ever seen in Texas. I mean clear and blue almost Florida like. We teased the rocks there and worked over to the beach which was flat. We were able to sightfish the the second and third gut only picking up a small jack. Shortly after we had to run back and weigh in.
The event had a great turnout and some solid fish were caught with a 27-inch red winning the boat division. We finished the evening off with fish stories, some good food and of course some beers.
NOTE – My personal thanks to Danny Scarborough at www.houstonflyfishing.com for the report from the Lydia Ann Flymasters Tournament. It's held annually at Port Aransas, Texas, and has divisions for boat, kayak, and if I recall correctly, wade fishermen — all on fly, and CPR (catch-photograph-release).
Category: Adventure, Complimentary Reading, Destination Fly Fishing, Events, Fishing Reports, Fly Fishing for Redfish, Texas Gulf Coast, Tournaments and Contests