Cowtown Carp Classic Results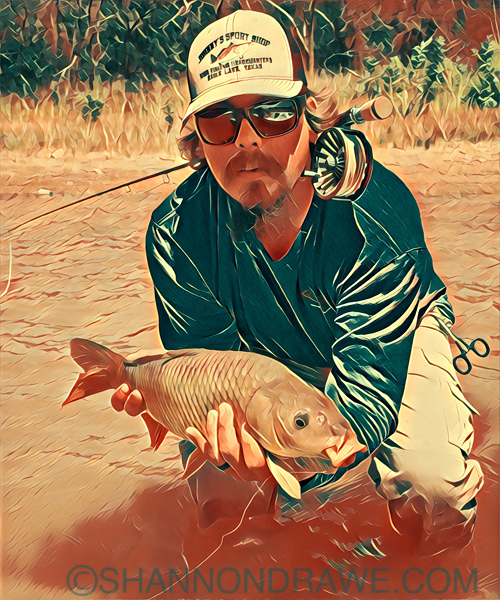 I will be sending word to get the results for the third in three related Texas carp tournaments, and we will get that published as soon as we get it. I was there for the final results – in Fort Worth – and to say the results were amazing is an understatement.
Oklahoma rules when it comes to carp, if I do say so myself. From an overall leaderboard that had an OK guy at the top, he actually got pushed down – with the results of this one tournament! – by another OK fly fisher who did a number on Texoma.
And he was actually nice enough to tell me how he did it, and where, and also gave me some brand new story leads that are newsworthy – on a sizable scale.
The angler who I was helping to try and push up the leaderboard? He didn't move an inch, and Joe Mills of Houston finished the overall tour in third place — holding on by a mere two fish that we managed to catch from the skiff in the 100-degree heat yesterday. It was a heck of a lot of work, and I am licking my wounds today.
A lot of suggestions were bandied about in regard to changing the tournament / tour next year. Most of the anglers are pretty solidly for changing the date to earlier in the year. Of course, this kind of thing comes with predictable consequence – squabbling among the other tournaments. My suggestion was to do a rotating calendar where – next year – the last tournament moves into first choice of dates, and then the next follows with their choice of dates (later than the first), and so on. It is perhaps too easy a solution.
Readers are standing by for those results …
---
---
For those of you who are wondering: THERE ARE A LOT OF CARP on RAY ROBERTS right now! I dare say a rebirth is underway. It has a lot to do with the habitat which is now in a new phase of regeneration and decline at the same time. The water level is on a downward trend and that is revealing some of the older flats that have been under for quite a while. At the same time, the vegetation that carp pillage was picked clean OFF some of the flats, they left, and now that vegetation has regrown. You are still looking at a bite that quits about 1-pm because of the extreme heat.
There is still plenty of time to book a trip with me, and operators are standing by!
Category: Complimentary Reading, Culture on the Skids, Fishing Reports, Fly Fishing For Carp, North Texas, Soggy Bottom Boys, Tournaments and Contests