Cowtown Carp Classic Comes Out of the Chute Kicking
Just when you thought it was safe to retire your carp rod for a few weeks, up pops another tournament in the BEST EVER YEAR for carp fly fishing tournaments.
It's the Cowtown Carp Classic, and it is hosted by the good folks at Fatties on the Fly, which is a newer business that ties flies for profit.
– SCROLL DOWN FOR TOUR STANDINGS! –
NOTE – I am selling some of my own UNIQUE flies for this final tour event. You can purchase my Coyote Carp Flies for a limited time at 3 for $10-dollars, and the Flipino Midget at that same price. Let me know what you want, and I will bring some down. You can hit me on the PayPal button on this site – due upon order. Shipping EXTRA of course!
---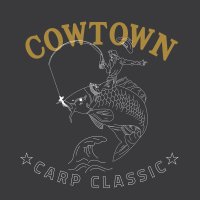 Join us on August 17th &18th in Fort Worth, Tx for the final stop of the inaugural Texas Fly Carpers Championship series!
This event marks the final event of a three part tournament. Captains meeting is August 17th at Texas Outdoors from 5-7pm. If for some reason you can not make it to the captains meeting please reach out ahead of time. [email protected]
We have teamed up with esCARPment(held in June) https://www.ethos-fly.com/escarpment-2018/ and Holy Carp! to make Texas's first ever carp on the fly series. So now yall have three carp tournaments to look forward to in Texas! You can choose to fish one, two or all three tournaments. Tournaments are still separate and done separatly but were combining everyones scores though in the end and the person with the most total inches of carp after all three tournaments will be crowned King of the Texas Fly Carpers.
Rules for The Cowtown Carp Classic are the same as Holy Carp! and esCARPment:
Have fun!! This is a serious rule. We only do this to have fun! No fighting or arguing or mistreating any fellow anglers.

Must have a valid Texas fishing license

Walk/wade, kayak or boat

Total most inches of three carp species caught (common carp, smallmouth buffalo, koi and grass carp)

Individual Photo Based emblem givin out at Capt. Meeting August 17th at Texas Outdoors 6-8pm

Fly only, no bait, no baiting or scented anything, No snagging and just NO cheating!

Open to all public water in Texas. No trespassing, No private water.

Must follow all Texas laws and regulations

Photos will be judged by three people. What they see is what you get. Must have a legal measuring device visible in the photo. Must have the measuring device at tournament for judges to inspect if found needed.

Must be at the Weigh In at Texas Outdoors at 5pm on the 18th!!

If found in violation of any of these rules you will be disqualified. Please no cheating!

If you have any questions reach out to 

[email protected]
Please register as early as possible so that we can order enough shirts!
TEXAS OUTDOORS –
3821 Southwest Blvd
Fort Worth, Texas 76116
https://goo.gl/maps/CXSoMovZbCP2
---
TOUR STANDINGS esCARPment 2018 Leader Board
Robbert           314.75
Sam Arg          209.5
Eric                    60
Josh Smith        59
Ryan Schaper    32.5
John Henry        27.5
Chris                  26.5
Jacob Krug         22
Category: Adventure, Complimentary Reading, Culture on the Skids, Events, Fly Fishing For Carp, Soggy Bottom Boys, Tournaments and Contests