Rainy Monday Morning Sidewalk
Good Monday Morning to those of you who examine the cracks in our Monday Morning Sidewalk! I haven't seen my shadow in about five days, and although I am not a groundhog, I think the sun will be coming out tomorrow.
It was a fly fishing weekend to forget, that much is certain. There was actually a carp fly tournament held in McKinney, Texas, over the weekend, and it's success was probably impacted by our rainy weekend.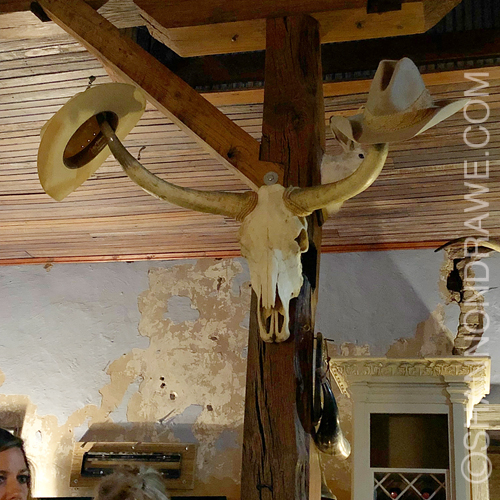 HOWEVER, it was a weekend to remember at Lowbrow's in Pilot Point, Texas, as that shotgun-style saloon reopened to a soft open Friday night (locals only), and then blew wide open Saturday night as a rainstorm chased the music crowd from Western Son Distillery (a block away) into shelter at Lowbrow's. This really was the best of times, and seeing the new people running the place – happy and overwhelmed – was an experience I will not soon forget.
That contest "Texas Carpnado" had only eight participants, and when I checked in with the promoter Sunday afternoon six of them were on the board with inches scored. That sounds pretty rough to me – in my opinion. However, I am obviously no expert on fly fishing tournaments – having participated in a few in the past and NEVER scoring. Things are definitely looking up in Pilot Point.
So we get another chance with this coming weekend's tournament in Fort Worth, Texas – the Cowtown. Folks are coming in from all over for this one, and the weather looks to be in a cooperative mood according to the talking-weather-head's forecasting today. We'll see about that. There's enough moisture in the ground that with some rapid heating, we could have our own micro-climate for several days to come …
Fish Fix
There's a new TV channel coming to the internet soon. It's called Texas Fishing . TV, that's www.texasflshing.tv and it is going to be nothing but videos about fishing in Texas. How fun does that sound? It should be a great resource for those of us who've cut the cable, and need a place to go for their fish vid fix. I wonder how the decisions will be made on what videos are there? So many fly fishing organizations, companies and businesses are (once again) slow on the YouTube uptake (as they were years behind with social media like Instagram) and seem to lack the ability / budget / vision to implement YouTube as a tool for spreading their word via good quality video.
Yesterday was a perfect example in the decision making that goes into creating YouTube videos for the Texas Fly Caster YouTube channel. I had to decide whether or not to drive all the way to McKinney to cover the Carpnado carp fly fishing tournament, and for eight participants, I just couldn't justify that expense. News gatekeeping didn't used to be about the money or time, but nowadays – with so little feedback – I figure those of you who read will be just fine with the printed Carpnado story coming out tomorrow.
Be sure and tune in to the YouTube Channel, or see the video post here – the next Texas Fly Fishing Report should be out in the next couple of days. I anticipate somewhat less news for the next few weeks (just like the last few) as the summer drones on. Losing the Texas Insider Fishing Report has been a setback in the information I glean, and everyone else seems to be out of town. I'll see what I can find – AND GET IT OUT to you though!
Thanks for reading, and be sure to let me know if there are any stories you know about, or are are involved in personally! I am always interested. Check for the Carpnado results here tomorrow.
Category: Body-Mind-Soul, Complimentary Reading, Culture on the Skids, Tournaments and Contests