bassflyfishing texas fly fishing #flyfishing #bassonfly fly fishing Rainey's bass flies
This whopper story left off with me being handed a crushing blow by a largemouth bass that inhaled a conventional plug (Heddon Torpedo) when I was distracted from fishing for sand bass (tacos), recently on Lake Ray Roberts, Texas.
After the shearing of my mono by what I assume was a wraparound of underwater Houdini escapism (usually by larger more evolved bass), I simply wound my line back to the spinning reel, secured it on that little keeper, and started the long slog back to the truck. I felt like every second counted, as the light was getting away, and my chances for redemption were doing the same – adding insult to injury.
I hung the spinning rod in the back, and pulled down something that felt a little more familiar in hand. The rack held a TFO BVK 7 which tends to be the truck rod this time of year, by some considered equivalent to a twelve gauge, or so they think.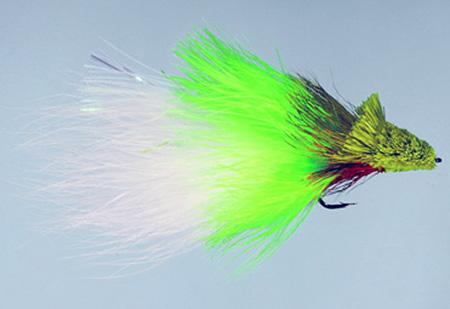 Purchase the Rainey's Articulated Diver by Pat Ehler's at Tailwaters Dallas, Texas. This fly works, and continues to work for largemouth bass for topwater action. – Courtesy Photo www.raineysflies.com
Topwater flies? For largemouth bass? Not many, hardly any in the boxes. I muddled in a dumped fly box, you know the kind; a box dumped full of flies from here, there and everywhere, only to find one that is so new, ugly and almost profane … it had to work on this (these?) recalcitrant chicken fried nation so and so bass! The Rainey's Articulated Diver by Pat Ehler, is a real piece of work.
I double-timed it back to the water, and flipped out the fly to get it wet and see what it looked like once I was on the water's edge, glanced down to strip out some line, and in that half-second a bass was on. Not even a cast, maybe three feet of fly line out the tip … it's happened to most of us at least once, but let's just say my confidence in that fly was heading into the stratosphere.
Rather than ply the entire line of milfoil, I decided to get back to the landmark, and re-educate my chicken fried foe. Finally, just in range, I let the concoction fly. One huge gurgle strip, and a crushing strike … again! I put full force into the set as the fish ran left, line making one of those zipping wakes behind the line. Then an ominous lunge down, and my mind weakened as I thought, "here we go again." Suddenly, the fish breached, no that's too elegant, the fish bellyflopped like an American tourist in Vegas … fifteen feet from the plumb of my fly line. That fish was long gone, leader gift wrapped around something below, and off, the moonshot fly lost in the nether region.
I knew the score. I drew in my leader and walked away. Wrong rod. Wrong leader. Obviously, I brought a butter knife to a gunfight, and I was laying in the dirt.
To Be Continued …
Category: Culture on the Skids, Fishing Reports, Fly Fishing for Largemouth Bass, Fly Tying, North Texas, TECHNICAL, Technique