Another KNOW BEFORE YOU GO video
THE ADOLPH THOMAE, Jr., County Park in Cameron County, Texas, sits near the mouth of the Arroyo Colorado where it meets the hyper saline Lower Laguna Madre. The River is also part of the channel that allows barges to go upriver to the Port of Harlingen.
The mix of freshwater from the Arroyo, an offshoot of the Rio Grande River that extends much further than I ever realized, is also a great fishery as the fresh water and salt water mix to make prime conditions for speckled trout, redfish, snook and the illusive tarpon.
As part of my series on the Arroyo Colorado (see video links to previous episodes on the Arroyo below!), it is impossible to cover the fly fishing possibilities without a good long look at the Adolph Thomae Park.
That is because the park has great clean and well kept facilities. And lighted fishing piers, camp sites of different levels, and it's right on the Arroyo Colorado! If you have a boat, the Adolph Thomae boat ramps are wide, not full of trash or potholes – and the walkways and cleaning stations are extremely convenient. If you have a kayak? You can launch from you campsite – if you have a spot right next to the River, and that opens up all kinds of possibilities WITHOUT even having a boat!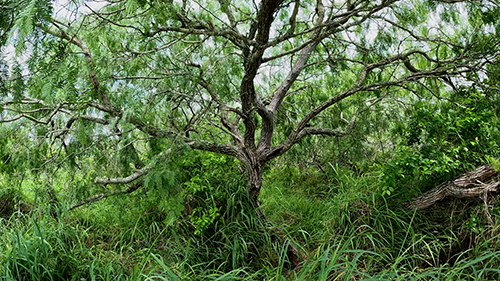 Adolph Thomae park is a long way from your nearest Walmart, or whatever store you may crave, so be prepared. And if you are lucky enough to stay there, you will be in a co-existing state with nature, including wild hogs, deer, raccoon, wild turkey, maybe even a javelina or two could wander through!
ROOMY LIGHTED PIERS FOR FLY FISHING AT NIGHT!
From a fly fishing perspective, try casting on the lighted piers – choose one end or the other – and let your fly loose! Just be cautious though. Not many people have seen a fly rod, or cast. They could walk behind you without warning. Be prepared for that. I have done well with shrimp patterns, and I try and match whatever is jumping in the lights. They're jumping for a reason!
The more I learn, the more I realize the pricing for cabins, and houses in Arroyo City is way overinflated – in comparison to the rest of the Texas Gulf Coast. Of course, the other side of that is: Look at the access you have. You can drift lazily through the Arroyo Colorado, or get on plane and go straight out into the Lower Laguna Madre where your only daily decision is left or right, and you'll never go wrong.
---
WATCH MORE ARROYO COLORADO VIDEOS!
Category: Adventure, Lower Laguna Madre, On The Road, Saltwater Fly Fishing Texas, Science and Environmental, South Texas, Texas Gulf Coast