IN CASE YOU MISSED IT! – SPORTS PART 1 and SPORTS PART 2 lead up to this
The original "Fly Fishing Sports" for the masses company – ORVIS – found their footing as well, by the end of the teens. They've added fabrics, colors, patterns and better fits to their offerings. ORVIS has become what I call – "The Package Deal," and it is absolutely brilliant. Enough color added to attract young and femme buyers, and a large dose of traditional fabrics and high grade construction to keep industrialists satisfied. Fits for younger people.The only stores in North America where a "sport" could walk out of an ORVIS store outfitted head-to-toe with ORVIS clothing and top-end gear, a freshly minted Fly Fishing Sport of epic proportions. Top of the top.
The larger picture that I can see is this: Price is part of the cult of individuality. And price controls access to products in a time when there are only haves and have-nots. Once you cross the rubicon of, say, a $80-dollar shirt, or a $99-dollar pant? You have probably reached the "Fly Fishing Sport" level, a world in which a dollar has a different value from the general population. Hence, my previous stories on great fly fishing clothing, like the pants made by Wrangler and sold at Wal Mart. That story continues to generate great responses! The less hard earned dollars you devote to "Sport" clothing, the higher the probability you are living a brand independent lifestyle … or … you're branding your own lifestyle!
But there's another phenomenon barely taking shape, the "Sport" backlash. More and more fly fishers are starting to realize, "Wait a minute! I am wearing your brand, and all it does is promote your brand!" Basically, ball caps are business cards. There was a time, long ago, believe it or not, when a company sent you free hats and actually asked you to wear them! It's true. Now? Now we're paying premium prices to advertise big time "Sport's" names on our foreheads! Go figure.
THE SMALL OPERATORS
Nipping at the heels are a load of fishing clothing makers who we can call "wannabes." Now the wannabes obviously want to be the next big Brothers company, and they are just about everywhere. And their clothing shows their hunger for innovation, creativity and drive to create their own niche. Will they become the "next Howler Brothers?" The fact that that question is actually being asked, means a lot to a marketing department – on the winning side and the losing side. Little fish get released, big fish get slaughtered. Every dog has its day, and even Lightning Bolt is just a figment of the past.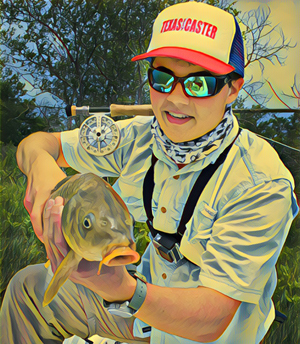 THE SMALLEST OPERATORS
The tipping point in chipping away at the behemoths will probably be the ability to create OUR OWN fly fishing micro brands, that if well designed, will take on their own lives and give the bait chunkers money for bait, and the fly fishers money for a few flies … and nothing more grandiose. I am one of those micro operators, but I have yet to find my "voice" that appeals to anyone more than myself. Actually, that should be the goal for the micros – just design for yourself, maybe something will take hold, maybe not.
CONCLUSION
No matter how the Howler twins arrived at the cash register in Port O'Connor, I appreciate their sense of tribe and belonging to a tribe. Tribes are mostly good in fly fishing. We certainly recognize the tribes by their tribal attire, and that's how they want to be recognized after all, isn't it? It is worth remembering – whatever brings the next generation to the fly, whatever it is, is worth something in the grand fly scheme.
END NOTE – You never know. There may be something to add to this story. This is just a chapter, a snapshot in time. If we exist long enough, I will bet the farm, another brand will come along and it will be the shizzle of the day – burning hot and bright, and eventually it will collapse into a black hole as well.
Category: Apparel, Body-Mind-Soul, Culture on the Skids, Equipment, Fly Shops, Industry, Life Observed, Next Generation