That is how it seems on the weekends as summer gets underway for real here – now. As Lake Ray Roberts slowly becomes truly "civilized" with a brand new 500 boat slip marina on the east side of the lake, and new highways and loops are taking shape, closer and closer the dust of barbarians rises and will eventually fall … on Lake Ray Roberts. The clock is truly ticking on this once unknown place. The barbarians have broken down the gates, and are trampling the fields … thankfully, they can never build ON the Lake.
Read more

: Weekend Warriors
WEEKDAY BLISS
It was a fine chance to get JH on board earlier this week, and show him how the carp – he once showed me – are doing. And I must say, they are doing quite well this season. This is actually the best season I have seen from the skiff, which now spans seven seasons of active duty on Ray Roberts carp pursuit. It may have been as good in my previous eight seasons before the skiff, but from boot level? I never saw anything like this.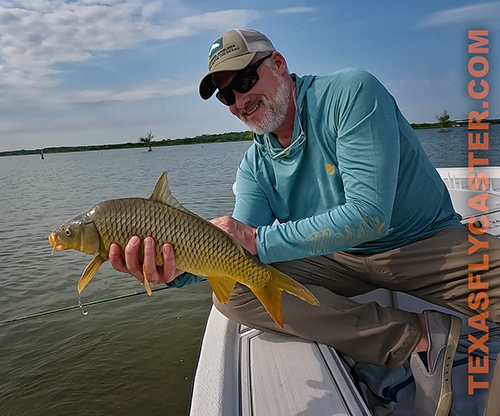 While the shots were in the dozens, it was actually amazing to have four nice warriors caught from the West Side of the Lake earlier this week with JH. Having your guru on board comes with its own need for relaxation exercises, and a large dose of calm when the fish are … well, they are every where. It is so good, it almost feels like a last hurrah … as if something bad is going to happen to the lake – to offset the fish bliss I am seeing.
Be sure to contact me if you are interested in some of this bliss. Have a great WEEKEND!
Category: Body-Mind-Soul, Culture on the Skids, Fishing Reports, Fly Fishing For Carp, Life Observed, North Texas