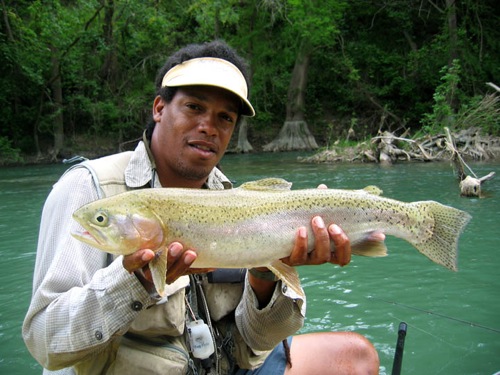 Professional Guide Alvin Dedeaux with a Texas Rainbow Trout on the Guadalupe River. – photo courtesy Alvin Dedeaux
If I said, "Texas and trout" in the same sentence, I am always inclined to delineate by saying "speckled" to paint the picture of a saltwater monster with two fangs for front teeth. Not often do Texas fly fishers speak in reverent tones about Texas rainbow trout. And trout in Texas, other than "specks" is something not many fly fishers are familiar with.
That's because while speckled trout roam the entire Texas gulf coast, you will find rainbow in rainbow habitat in only one place in Texas, and the place is a short ten mile stretch of the Guadalupe River below Canyon Lake west of New Braunfels, Texas.
As I noted in the first part of Fly Fishing the Guadalupe River – History of the Guadalupe, the initial proposals for the dam that would create Canyon Lake also accounted for the possibility of a cold water trout fishery below the dam. They didn't really know how far the fishery would stretch at the time, because they had no way of knowing how far the cold water would reach on its continuing journey down the Guad before it hit the magic temperature that fries trout brains – 74-degrees fahrenheit. It turns out the outer limit, in general, is in the ten mile range. Based on temperature, that ten can increase slightly and decrease drastically – say 30-percent.
Tip1 – There are new temperature and flow gauges! Check them out. Take your thermometer and measure the temperature before you fish. If it's above 74, you have to look at the water – do you see holes? If you do, the temperatures can be cooler in deep holes. Don't bother fishing anything but the holes. If the structure is all shallow, think about moving on.
It's ten miles of Texas river that can be hot, cold, agreeable and onery as a mule. Now commonly called a "year around trout fishery," the trout of the Guad are best left to their own survival once temperatures make their catch-and-release too stressful. If you have to ask yourself "will it survive," then it probably shouldn't have been caught. I would never have taken this side of the discussion, except that the latest documented shocking has shown a very good number of holdover trout in the Guad. That said, we could practice catch and release all cold season, all warm season, and the fish could still be wiped out any given year – by drought, flood or whatever else Texas can throw at tender rainbow trout. Texas freshwater trout may always be an oxymoron, at least until the next ice age.
Tip 2 I believe you can count on the same adages for weather on the Guad as you do for the nearby Oklahoma trout fisheries. If the weather is bad, misty, cold and overcast, then your odds are going up for a good day on the Guad. Good trout love bad weather. Lower levels of sunlight and less visibility to predators make them more confident.
There are a lot of guides that work the Guadalupe River in Texas. We always have to ask ourselves, "Do I want to learn from scratch, or do I want to cut to the chase?" If you want to learn yourself, you will be sharing with us here of course. This is where I say what guides always ALWAYS say, "Get a guide!" They can cut days, maybe weeks off your learning process (it's not quite that simple) and take you to where you want to be to catch the fish you want to catch.
GUIDES for Fly Fishing the Guadalupe River
As I mentioned, there is a large contingent of fly fishing guides concentrated on the lucrative business of guiding for rainbow trout on the Guadalupe River. And who wouldn't want to guide there? Temperate weather, mild water temperatures, a perfect proximity to Austin and San Antonio, and a mostly friendly geologic region make this southernmost trout destination our blue ribbon mecca. If you go, there are plenty of guides who have a reputation for knowing the Guadalupe River:
Castell Guide Service
Alvin Dedeaux
Hill Country Fly Fishers
These are three guide services I can recommend. The ringer in the bunch – Hill Country Fly Fisher's Kevin Hutchison, who updated the classic book "Fly Fishing the Texas Hill Country" in 2009, and has scheduled another updated press run soon. If you fish with Hutchison, I bet you will have stories to tell … and if you are interested in an autographed copy of the classic, please fill out the contact page and I will see if there are any left (they run 50-dollars each).
Part 3 will go at fly fishing the Guadalupe my way (the way people on the skids do) – DIY or do it yourself fly fishing. I will give you everything I have, and put it all to use before too long – hands on, wet, warm, cold, rainy or sunny.
Category: Culture on the Skids, Fishing Reports, Guadalupe River, On The Road, Science and Environmental, Store Merchandise, TECHNICAL, Technique, TIPS