#flyfishing texas fly fishing guadalupe river fly fishing oklahoma fly fishing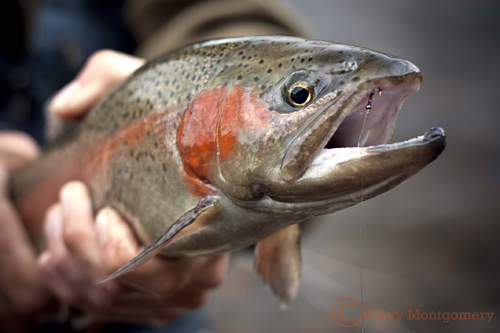 I never get tired of running this old photograph by Dusty Montgomery! Taken a number of years ago in Beaver's Bend, Oklahoma. Courtesy – Dusty Montgomery
Welcome to wherever you arrived this morning! Wow. It seems like the fog is finally lifting on the fly fishing scene just a bit around here and elsewhere. We've stripped that fly past the doldrums and now just have to fit what's left of this aging year into the days, 21 of them to be exact, remaining on this old year.
TEXAS GULF COAST FLY FISHING
I heard from Danny Scarborough (www.houstonflyfishing.com) on the water yesterday in the Galveston System – in the Cedar Lakes area, and Danny said the fish have come off the shallow flats and are being caught on conventional tackle only – in the guts (deep channels). Sometimes terms, like "guts" are simply thrown out there without clarification, and I would expect one of the hundreds of Monday readers, not to know what "guts" are. GUTS : If you look at the satellite imagery for some place like the San Luis Pass for example, you will see these striations in water color, almost like veins and arteries, or exposed roots of a tree – laid all through the bay, but especially prevalent where there is significant tidal flow. Some of us call those deeper channels (as little as a few inches to as much as a few feet deeper) "guts."
Guts are not to be confused with potholes which are those hydrologic anomalies that are all over the Texas bay systems, and can be very productive during extreme tides of winter. Those potholes can hold, even trap, redfish when there's an extreme tidal movement, one enhanced by wind or simply by winter extremes (believe in the wind). I have heard stories of being able to walk right up to these holes and cast on reds at will.
TEXAS TROUT & OKLAHOMA TROUT
I am sure you have all visited the recent post detailing the Texas Parks & Wildlife's trout stocking schedule for 2014-2015, and are making plans to take your kids fishing for these schools of stockers in your local ponds. Depending on the actual pond environment, I'll just go out on a thick limb with a thin saw, and say your best bet is to Power Bait up your kid and use a tiny bit of weight to get that PB out there to those confused stockers. They continue to congregate in pond situations for quite some time, and their congregation point can often be right out in the middle just off the bottom.
Let me know if you are wondering HOW TO rig your kids rod-reels up for this kind of fishing, and we'll get you as many simple options as possible. This time of year, your kid's best-first stop for stocker rainbow trout can honestly be the local Wal-Mart as those guys are used to the questions, and may have the answers by now.Let me know if they don't!
Conditions for Oklahoma are mixed right now. The air temperatures are going to be pretty warm this week, slightly above average for this time of year, but only slightly. If the sun finally blazes out from behind cloud cover, you can count on the fish to take cover during the brighter parts of the day. They are predated on, you know?
The Guadalupe River is giving up fabulous rainbow trout to hand these days, and I have heard about spectacular days of extraordinary rainbow trout being caught there. And I have seen photographs as well. These fish have broad shoulders, a few kypes showing and deep wild trout colors.
THE WEEK AHEAD
This week's calendar is shaping up to be mostly empty, and that leads to difficult decisions. Working on the Airstream (Silver Fly Shack) is in order for sure, but so are a couple of trips to Oklahoma. I've been blessed with the busiest late fall -early winter in many years, but it does take some adjusting after being so slow for so long.
With gas prices down a dollar in the last month, that's a trillion US Dollars back in the United States economy. Can you feel it? It may suck for Wall Street and it may suck for big oil companies, but don't let them tell you it sucks for us out here on the streets! Main Street USA is finally getting the break it deserves. Now all we have to do is keep the oil production to the metal, and drive the Saudis (state sponsors of terrorism) back onto their camels, and send Putin's economy into depression. Won't it be nice not to have to rely on imports from countries that want to kill us? I've been saying for as long as anyone would listen; it's gas prices! that are thwarting our economy. Now, we will find out if it's true. I'll do my best to burn more gas this week, and fill those government coffers with gas-tax-dollars, and keep you in the loop as to where the road takes us. It certainly is nice to be able to GO isn't it?
Category: Adventure, Culture on the Skids, Fishing Reports, North Texas, Oklahoma Report, Texas Gulf Coast