Tag: howler brothers
fly fishing gifts
The homestead is dark and warm. The heat's turned up since the significant other is out on the road peddling Cimarrona, and I just poured a frothing cup of coffee as the clock's about to strike one. It's amazing the froth you can get on coffee when you're awake enough to pour it from twenty inches altitude above the cup.
There's no reason to fish right now unless you need to test your weather meddle. It seems more like time to put on that top layer of fleece, roll up the collar, roll up the buff, pull down the hat and squint out at the TV. It seems like a good a time as any to embark on the official Texas Fly Caster Christmas Fly Fish Wish List for this year as well.
I would hate to just throw everything out to shoppers all at once, but I think we can perhaps take a new tack, a head-to-toe dressing of the fly fishing addict. So let's start at the head.
HATS & HEADWEAR
CIMARRONA Hats and Accessories still sells a lot of the Angler Hat which I designed three years ago just for fishing enthusiasts who want to wear ballcaps all year long, but need to keep their heads warm when it turns cold. I saw the original design, I think from Simms, and filed it away until it came back to me more full developed … functional. The fact the Angler also works for women as well as men is a bonus, and I am encouraging greater production of feminine colors to bring the style and comfort to the female fly fishers I have come to know, and fish with, lately. One of coolest things about these warm hats is the fact they are all one-of-a-kind hats, wearable art if you will. You have the opportunity to purchase Cimarrona hats locally, at Curiosities in Dallas (Lakewood), Sleeping Lizards in Denton, and contact me for stores carrying Cimarrona in Virginia, West Virginia, New York, Rhode Island, Maryland and New Hampshire. I guarantee this hat to keep your head warm, and I guarantee the durability of the hat … I have connections.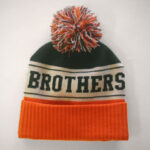 At the other end of the spectrum, but still close to home, is the new run of hats at Howler Brothers. Classic shapes, like the "Disco Beanie," and colors are the signature look for Howler Brothers winter 2013. Howler Bros started pumping out new fashions this fall, which they haven't done a lot of in the past, and we are so much the better for it! I've been buying and wearing Howler for awhile, and it looks good and holds up after real use.