Fly Fishing Brands You May Not Know
I'll be honest. I have too much fun, spelled, "spend too much money," chasing after all kinds of brands that look good in the digital realm, and loosely considered in the category of "fly fishing gear." Luckily, I guess my eyes are still good enough to spot quality when I see it.
There are plenty of statistics that show me readers are still reading and watching reviews – even of products that no longer exist! That is strange enough, but now that I have some serious time on my hands, I want to get back to showing you some gear that has come my way in the past year, and even in the past few days – and see what you think.
---
Fly Gear Queer*
You may be too old to realize the word, "queer," is no longer quite the perjorative word it used to be. At least it seems less … offensive? than it used to be. If you think it is offensive, then I apologize here and now. In as much as it may incite a reaction, let me say; I was once a fly fishing gear queer. True confession. For some it's a stage, and for others? Well, it can overshadow everything else that actually matters – the family, the fish and the pursuit.
For example, there was never a brand that came close to my high school obsession with Lightning Bolt, until I started buying Howler Brothers from the guys, out of their car, in the parking lot of the old Tailwaters Store on McKinney Ave. Howler changed the game. I thought it was easy for a blind man to see at the time – these guys would change the game. NOTE: Howler Brothers have integrated the famous Lightning Bolt "BOLT" into their designs as well. Watch the great documentary on Lightning Bolt on YouTube!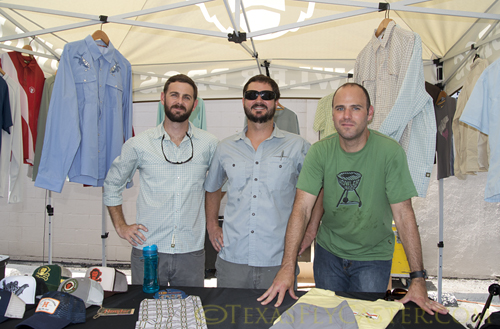 Nowadays, Howler has set sail for parts unknown. The brand has made money for all the celebrities (Austin Centric), and the owners. They're a cash cow, that delivers to the Howler Nation with every single season. They just don't deliver what many fly fishers deem as "day-in-day-out" important these days.
Once the separation anxiety was over for me, it became easy to look objectively at the Howler Brand and see who their fresh targets were, and what age group it is. Nowadays, there is something of a comical aspect to the Howler Nation sightings. I'll never forget the morning I saw two guys dressed in exactly, I mean EXACTLY, the same Howler "outfits" at the Port O grocery store cash register. Hey, more power to them is all I can say!
The Great Price Debacle
It took some time, but the Brothers, driven by their chic and true originality, started to recognize the trend in cost was on the upward slope. After all, fly fishing has always had the dollar-sign mystique attached to it. They weren't leaders, they just went along with the North American retail fly fishing clothing trend … up, up and away.
We watched as a simple pair of, Orvis or name any reputable brand, went through the Seventy-dollar mark, through the eighty-dollar mark, barely paused at ninety and straight to what is now a dollar or two under $100-dollars, and maybe a little over on occasion. The pandemic, outsourcing, insourcing, resourcing, supply chains, inflation, higher wages, whatever the reason – we are now at what the fly fishers, I fish with, call – REAL money. And the same can be said of everything we consume or purchase for fly fishing – price barriers are being broken all the time now.
Real Value
So what is real value, and what is real cool? I sold shoes, men's shoes, and I sold them for a few years. There is nothing like trying to convince a man that he not only needs one good pair of shoes, but he needs two. If they're willing to listen? It goes something like this: Don't wear the same pair of shoes every day! Let these rest, and wear the others. The leather has time to dry out, etc … Then you factor out for them the cost over twice the normal life of their shoes (thanks to them buying two pairs of course). Not only is it a great sales technique? It is actually TRUE.
While the shoes had real value, you can ask anyone who bought Jarman Shoes, and they will tell you; good shoes, but mostly not cool.
The best brands in fly fishing, or that could be used in fly fishing, have three things going for them that I think, in many cases, makes up for the fourth thing that is not in our favor – price. First, the new lines in fly fishing are pretty hip. You may have to squint your eyes sometimes, but they're cool, many different levels of cool, but still cool. Second, I don't think the quality has ever been better than what it is right now. Third, there are designs that are not necessarily for a fly fisher, but they cross over into fly fishing functionality. Let's just say some of these brands were started by fly fishers that have a bigger picture in mind.
Fabrics have changed for the better, cooler and warmer for their weights. The stitching keeps them together for much longer, and if you lean toward good graphics and designs? There is a brand that you can find right now that says more about what it is your are into … turtles, fish or fowl. And if you want plain vanilla? Fly fishing clothing was founded on tweed for God's sake! And you can still find tweed, and awful plaids aplenty.
IN PART TWO I will show you a few brands that I have been looking at, and I am liking for Spring 2023. Some I can afford, and some that are still beyond my imagination. Once we move beyond the fly fishing duds, we will adventure into some gear, specifically photography gear that serves a fly fisher well on the water. Way down the road, we will run through some of the changes and updates to fly rods and reels as well. And we can't do any of that without a look at the general health of the fly fishing industry as well.