Go West Young Fly Fishers. Go West.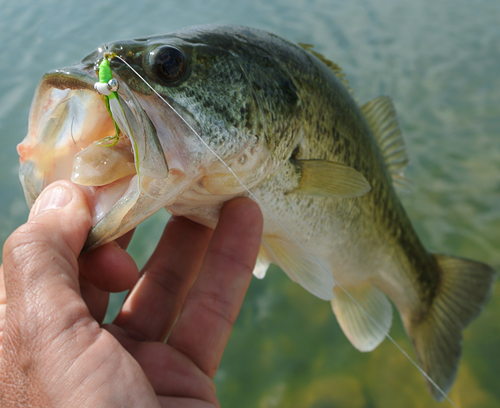 Notice how the fish blends well with the water color? This water has better overall clarity than, say, Lewisville Lake – the largemouth are greener too.
Bowie, it's a knife. Bowie, it's a tough-ass pioneer named Jim, who kicked butt at The Alamo. Bowie, it's a place that doesn't claim David. Bowie, Texas, located west-northwest of the Dallas – Fort Worth Metroplex, is well within reach of the Metroplex, but once you're there, you will know you're a world away from the hustle and bustle invisible in your heated, cooled, defogged, tinted and compassed rear view mirror. Bowie's motto: "Bowie has the edge on progress."
A BRIEF HISTORY OF BOWIE TEXAS
According to historical information on sites, Bowie is "probably" named after Jim Bowie, but could be a double entendre on a well known railroad worker with the name "Buie," and that makes sense somewhat, as that is the way Texans pronounce the town's name "boowe" long e. Don't get caught pronouncing any Texas town name wrong – it's a dead giveaway. There really is nothing like starting with mysterious origins for the town's name, and building from there. The Bowie knife definitely has been attached to historical markers and much of the City's advertising and logos.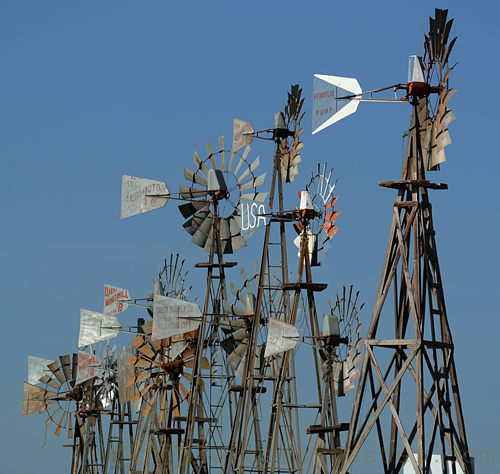 Windmills north of Bowie, Texas, on 59, in Montague County.
Bowie came into being in the 1860's and like so many Texas towns we pass through, and wonder why they're even there – it was a railroad town.
Look around at the modern side of Bowie, and it doesn't take long to see what's driving the Bowie economy nowadays (and has been for years) – the Barnett Shale oil and gas boom. Even the high school stadium has the old style oil field derricks on the field – on the FOOTBALL FIELD SIDELINES! Make sure to check that out.
PART 1 – Off The Water Fun
A smart fly fisher has plans for everyone who may be along for a day trip, or any length of trip. Thoughtful and knowledgeable information, ideas and knowledge give those along for the ride something else to do while we fish.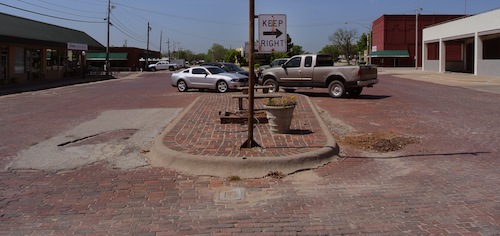 Old downtown Bowie is not visible from the fast track 287 that leads to the Texas pan handle and on to New Mexico and Colorado. You will have to get slightly off the track, and head into downtown Bowie to get a taste of a small Texas town. They all taste different, but that's what makes sidetracking worthwhile.
Red brick backstreets, businesses that sell antiques and thrift stores are mostly what I found along the few streets of Bowie. I would be lying if I said walking the streets of Bowie would take very much time of your day. Creative thinking and following local's leads for interesting things like the monthly Second Monday Trade Days and Flea Market will reward the non fly fishers with enough occupied time to forget their fly fisher on the water only a few miles away.
If your non fly fishing companions are interested in a little excursion, the wildflowers are absolutely prime right now, and you can take a fantastic drive up to the county seat at the town of Montague – just to see that Courthouse if nothing else. This is definitely fertile territory for photography.
FOOD
What comes to mind when you think of Texas food? Texas is pretty diverse, but chances are that a pulled pork barbecue sandwich is somewhere on that list. Go ahead and order the pulled pork sandwich. It comes with a knife driven through its heart, french fries and a fried pickle spear. The pork is mild, not overwhelmed with any sauces, or oversmoking – all those things that so many restaurants think are necessary to their unique flavor, are pleasantly missing. Instead you get perfectly cooked and pulled pork with a rough cut of sweet mayonnaise-y cole slaw, not too much, between two grill toasted buns.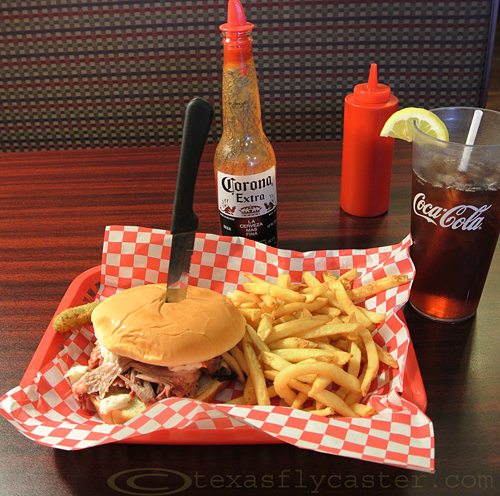 As if that isn't enough, don't hesitate to order a fresh piece of homemade pie. I had the chocolate meringue, and it's hard to believe they haven't been making these in the back for years.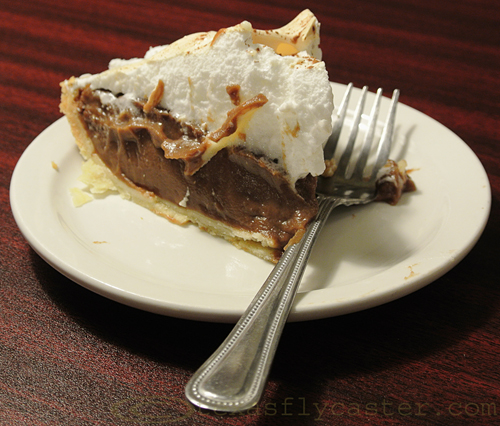 After a great meal and dessert, it's hard to focus on service, but again service at Sweet Boys is also excellent.
Part 2 – Fly Fishing Near Bowie Texas
It's easy enough to be lulled into thinking that just because North Central Texas is soaked, creeks still flowing and lakes are topped off, that the rest of the State is doing great as well. That's hardly the case though. Bowie, is only about an hour northwest of Dallas-Fort Worth, but they are still feeling the pain of drought in a serious way. They did have a bit of relief, but now these western counties are right back where they were last summer.
A few miles away from Bowie is a lake I have come to enjoy as much as any lake I fish here in North Central Texas. I wrote about it last year when I was "Out in The Middle," and coming back to Amon G. Carter Lake this spring filled me with high expectations of higher water levels, and fish back in habitat that had been dried to a crisp by last summer's historic drought.
What I found was a lake at exactly the same level I left it at last July. What gives? Apparently, the water did go up with historic winter rainfall, but Montague County, where Carter Lake sits, didn't get much more of the rains we've been experiencing after winter finally went away.
There are plenty of places to walk and cast while there are no real wadable shorelines due to the topography of that area. Bait patterns are yielding bites that can only be described as "chomps" right now, and I believe that if you were kayaking this smallish lake, your success would increase exponentially. There's also the potential, by kayak, to find bedding areas as well as creek inlets. The lake is so nicely matured, you will be losing a fly or two on submerged timber and other structure.
Amon G. Carter does not seem to be too prone to rapid fluctuations in lake levels, and there's still a lot of exploring to do. So far I have pretty much limited myself to the smaller portion of the lake on the southern side of the road, and that side does not allow skiing. As far as appearances go, the two sides look like two different lakes when it comes to houses, water (that I have seen) and topography.
Bowie Texas Sites of Interest
Bowie Second Monday Trade Days
Bowie Texas Official Website
Bowie Texas Chamber of Commerce
Category: Destination Fly Fishing, Eating and Drinking, Fishing Reports, Fly Fishing for Largemouth Bass, North Texas, On The Road