Fly Fishing the Chisolm Trail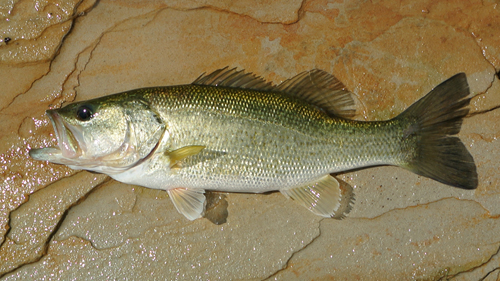 Lake Nocona largemouth bass caught on fly in April along the shores of Lake Nocona.
The first thing that comes to mind when Texans mention Nocona is boots. I've got some, and if you are a boot wearing Texan, chances are you have a pair too. Nocona makes good boots, and Nocona also has an interesting lake by the same name.
HISTORY OF NOCONA TEXAS
Nocona isn't named after boots. It's named after Peta Nocona, chief of Noconi band of Comanches, and father of Quannah Parker. Nocona is the last stop on the Chislom Trail before crossing the Red River into Oklahoma.
The other name synonymous with boots is Justin, and in an interesting twist, the origins of Justin boots can be traced and tied to Nocona as well. Regardless of the boot industry, Nocona is another of those towns, where the west begins, that not surprisingly owes its existence to the railroad.
About fifteen miles north of Nocona, near where Salt Creek enters the Red River, is the Red River Station – the actual place where cowboys moved their cattle along the Chisolm and across the river.
The lake is a hybrid itself, combining two segregated areas – one public access, and the other private gated communities.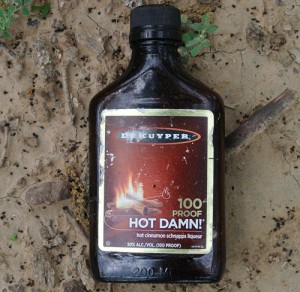 One thing you will always find is that a more concentrated population also brings much more concentrated wear and tear on those areas deemed public. And Lake Nocona is no exception. The trash and filth along the public areas is phenomenally bad. I make a pretty concerted effort to look past all the trash wherever I go (and pick up as time allows), but we're talking hypodermic needles, broken glass, monofilament … on, and on. I am guessing that it's hard to get folks together and clean up their meager public access areas when they look across the lake at the huge lake houses … it's a place where the public areas are certainly used by the 99-percent while the 1-percent appear to own the best 90-percent of the lake.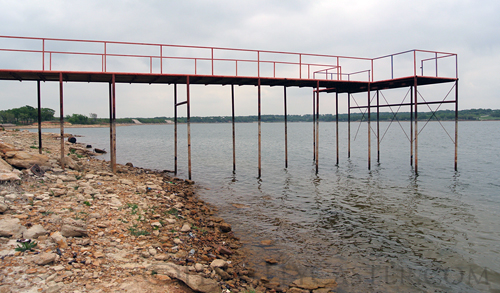 Lake Nocona is also extremely low, and that also has a tendency to expose trash that was lurking just under the surface. It also makes walking easier, and kayak fishing a much more attractive proposition.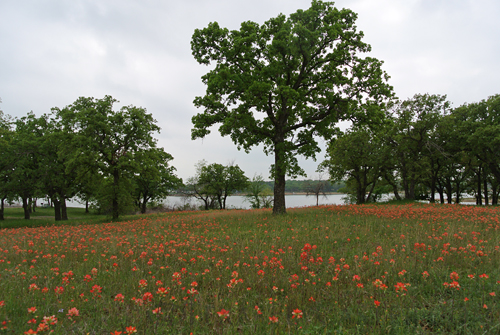 The topography of the lake is varied, with naturally rocky points, a rip rap dam, coves and emerging points that can make power boat navigation a challenge. Otherwise, there's plenty of open water on a lake that covers 1,323 acres. The water is pretty clear, and submerged vegetation is already pretty dense. I did locate a few fish in the backs of coves, but most of the flat cove habitat is lacking in bedding that bass desire.
What I did happen onto, was a point where young pound to pound-and-a-half largemouth bass were schooling and shredding baitfish. There haven't been a lot of times that I have been able to experience large numbers of schooling largemouth bass, but it was an experience I won't soon forget. These fish were very wild, green and full of fight. They fought pound-for-pound as good as the best largemouth bass I have ever caught.
Although their sizes were virtually identical, these fish were surprising in their ariel displays, long hard runs and sheer determination to win. It took me awhile to get over the typical four to six huge jumps I got from virtually every fish, and settle into a calm battle royale. After catching about fifteen of these mean green bass, I had all I could take, and called it a day.
On subsequent visits to Lake Nocona, between shifts, the crappie were also in full spawn and found quite easily in the back ends, and deepest portions of coves. A slow drag of a Clouser minnow – bright colors like white over white with lots of silver flash – proved deadly to the count of two to three dozen crappie on each outing.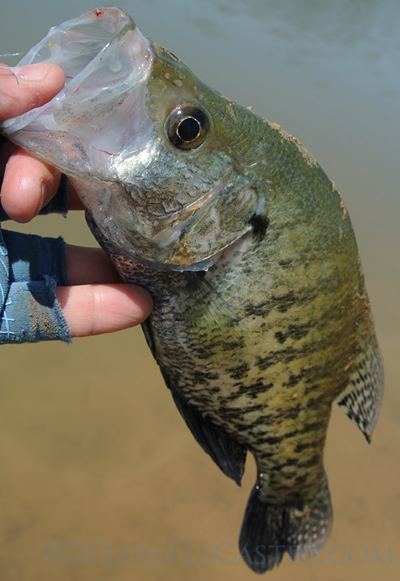 Part 2 of On The Road: Fly Fishing Lake Nocona Texas will highlight the other things to see, Texas history, near Lake Nocona.
Category: Culture on the Skids, Fishing Reports, North Texas, On The Road, TECHNICAL, Technique