#flyfishing montana fly fishing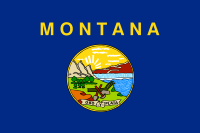 Day 5: Home Again, Home Again, Jiggity Jog
Oh, my, our fish days went by fast. I spent more time fishing dries than I had done for a long time. I had forgotten what a treat it is to watch the fish take the fly.
My fish partner and I explored downtown Missoula before we left for the airport. The trip home was relaxing. After a couple of days rest, I am now ready to go again. The Blackfoot River Outfitter guides, Keith Radanbaugh and staff at the Blue Damsel, host Steve Hollensed, and the other guests surely made for a spectacular and memorable fishing experience.
END NOTES – Day five on Cinco de Mayo? TOP SHELF thanks for your story Joyce! We're going to let this one hang at the top until Wednesday. So you'll have a chance to read it any time Tuesday.
We're still going seven days a week around here, and there's no letting up now. Just keep in mind, our weather conditions are about a month slow, and the talking weatherheads have no real idea what's next. This Thursday started out at a 20-percent chance of rain, and now they're talking tornado outbreaks. Fair warning.
Category: Adventure, Destination Fly Fishing, Fishing Reports, Fly Fishing for Trout, Guides, Life Observed, On The Road