houston fly fishing sand bass oklahoma trout fly fishing fishing show #flyfishing tips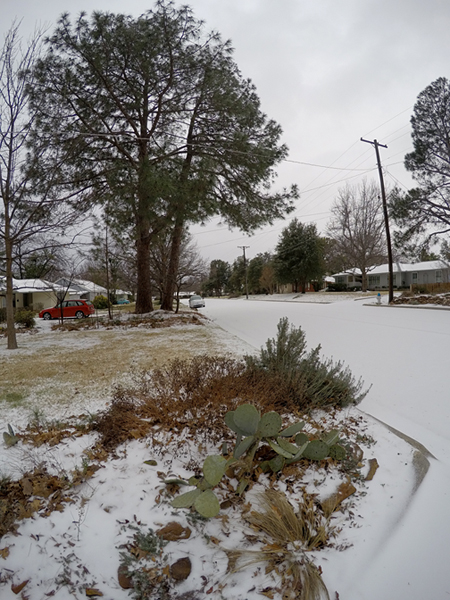 Whoa. What a difference a day makes, doesn't it? Here in North Texas, we're frozen in and most everything is staying put – off the roads small or large. So, welcome home on a workday North Texas. And if you happen to be elsewhere, be glad you are!
The false spring got crushed here yesterday, as the temperatures dropped and the precipitation began leaving a pile of ice pellets that looks like it's headed toward two inches deep as of this Monday morning writing.
Plenty of weekend action was away and about though; I saw nice trout coming from the folks with Fort Worth Fly Fishers and their foray to Beaver's Bend, OK, and the sand bass are coming on in the Houston, TX, area as well – according to Danny Scarborough at www.houstonflyfishing.com.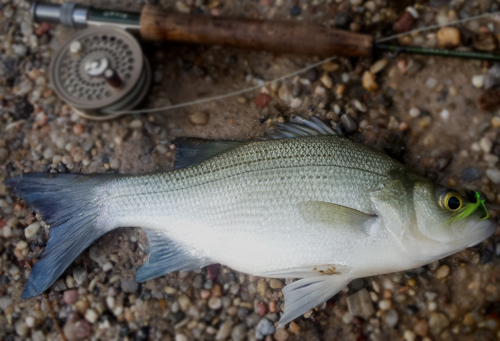 Yes. That is a sand bass caught in the Houston area – on fly, and a potential lake record.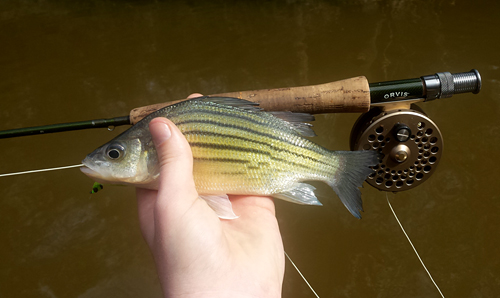 Yellow bass are less common in North Texas.
You may recall, I lost interest in the ditch fishing that has come to Texas,from terrible flows and drought stricken lakes (low creeks into low lakes), but there comes a time when fly fishing for sand bass is still one of the better games out there on the edges. Short fly rods, and a stringer for a few tacos, can do a lot to warm the frozen winter heart.  Honestly, I've been tying several dozen Clousers colored for the pursuit of sand bass, and since we're frozen in today … that will continue a bit longer.
Perhaps you were one of the many/few? who attended TroutFest this past weekend along the shores of the Guadalupe River? I am anticipating a new story from a new writer (new to TFC) sometime soon, and maybe that will give us a clearer picture of the event. You may recall I have attended that event in years past, but until the Airstream is ready to relocate, we'll be working on it while these events are on, paying it forward so-to-speak.
At the end of this week is the Texas Fishing Show in Houston, Texas. We'll get there, weather willing, later this week – where we can (weather willing) get some time on the water as well as some time at the Fishing Show. Right now, the weather odds don't look so good. What exactly did we expect from Texas February?
We have a lot to look forward to, although most of the conventional fishing reports I read are not very optimistic about the year thus far. Unless we get those rains I keep talking about (see the refreshed "Water Wednesday" reporting), it's a fair bet we will have to work harder this year than last – just to try to get the same results. It's way too early for gloom-and-doom though. And with the new found ability to move around freely …
This video is a TIP on how to make a functional tool for fly fishing – from knitting needles. Talk about "Chicken Fried Nation?" This is it.
Category: Culture on the Skids, East Texas, Fishing Reports, Fly Fishing for Trout, Industry, Reader Contribution