port aransas fly fishing #flyfishing Texas saltwater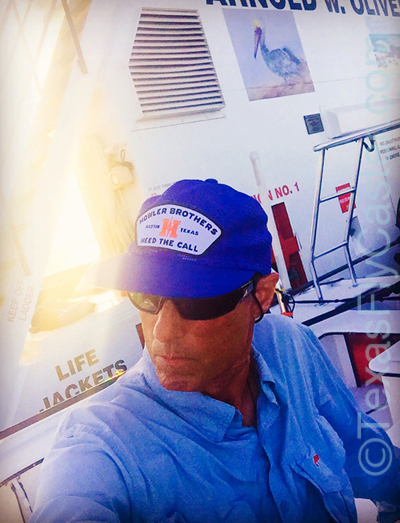 On the ferry to Mustang Island, Texas. Thanks Howler Bros. for your great music!
Good morning to you wherever you are in the world this morning! I am tapping lightly, waiting for the nephews and niece to wake up on their own, say goodbye, then hook up the boat and try to get in a few hours on the water before the wind goes completely crazy again today.
It's Mustang Island, Port Aransas, Texas, in the summertime. I've never been here for this long a stretch, although I have done (as I recall) three kayak tournaments here in the past. Those trips were hasty, in-and-out one night stands. I learned a lot about a small part of the fishable water here, and also learned that competitive tournament fly fishing from a kayak was not my cup of tea.
Since the family comes … what was that number again? … first, yeah, first, I have been off the water and working on the logistical story for fishing Port Aransas, Texas. Let me tell you, for a DIY person wanting to find a good stop on the Texas Gulf Coast, a place that has opportunity to catch fish on fly, on kayak, or walk-and-wade, and keep the family happy, or to rough it solo camping on the beach, Port Aransas needs to be on your radar. Having this much time to dig into a location like this has already shown me things I didn't know about it, and just what it has to offer. If you have family in tow, this is where to go.
Conditions here are less than favorable at the moment though. Tides don't seem extreme enough to generate a lot of fish movement (slacking), and the ratings on the charts range from poor to almost good this week. The wind is absolutely brutal. A guest and I saw two reds on Saturday, on the backside of Mud Island (sheltered from the wind that day), and there was no real chance for a clean shot at either one. Not much of a sight-shot ratio really.
The sun's trying to come up from behind the layer of grey that has been the start of every morning so far. I'll battle the winds, and the fact I'll already be out of prime bit time, out in that same area a few hours from now. The fish may not have been there, but the water was absolutely beautiful, and well worth the ride back against sustained 20 gusting to 30 winds.
Thanks for reading this Monday Morning, and have a safe, healthy and fishy week! There's a few more days here, gathering more knowledge for readers, so you may find less here than you'll find on the Instagram or Twitter feeds. Check them out at Texas Fly Caster TWITTER FEED, or Texas Fly Caster INSTAGRAM FEED. You could follow now, and un-follow whenever you want, or find them unworthy of your divided attention. That's what I do!
Category: Adventure, Culture on the Skids, Fishing Reports, Fly Fishing for Redfish, Texas Gulf Coast