Why Walk When You Can Stand in One Place for 2.5 Hours?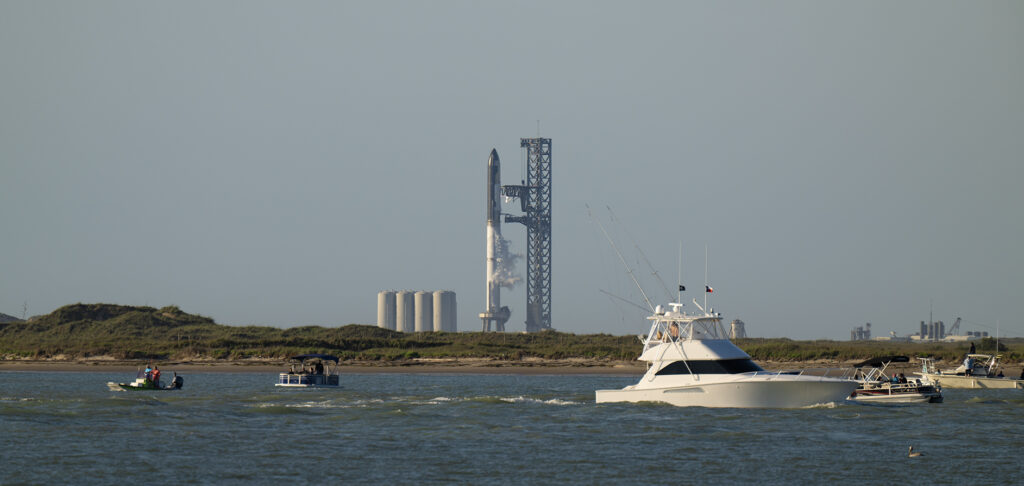 How do you spend your Monday morning, if not on the water? How about standing in one spot, next to several thousand other people waiting patiently for nothing to happen?
Space X got all steamed up this morning, and just before it got hot-and-bothered, it turned out to be another premature big tease by Elon Musk here at Boca Chica, Texas. I took heart in the fact that I will probably never get closer to Elon than the handful of miles that separated us today. Maybe it is relief I feel? It remains to be seen when the next launch window opens, but where will all this humanity go to in the meantime?
While the sight of the rocket was something to see, standing in place for two-and-half hours made me think, and try to remember the last time I stood in one place for so long. Was it the Rolling Stones in '82 or working security for Springsteen in '84 – both at the Cotton Bowl? Does it matter anyway? There were more people at those shows, but the thousands of people lining the Jetties and just about every square inch of open space was a sight I never thought I would see.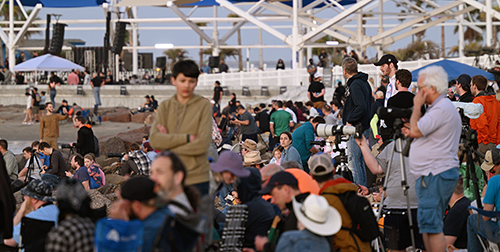 At first I thought "freak show," but that is not fair. It was a "Geek Show" of epic proportions, complete with Space X tee shirt wearers, huge telescopes and those awful Tilley Brand hats aplenty (no offense). And the crowd, so large, was also sprinkled with human nuisances – stomping the habitat down, parking their Teslas on the shoulder of the park road … and getting run off unceremoniously. Basically, it was a broad display of mass humanity … the kind of crowds I do not miss at all (sorry Bruce and Mick).
ON TO BIGGER THINGS
I have used considerable time documenting the Arroyo Colorado, and I can say it has been a virtually dry hole of fly fishing for the upper two-thirds of that water body. Yesterday, was no exception. And I was prevented from moving back into the top "Zone," call it "Zone 1," of the Arroyo by a huge dredging operation taking place just before the edge of Rio Hondo, Texas. It was "Zone 2" I was concentrating on yesterday, so I surrendered without a fight.
Time is now extremely short here in Fish Camp South. In reality, my countdown began in my head over the weekend. That is because there is a lot to do to get the camp loaded and on the road back north to Carp Camp 2023. If you are thinking about booking a trip? I can say without even having seen the habitat … this is going to be good, real good. All one has to do is keep their eyes on the feeds and posts; it's obvious the fly fishing has been off the hook in North Texas this year.
IN THE CAN
Tons of video "footage" is piling up now, almost a mountain that looks too tall to climb. But, climb we will, one story at a time! Some video business to do is in front of the line now, and those fly line mats are still rolling out – to the point it is becoming somewhat routine (a routine I am extremely thankful for!). If you want to be ready for May? You may, think about ordering your fly line mat NOW!
Thanks for reading and stay tuned in … for rocket launches and all!
Category: Adventure, Body-Mind-Soul, Culture on the Skids, Life Observed, OFF TOPIC, Saltwater Fly Fishing Texas