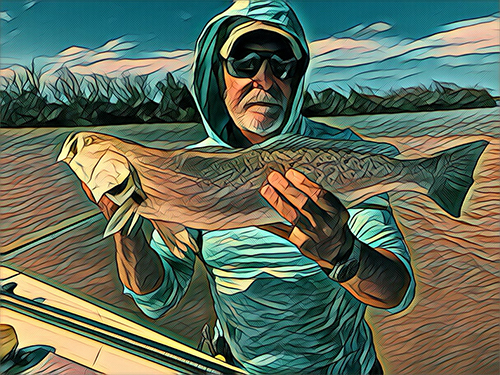 Friday I'll be working the middle third of the Arroyo Colorado, out of Rio Hondo, Texas. It is part of a series on fly fishing on the Arroyo Colorado, and I am working feverishly to get this series and many more stories done before the clock strikes midnight and I turn back into a hard-boiled frog.
The weather has turned to our favor, except that a windless morning is still giving way to windy afternoons … pure atmospheric deception! Nevertheless, I had to throw out a teaser, after Jaime managed to land a fat 25-inch speckled trout today. KEEP IN MIND: A 25-inch speckled trout is now outside the size limits for 2023. Now, the size slot is between 17 and 23-inches.
There are a lot of details to come, including a three zone breakdown of the Arroyo Colorado that might just help the DIY Nation wrap their minds around this interesting and diverse water. Thanks for reading, and get ready for the big push to the finish here in the Borderlands of South Texas!
Category: Adventure, Fishing Reports, Fly Fishing for Trout, South Texas, Texas Gulf Coast