fly fishing texas weather floods flats boat carp on fly
So much for a Monday "Morning" Sidewalk, EH? There are a lot of irons in the fire right now, and the fly fishing is better than good this week at Lake Ray Roberts, Texas. So, what can I say, but read that story last week for the lowdown on how to make these carp yours! There's video in the can on that story – carp ripping drag off an eight weight, and a reveal of that location for you readers who don't have a dime to subscribe. I figure with Broken Bow Beaver's Bend gone, there's going to be a lot of pressure locally, and I am waiting with patience – as the hardcore among us figure out exactly what game is left in town.
I did hear from the 3M's that Lake Benbrook has shut down, Lewisville looks like it's about to flush I35E at the bridge (what a relief that would be), and all lakes are taking this break in the rain to, shall we say, LET 'ER RIP! Lake level reports, I can say first-hand are delayed, so keep that in mind during the upcoming downs-and-ups.
Along with the massive releases, too large and too late to target hybrids, I still see massive numbers of fire ants (as I've been reporting for a month), and more snakes than ever. Fair warning is all I can say about that.
THE trip to Corpus Christi was called off last weekend – at first I bailed, then the trip bailed, and regrouped for a later date. However, that didn't stop Danny Scarborough (www.houstonflyfishing.com) from hitting the coast from the jetties somewhere down south of his Houston home.
What filled the plate over the last 72 hours was a trip to the ER for a family in-law, and by coincidence being the only "family" over 30-years-old within a thousand miles. The family member's still there, but I am not. It's was one heck of a learning experience, and leads to a long discussion about changes in directions here – to the core mission statement of Texas Fly Caster as we encounter the slings and arrows of aging. I did get to know a lot of fine people, medical professionals all, at Denton Regional Medical Center in Denton, Texas. All were sensitive, brilliant and caring. They do the work I cannot imagine myself doing.
And when we combine all the personal hoopla, the weather hoopla, and now the boat building hoopla … well, my friends, that is a lot of hoopla. Use whatever word you like in place of hoopla, but it fits for me right now.
As for the boat build, Oscar at Lagoon Shallow Water Boats is working away on my skiff, and has laid the deck on it. If you look at the photos, you will see just how different this particular build looks from every photo on his website. It has turned out to be essentially a cross bred custom micro skiff. I guess we would call it "micro" at an inch under fifteen feet? I haven't talked much about the boat, and all the hoopla that goes with this, but right now we are in hot pursuit of an outboard motor for it. Imagine being all done with a boat like this, only to have no motor? Kind of scary, and with about (I say about) two weeks to go in the build, not only do I need to find the power, I need to find storage … or there could be trouble in "paradise."
No matter what, I know it will be easier for all of us to get where we need to go this week – compared to last. And I hope you all arrive safely to those destinations, be the work, the hospital or your local fly spot. Take bug spray because the next big story for the talkingheads is going to be the huge disease outbreak generated by the mosquitoes. Thanks, as always for reading.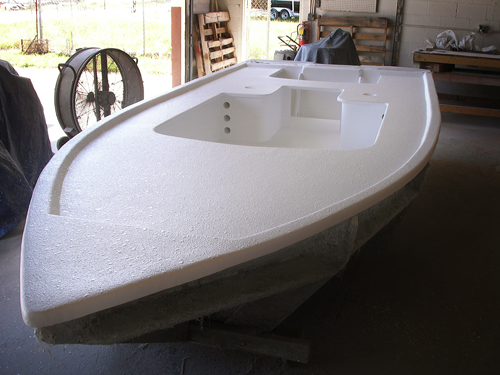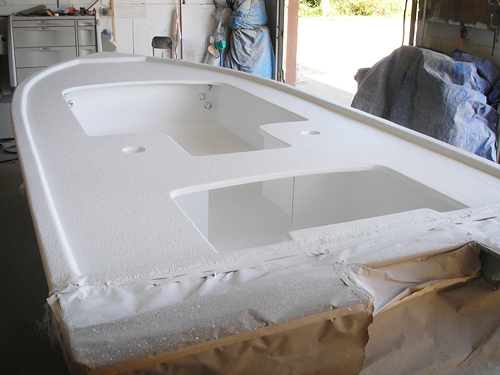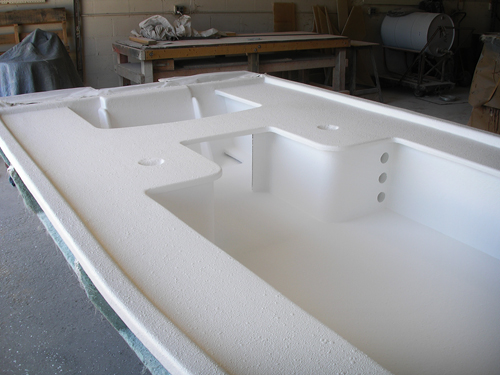 Category: Adventure, Body-Mind-Soul, Complimentary Reading, Culture on the Skids, Eating and Drinking, Flats Boats, Jetties Fly Fishing, Life Observed