What happens when you're chasing your tail?
Let me just blame missing my regularly scheduled "Monday Morning Sidewalk" on the heat, and most would take that at skin value. Truth be told, this is the busiest time for my calendar in many, many years.
The list this week includes, but is not limited to; Airstream trailer rebuilding, flying the Texas Fly Fishing Media's drone, studying for a license for said drone, doing a deep dive into coffee at Eiland Coffee Roasters in Richardson, editing video for numerous videos that are on deck, tying flies, buying fly tying components, communicating with sales reps and walking first, voluntarily, through the minefield of getting a building ready to occupy from nearly 600-miles away.
Heat is ON and ON
When your State makes the National news, day after day, for something like the weather? A few fly fishers have left Texas to escape the heat, and it's a long drive. Things that haven't melted in a long time, things we forgot would melt? They're melting now. I wonder … am I the only one who thinks my fly fishing passions are being burned at the stake, literally right now, in the history of conscious mankind? How is it that I came along at the end of yet another "time" in a passionate positive pursuit?
The bitch slap delivered me by my first undying passion, photography, coming along just a little too late in its life cycle, living in the wrong place for decades, living through the death of a business category that was very kind to me for a few shining years … yes, obviously I still feel that slap sting every single day. Sure, I am still doing it and living it – with the passion of age nowadays, security of knowledge and a hunger for all the new technology that comes along. Seeing what the university systems are turning out gives me … let's just say it gives me a great deal of confidence in my own abilities.
Now, the outdoor life cycle seems to be closing a circle of sorts. Things have changed quickly in the short time we have been here pounding the keys at Texas Fly Caster. The drastic weather, the population explosion in North Texas, the willingness to live for today and not plan for tomorrow … tomorrow has arrived at our doorstep and it's not in an Amazon box. We know government at every level – from down the street, to thousands of miles away, doesn't genuinely care about the environment. Why not try another geographic existence, finally escape the rundown and overrun North Texas hot box? And awwway we go …
But Before We Go!
The decks are being cleared of video caches, and I am about to take advantage of the martian weather patterns – stay inside and edit, and deliver some more content to the Texas Fly Fishing nation who is … staying inside and watching, and waiting for this martian weather to blow off. HINT: This is the real deal. We're going to have bleary monitor eyes for awhile this time around.
GOOD POND GONE BAD?
I can't say for certain, but did get comments on the North Lakes Pond video that indicated the South Lakes Pond is also now turbid. I did not fish it, but it looks very green compared to North Lakes obvious problems. Three guys showed up while I was there, fishing conventional, spread out along the bank, and proceeded to bomb it with huge bass plastics. I watched about fifteen minutes and all I saw was turtles. Not even a nudge for these guys, in a place where the fish used to be so abundant that it was a place certain to give a fly fisher a fix. One problem for sure: There is too much growth ringing the pond to make it a viable fishing spot. Will they do anything about it? C'mon, this is the City of Denton we're talking about.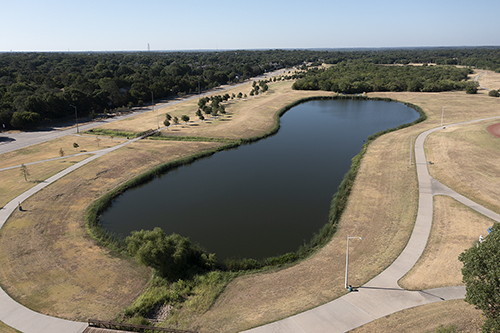 There is a place you can go though! Not everybody knows your name, but you will have a chance at bass and carp as well as having a shaded pine tree-lined hike to the place. Check out the video below, and if you are looking for more information – Subscribe to the Patreon Fly Fishing channel, and you will have access to detailed maps that are easy to read and contain all the REST of the information you may want to help you; KNOW BEFORE YOU GO!
Category: Adventure, Body-Mind-Soul, Fishing Reports, Fly Tying, Life Observed, Los Pescadores Coffee and Outfitters, North Texas